Let's see, in the three days and nine at-bats since I pronounced last rites on Jason Varitek's bat, he's homered twice, clubbed a double, driven in three runs, scored twice, and inspired his legion of followers to fill my inbox with wittily worded missives on intangibles, handling pitchers, grit, guts, toughness, square jaws, and my own genetic and physiological shortcomings.
Until now, I never knew one could write an email with a Crayola.
C'mon, you should know by now that nobody needs to remind me that I have an occasional knack for writing declarative statements that are often quickly proven . . . well, very, very wrong.
What can I say? It's my gift. For my next trick, I'll pronounce Coco Crisp useless and Manny Delcarmen gutless, all but assuring that they'll respectively be the AL Player and Pitcher of the Month for September. You can thank me at the parade.
(In a related story, I'm glad that feel-good, long-form Manny Ramirez retrospective I was working on a month ago remained unpublished in the days before the final chapter of Manny Being Insubordinate. That one would have been tough to live down.)
But while I can admit I've gulped down my share of delicious crow over the years, I'm not admitting fault on this; I'm merely temporarily wrong this time. I am certain it's game-set-match for Varitek as an adequate major league hitter, let alone a productive one. He's hitting .218 this season. He hit .225 after the break last season. This is not a slump; this is who he is.
I'm not sure if you loyal members of the Varitek Army (hat tip: reader Cap'n Dunsel) wear your blindfolds all the time or only when your rugged hero is at the plate, but I'll spell it out again slowly just in case:
He. Can't. Hit. A. Decent. Fastball.
The clueless Orioles lefty who threw him the curveball that he whacked for a double Tuesday night should have been demoted to Aberdeen before the ball returned to the infield. I hope Varitek sent him a thank-you note for the generous gift.
Anyway, this acts as something of a segue to what I really wanted to write about today: the great Dustin Pedroia. Now there's someone I misjudged.
Oh, I didn't think he'd be a stiff, or worse, a David Eckstein clone. The only traits those two have in common is that they are 1) short and 2) pasty.
But after seeing Pedroia play often at Portland in '05, I was sure he was a Jody Reed type, someone who would bat .280ish, bang 40 or so doubles in a good season, and make all of the plays within his limited defensive range.
I thought he'd be steady, popular, and utterly replaceable. Instead, he's become someone you don't want to imagine the team without.

Where do we begin with our praise? On offense, where he's made himself into a legitimate candidate for the batting title, seems to hit the ball as consistently hard as a young Nomar, and has perhaps even surpassed Papi as the player you want to see at the plate in the ninth inning with the tying run on base?
Or do we talk about his defense, which is equal parts flawless and spectacular, especially when it comes to hanging in and turning the double play?
Or is his greatest trait his Tanner Boyle-with-talent personality, a brash confidence that both amuses and fuels his teammates?
Maybe it was because I saw him alongside Hanley Ramirez, a player whose charisma and uncommon talent were apparent even when his stats were pedestrian, but I just didn't see this in Pedroia.
My only excuse is that I was far from the only one. Scouts were skeptical of his long swing and his alleged lack of athleticism, and in a recent ESPN the Magazine article, Terry Francona recalled mentioning to Theo Epstein during Pedroia's struggles early last season that he still had never seen him play well.
Francona deserves praise for sticking with him, but ultimate credit belongs to the Red Sox' front office and player development staff, who recognized something special in Pedroia when they drafted him out of Arizona State and refused to accept the conventional wisdom about his abilities, even when he struggled.
You know, come to think of it, I wonder if they think Jason Varitek will hit again.
* * *
As for today's Completely Random Baseball Card: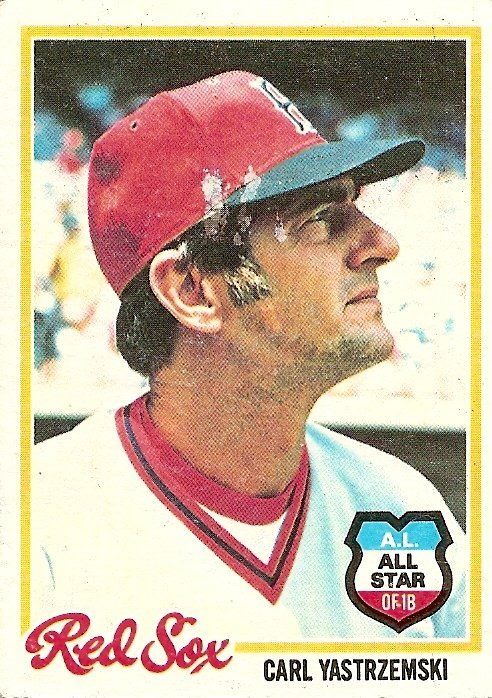 Get well soon, No. 8.