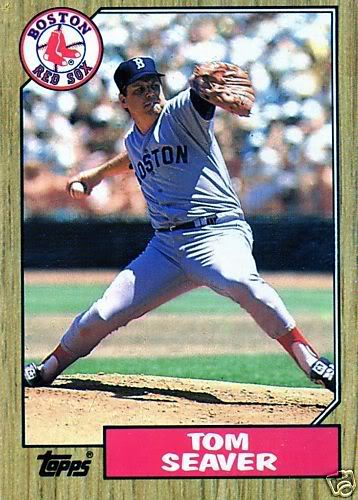 A few other discoveries, factoids and considerations regarding your favorite nitwit blogger's commissioned gallery on the hardest throwing pitchers in Red Sox history . . .
Some of the best Red Sox pitchers of my lifetime haven't been true power pitchers, even though they did compile decent strikeout totals: Bruce Hurst, who is on my short list of all-time favorite Red Sox, wasn't overpowering — he had the killer curve and a dependable splitter. The Eck was a flamethrower during his wild youth in Cleveland — as he would say, he brought the cheese — but he added a little finesse to his repertoire when he came to the Sox. Luis Tiant had 47 different pitches and 33 arm angles, and all of the tricks in his bag made his fastball look quicker than it was. (I suddenly have the urge to start chanting "LOOO-ie, LOOO-IE." Never a bad thing.)
We gave Knucksie Wakefield more consideration as a flamethrower . . . . . . than we did John Burkett, Frank Castillo, and Abe Alvarez (a.k.a. Slow, Slower, and Slowest).
You old timers need to fill in the gaps: I'm 39 years old. I never saw Jim Lonborg (except as a Phillie), Earl Wilson, Ray Culp or Bill Monbouquette. To me, Cy Young is a trophy, and Lefty Grove might as well be a figment of Ken Burns's imagination. So tell me, pops: Which Sox pitchers from before, say, 1975 deserved a mention on our list?
Alan Embree could bring it . . . and then, he couldn't: After coming over from the San Diego Padres late in the 2002 season, the lefthander whiffed 43 in 33.1 innings for the Sox, for a K-rate of 11.8 per nine innings. In 2003, his K-rate dropped to 7.4 . . . then 6.4 in 2004 . . . then he completely fell apart in 2005, though his strikeout rate did climb slightly. A Boston.com commenter recalled seeing Embree touch 100 m.p.h. at one point. I'm going to guess that was in 2002. For the record, his K-rate with the Rockies this season is 4.0. Kudos to one of the heroes of the '04 postseason for hanging on this long.
Some legendary power pitchers have thrown their final innings in a Sox uniform: Tom Seaver '86, Bret Saberhagen '01, David Cone '01, The Eck '98, Eric Gagne '07 (wait, you mean he found another sucker after that abomination?). Juan Marichal was with the Sox in '74, though he gave it one more shot with the Dodgers in '75. I imagine we'll add John Smoltz to this list in a year or two. Or three. Four?

There were some pitchers I couldn't bring myself to include. Two, to be precise: Heathcliff Slocumb threw serious smoke during his one-plus season as the Sox closer (1996-97). But the problem was this: He had absolutely no idea where said smoke was going, walking 89 batters in 130 innings during his time with the Sox. A high walk rate for a closer equals gasoline on the fire. Yep, I'd say that pretty much describes the Slocumb Experience. The best thing he ever did for the Sox is get traded. As for the other name on this list, I tend to begin rapid-fire cursing whenever I hear the name Rudy Seanez. He allegedly had a blistering fastball, which is weird, since I can't recall him ever recording a single #($%*@*@((($#(((()#))*(***@((@(((( out during his twoflame-broiled stints with the Red Sox. (See, I warned you.)
Hmmmm. Are we underrating Manny Delcarmen's talent? Yeah, we're still not sure we can trust him in the big moments. But Jonathan Papelbon has always insisted Delcarmen has the best stuff on the staff, and not even his detractors would deny that he can bring serious heat. He averages nearly a strikeout per inning in his career (8.3 per nine), he's just 28, and he's off to a fantastic start this season. While he's never going to be the man with the Sox — Bard appears to be the closer-in-waiting — there are dozens of teams that could use someone just like him.
I'm pretty sure Hideo Nomo recorded all of his outs "by way of the K," as the saying goes: While he left us with one lasting highlight — the Red Sox first no-hitter since the '60s — Nomo was the picture of mediocrity (13-10, 4.50 ERA) during his one season with the Sox, 2001. (It's been rumored Nomo knew more English than he let on. He probably regretted ever learning the language when he was marooned with that repulsive crew.) The one thing Nomo did do remarkably well, however, is compile strikeouts — he whiffed 220 in 198 innings, for a league-best K-rate of 10 per nine innings.
The best arm didn't belong to a pitcher: Finally, I still say the best fastball I've ever seen by a Red Sox was when Dwight Evans would field a ball near the foul line and turn and unleash a bullet to second base. Had to be 110 m.p.h. Maybe 120.
* * *
As for today's Completely Random Hockey Card:


Just an offering of good karma for Game 6.