Red Sox
Tigers rough up Allen Webster, Red Sox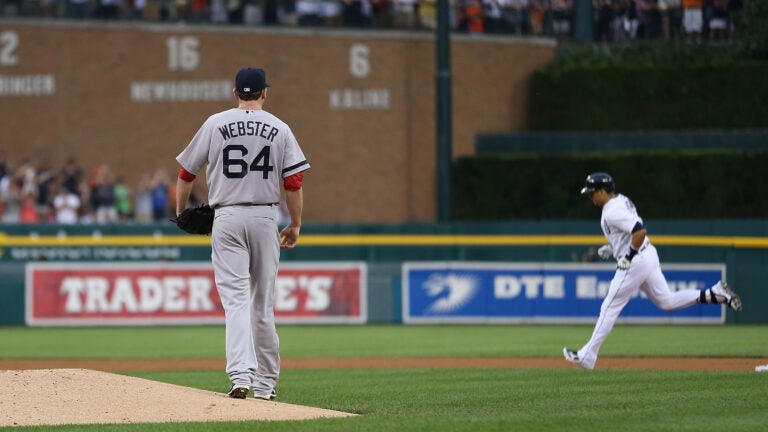 DETROIT — If Allen Webster fulfills what is obviously great promise, Saturday night's performance against the Detroit Tigers will go down as a valuable lesson learned along the way.
For now, though, it's painful. Handed an early lead by his teammates, the 23-year-old Webster gave up four runs in the first inning in a game the Sox went on to lose, 10-3.
Victor Martinez drove in five runs, four with a grand slam in the first inning, before a sellout crowd of 42,508 at Comerica Park.
Max Scherzer allowed two runs on six hits over seven innings to improve to 11-0. He struck out six without a walk.
In a series between two division leaders, the Sox have dropped two of the first three games. They now face Detroit ace Justin Verlander on Sunday afternoon.
The Tigers, 25-13 at home this season, finished with 15 hits.
The Red Sox scored two runs in the top of the first inning, which should have given Webster some comfort as he took the mound. But that didn't seem to be the case as the first three batters reached against him.
Austin Jackson and Torii Hunter singled before Miguel Cabrera walked to load the bases. Webster came back to strike out Prince Fielder, but Martinez lined a fastball just over the fence in right for a grand slam. It was just his sixth home run of the season.
Webster actually struck out the side in the inning but was down, 4-2.
Andy Dirks singled, stole second, and scored on a single by Jackson in the fourth inning.
Webster got Cabrera to ground out to start the fifth and was taken out having thrown 82 pitches.
Webster allowed five runs on eight hits over 4⅓ innings. But he showed promise by striking out five and getting 21 swing-and-misses, most of them with his changeup.
With Clay Buchholz likely to remain parked on the disabled list for at least another week, Webster (0-2) could stay in the rotation and face the Blue Jays next weekend despite an 11.25 earned run average.
Franklin Morales replaced Webster and put the Sox in a deeper hole as the first four batters he faced reached base.
Fielder walked and scored on a double by Martinez into the corner in left field. Martinez then scored on a single by Jhonny Peralta.
The game got out of hand in the seventh inning when Morales walked Martinez and Omar Infante homered to left field. That gave the Tigers a 9-2 lead.
Morales allowed four runs on five hits over 2⅓ innings. He struck out four.
The Sox took a 2-0 lead in the first inning against Scherzer.
Jacoby Ellsbury and Shane Victorino started the game with singles. With runners at first and third, Dustin Pedroia grounded into a double play and Ellsbury scored.
David Ortiz drove a fastball nearly halfway up the bleachers in right field. It was Ortiz's third career home run against Scherzer, his 16th of the season, and No. 417 of his career.
Ortiz has 18 home runs at Comerica Park, the most for a visiting player. He had been tied with Jim Thome and Paul Konerko. Ortiz has played 48 games at Comerica, Thome 70, and Konerko 107.
Scherzer locked up the Red Sox from there. He retired 10 straight batters before Mike Carp reached on an infield single in the fourth inning.
Carp, who was playing in his first game since straining his right hamstring in Baltimore last Sunday, tapped the ball back to the mound and was leisurely jogging to first base. Scherzer didn't pick the ball up cleanly and when he did, he threw the ball into foul territory.
Carp ended up on third base but was stranded there when Daniel Nava popped to left field to end the inning.
Jose Iglesias singled with two outs in the fifth inning, dropping a popup a few inches off the line in right field. He tried for second base and had the base. But he slid over the bag and was tagged out.
Iglesias has reached safely in 25 consecutive games. It's the second-longest such streak in the majors to Cabrera, who has reached in 37 straight games. Iglesias has at least one hit in 21 of his last 22 games.