Red Sox
Photos: Red Sox defeat Orioles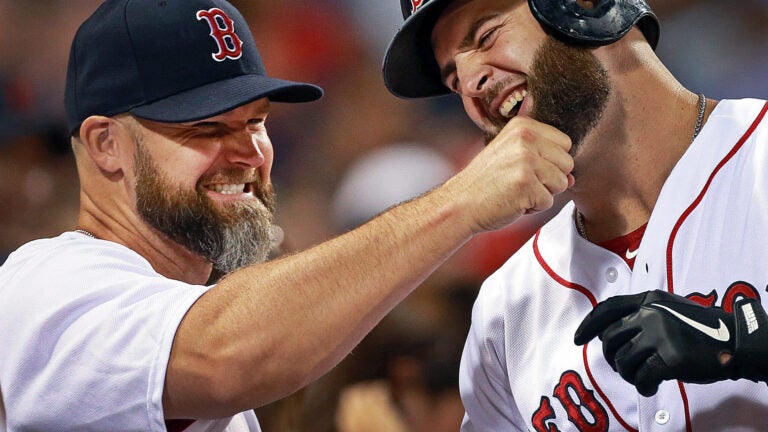 The Jimmy Fund Chorus sang the national anthem before the game.

Former Jimmy Fund patient Jordan Leandre threw out the first pitch.

After his ceremonial first pitch, Jordan Leandre got high fives as he left the field, including from Daniel Nava, left, and assistant hitting coach Victor Rodriguez, center.

Jarrod Saltamacchia was too late with the tag attempt as Danny Valencia scored on a third-inning sacrifice fly.

Orioles starter Wei-Yin Chen is pictured as Mike Napoli rounded third base following his fourth-inning home run.

Following his fourth-inning home run, Mike Napoli got a playful beard tug from fellow whisker-wearer David Ross.

A fan in the Green Monster seats made a great play on Shane Victorino's home run ball in the third inning, the first of two home runs for Victorino.

Mike Napoli, who had his beard pulled by teammate David Ross following his home run earlier in the game, got to do the same to Shane Victorino after the Boston right fielder's second home run of the game in the fifth inning.

Felix Doubront gave up two runs in the third inning, and before he returned to the dugout he walked to home plate and had a conversation with umpire Wally Bell.

Jarrod Saltalamacchia made the catch behind the plate on a foul ball hit by Nick Markakis to end the top of the sixth inning.

The beard-pulling epidemic continued when a smiling Felix Doubront did it to Mike Napoli as he left the mound after being pulled by manager John Farrell with two outs in the seventh inning.

Four-year-old Jimmy Fund patient Darla Holloway sang a stirring rendition of "God Bless America" during the seventh-inning stretch.

Shane Victorino watched as his two-run double fell in safely while Will Middlebrooks headed for the plate in the seventh inning.

Brian Roberts is pictured after Victorino's double in the seventh.

Dustin Pedroia, who had three hits, high-fived Victorino following the final out.