Red Sox
In Japan, Red Sox have a championship soul mate
In both Boston and Sendai, baseball helps the healing process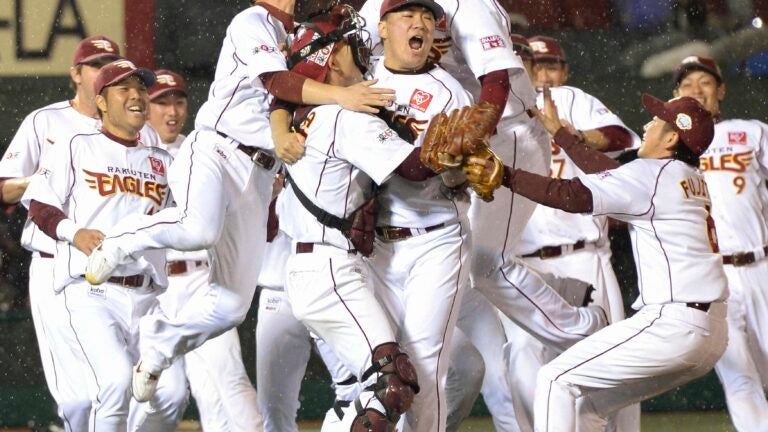 Hiroshi Mikitani was in Boston a week after April's horrific Marathon bombings, so he had a sense of the scars that were inflicted to the city and region where he had studied twenty years earlier. Months later, in Sendai, Japan, he watched on television as his friend Koji Uehara closed out the United States World Series, then, four days later proudly watched in person as ace pitcher Masahiro Tanaka came out of the bullpen—a day after throwing 160 pitches—to close out Mikitani's Rakuten Golden Eagles' seventh game 3-0 victory over the Yomiuri Giants to finish the Japan Series and give Sendai its first championship.
"I understood the similarities in terms of what each championship meant to their regions, their communities,'' says Mikitani.
Because of his years at Harvard Business School and games he attended at Fenway Park in the early 1990s – when, in his words, "the Red Sox weren't really good under the previous ownership'' – he understood the images and stories about New England's relationship with this Red Sox team that grasped what they brought to the post-tragedy rehabilitation.
"I know how sports teams can be a symbol of recovery,'' Mikitani says. He knows very well, first hand. He got into the sports business in 1995 when he took over the Visser Football Club in Kobe when an earthquake had rendered so much damage that the city could no longer afford to maintain the team in Japanese professional soccer and made it a symbol of recovery.
And when the Golden Eagles won that seventh game of the Japan Series championship, there may have been no greater symbol of a region's recovery than Rakuten. Two years earlier, the March 2011 earthquake and tsunami devastated Sendai and the Tohoku region, resulting in what the National Police Agency estimated as close to 16,000 deaths, 340,000 people displaced and more than $120B in damage.
"It was very emotional when we won,'' says Mikitani. "It was a great, historical moment. There had been so much interaction between the fans, the people of the region and the players, there was a feeling that they won not just for themselves, but for hundreds of thousands of people whose lives had been devastated. Our baseball people did everything they could do to take part in the recovery from 2011 on. They visited shelters. They donated food and blood and money, they volunteered, they tried to aid in the coordination of the recovery, always saying 'we'll do whatever we can do.' And they became more than a baseball team.''
The Rakuten Golden Eagles became the soul of the once-devastated city of Sendai and Tohoku region. So the 2013 champions of the major league baseball cultures of the West and East are effectively soul mates, fellow symbols and participants in their constituents' recoveries that extend far beyond "championship ring'' significance.
Thus Mikitani, the brilliant and creative entrepreneur who at different times in his life lived in New Haven and Boston and made "Englishization'' a part of his Rakuten Corporation, believes the proper way to celebrate these 2013 champions is a one game playoff sometime in March. "It would be great to work out an exhibition, a playoff, a game that would really be a fitting ending to the 2013 World Series.''
It would reunite the 50-year-old Mikitani with Uehara, whom he got to know in Uehara's Japanese playing days and befriended. It would reunite Takashi Saito, who recently signed with Rakuten, with a Red Sox team for whom he once pitched. It would reunite Eagles outfielder Andruw Jones, from Curacao, with Xander Bogaerts, from Aruba, both members of the Dutch team in the World Baseball Classic.
It would bridge Mikitani to the team he adopted as his American favorite while studying at Harvard Business School. Understand, this is a man who not only went from The Business School—where Red Sox minor league instructor George Lombard's grandfather was once a dean—to become a billionaire, but when he founded a consulting group in 1997 called it "The Crimson Group'' in honor of his Harvard ties, ties that brings him back to Boston on Rakuten business, hence his trip a week after the Marathon bombings.
Obviously he follows the Red Sox, because when Theo Epstein took a leave of absence after the 2005 season, he was contacted by one of Mikitani's club officials with Rakuten about doing consulting work for the team.
Of course, if such an exhibition were to get into a serious planning stage, Mikitani would have to resolve the issue of the new MLB-NPB posting agreement and whether or not Tanaka will be allowed to come to an American team. The agreement, forged this week, limits posting fees to $20M and allows the posted player to negotiate with all the teams willing to pay $20M for the rights to negotiate. Mikitani is the one Japanese owner who strongly opposed the new agreement, and Wednesday suggested in an interview that he would not post Tanaka, who isn't a free agent for two more years.
"It's a terrible deal for a Japanese owner,'' says one MLB executive. "I don't blame Mikitani.''
It just so happens that the 25-year-old Tanaka is in the sights of the Yankees, Dodgers and other MLB teams interested in signing him. Because he will not be a free agent until after the 2015 season, he must be posted by Rakuten, and Mikitani Wednesday said, "I don't intend to post him.''
That, of course, could change, but media in New York, Los Angeles, Texas and Seattle can put off researching that sixth game of the Japan Series, in which he threw 160 pitches in a loss to the Giants.
However, fellow Japanese owners know Hiroshi Mikitani is not afraid to be different. He was born and raised in Kobe. His father was an economist who taught two years at Yale, hence Hiroshi's time in New Haven. His mother went to elementary school in New York City, returned to Kobe and after graduating from Kobe University worked for a major trading firm. His sister is a doctor, his brother a biology professor at the University of Tokyo.
Mikitani attended Hitotsubashi University. He worked for the Industrial Bank of Japan, and in that time went to Harvard to get his MBA. He returned to the bank, but in 1997 decided "I wanted to try entrepreneurism,'' and founded Rakuten. Essentially, Rakuten is an online mall where what he calls "individual, creative companies can sell what they produce.''
The e-commerce platform has been named "one of the world's most creative companies'' by Forbes magazine. In 2012 the company's revenues were listed at $4.7B, its profits at $770M, with 10,351 employees worldwide, according to its June report. Among its U.S acquisitions and investments are Buy.com, Linkshare, Pinterest, and Somerville-based The Grommet.
Because of his background and understanding of the world and U.S. market, Mikitani instituted "Englishization,'' which gradually made English the language of the Japanese-based company. The plan was criticized by some other Japanese business leaders, but Mikitani stated, "English is not an advantage anymore, it is a requirement.'' In June, 2011, Mikitani quit Keidanren, the Japanese business federation, in the aftermath of the Fukushima nuclear disaster, declaring his opposition to the reliance on the nuclear industry for electricity.
"I am an entrepreneur,'' he says. In other words, he is clearly an individual who thinks outside the box, which he carries over to sports.
After the Kobe earthquake, Mikitani was asked to operate the city's professional soccer team, Visser Football. "They were on the verge of being dropped to Division Two,'' says Mikitani, "and I told them I wouldn't buy and operate them if they did get dropped from Division One. In their final game, they scored a goal in the final minute, it kept them from being dropped, and I took it over. It was important as a symbol of my city's recovery.''
Then in 2004, the Japanese Pacific League had financial problems and decided to drop two teams. That led to a player strike. League officials approached Mikitani about an expansion team in Sendai, with the Orix Blue Wave and Kintetsu Buffalo merging.
"Instead of being a real expansion draft, we couldn't get any of the 25 best players from the merger,'' says Mikitani. "We were fortunate, because one player who had pitched for Kinetsu refused to be sent to Orix and insisted on playing for us.''
That player was Hisashi Iwakuma, who went on to become Rakuten's best pitcher and this season pitched so well for the Seattle Mariners that he got serious consideration for the Cy Young Award.
But that initial 2005 season in Sendai was hardly glorious. Mikitani had three months to rebuild, restore and renovate the stadium, which he accomplished. The team had so little talent that the Golden Eagles finished 38-97, 58 games behind the Softbank Hawks. Their second season, they were 47-85. Their one winning season before 2013 was 2009, when they finished in second place in the Pacific with a 77-66 record.
Then came the earthquake and tsunami of 2011, which did extensive structural and flood damage to the stadium.
"To get to this championship was a great moment,'' Mikitani says. "Personally, it was very satisfying. For all the people with the team, it means so much. Most important, for the fans and the people of Sendai and the region, it was the fulfillment of hope.''
So, somewhere, sometime, the two series champions who fulfilled separate but equally significant missions ought to play in recognition of what baseball can mean to the people in the streets of Boston and Sendai.