Red Sox
Why Xander Bogaerts can be an All-Star this season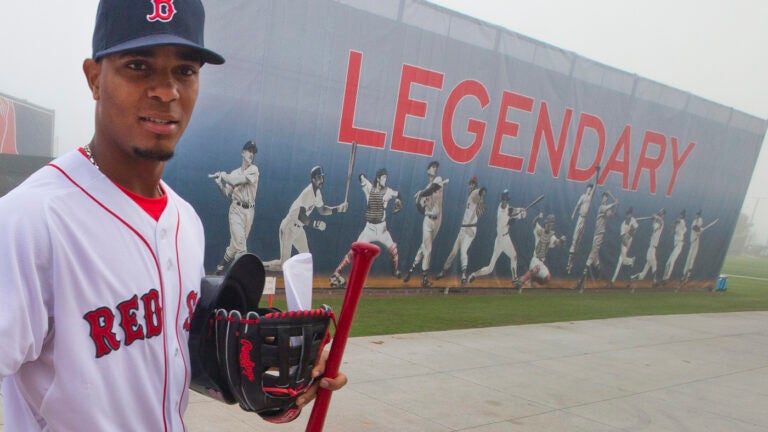 Let me start with a confession. The idea for this column — the whole premise really — came from colleague Chad Finn, who also happens to be my fantasy baseball co-owner in a league here on Morrissey Boulevard that dates back to before I was eating solid food.
While shooting the breeze one afternoon as we often do when we don't feel like working, Chad planted the idea in my head with a rather simple statement.
"We should draft Bogaerts this year,'' he said, before adding the kicker. "He's going to be an All-Star.''
By most accounts, Bogaerts projects to be an All-Star someday, but the idea that he may be one this season hadn't occured to me until my usually-smarter-than-me colleague brought it up so nonchalantly, it didn't seem far-fetched.
How far-fetched is it really? How likely is it that a 21-year-old — albeit Baseball America's No. 2 prospect after the 2013 season — will make the leap this quickly? Here are five reasons why I think its possible.
— He's hit at every level
Bogaerts has risen through Boston's farm system from starting as a 17-year-old in 2010 and progressing to an Opening Day starter four years later. Baseball America has his statistics at each stop along the way, the summation of which is this: he keeps getting better. In 2012 Boegarts went from A Salem to AA Portland, where his OPS actually rose, from .883 to .949. He maintained solid numbers in another year split between Portland and Pawtucket, finishing with a career minor-league OPS of .862. His ability to get on base while maintaining extra-base power as he climbed the ladder is an indication the whole package will come with him during a full season in Boston.
— He can already handle the pressure
During last season's improbable Red Sox World Series run, Bogaerts was the youngest player to appear in the Series since 20-year-old Miguel Cabrera in 2003. He hit .296 in the postseason (he dipped to .238 in six games vs. the Cardinals) but played solidly enough for the team to trust him in crucial at bats. Playing baseball in Boston can leave a player feeling exposed, but Boegarts has already shone on the brightest stage.
— He's got a pro body
At 6-feet-1-inch, 210 pounds, Boegarts is already as big or bigger than most major league shortstops (Stephen Drew is 6-feet, 190 pounds). Boegarts will fill out in time just as anyone who makes the journey from a 21-year-old to a 30-year-old will, but it's not like he lacks size now.
— He's being handled well and has the right attitude
In a recent story by the Globe's Peter Abraham, Red Sox infield coach Brian Butterfield described tutoring the young shotstop as a project.
"It's such a process because it's such a demanding position,'' said Butterfield. "I'm pleased where he's at, but there's a long way to go.''
A long time ago, Butterfield helped another shortstop prospect, future Yankees great Derek Jeter, transform from a player who committed 56 errors in 1993 in Single A shortstop into one of the league's best players.
"Bogie has a lot of similarities to Derek,'' Butterfield told the Globe "They're both athletic, they both have body control, and they both have arm strength. They have aptitude and they want to learn.''
That story is chock full of quotes from those who have dealt with Bogaerts, and every one of them praises his effort and humility in addition to his talent.
— Lack of competition at the position.
To get down to brass tacks, making the All-Star Game is about being better at your position than others in your league. Given his impending retirement, Jeter is a lock to be voted into the game by the fans. But after him, the AL shortstop race is wide open.
Last year, J.J. Hardy and Jhonny Peralta made the game for the AL at the position. This season, the biggest threat to Bogaerts' ascendecy is injury-prone Jose Reyes of the Blue Jays. The rest of the league looks ripe for the taking. According to MLBDepthCharts.com, the likely American League starters at shortstop this season are Reyes, Elvis Andrus, Yunel Escobar, Jed Lowrie, Derek Jeter, Pedro Florimon, Erick Aybar, Alcides Escobar, Andrew Romine, Adrubal Cabrera, Jonathan Villar, Alexei Ramirez, and Hardy. Do any of them strike you as definitely better than Bogaerts?
One Fangraphs.com projection has Bogaerts putting up a .269 average with 16 home runs and 72 RBIs in 143 games this season. Given the lack of huge numbers elsewhere at the position, that just may be enough to get him in.