Red Sox
Cespedes Steals the Show From Stanton, Derby Field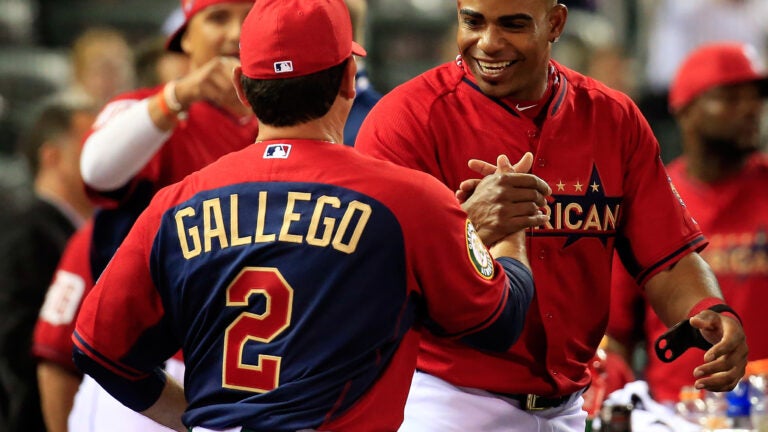 The 2013 Home Run Derby king was at it again on Monday, as A's outfielder Yoenis Cespedes won his second straight Derby title, beating Cincinnati's Todd Frazier in the finals 9-1.
Cespedes became the first back-to-back Derby champion since Ken Griffey, Jr. did it in 1998 and 1999.
It took Cespedes a swing-off with Josh Donaldson to advance to Round 2, but once he got there he got rolling, launching nine homers to easily push past Adam Jones and reach the semifinals against Bautista.
Cespedes blasted seven homers in the semifinals, holding off Jose Bautista's four to reach his second consecutive Home Run Derby title round.
Frazier moved onto the finals to represent the National League after winning a swing-off with Justin Morneau; took down Troy Tulowitski 6-2 in Round 2; then shockingly moved on after hitting one homer in the semis while favorite Giancarlo Stanton put up a goose egg.
While he may not have had the most home runs in Round 1 (that honor went to Bautista, who hit 10) Stanton made the most noise in the first round of the Derby, crushing six homers all over Target Field, including one that landed just short of clearing the left field stands. ESPN projected the ball would have travelled 510 feet if the stands weren't there.
[fragment number=0]
Jon Lester, who is attending the festivities as a member of the AL All-Star team, expressed his thoughts on the moonshot moments after it happened:
[fragment number=1]
Frazier led off the Derby after a lengthy rain delay, but once he tallied the first home run of the contest, it appeared Mother Nature would allow the event to go on uninterrupted.
[fragment number=2]
Target Field favorite Brian Dozier of the Twins was the first American Leaguer to bat and hit just two homers. Yaisel Puig, the 23-year-old who took the MLB by storm last season, finished last, hitting exactly zero.