Red Sox
Derek Jeter's Fitting All-Star Finale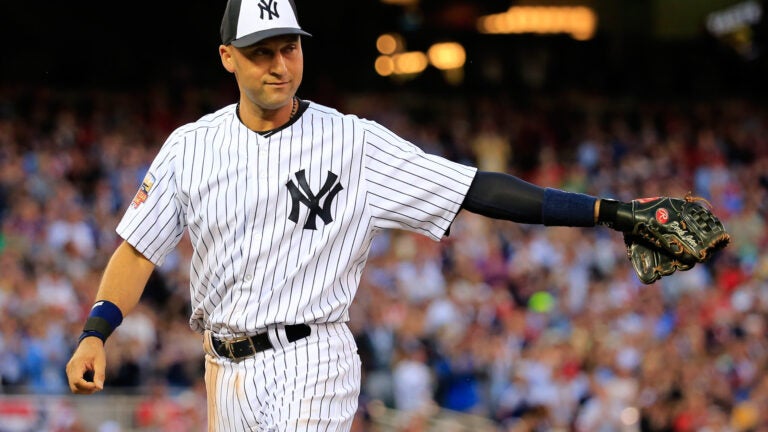 Going into the 2014 MLB All-Star Game, all of the talk was what would happen during Derek Jeter's 14th and final Midsummer Classic.
It ended up as fitting tribute for the player whose retirement at the end of this season signals the end of an era.
Before the bottom of the first, the Target Field PA system played a recording of late Yankee Stadium announcer Bob Sheppard introducing Jeter, to which the entire ballpark, including the National League players on the field, stood and gave the Yankee captain a minute-long standing ovation, as Jeter tipped his helmet and smiled before digging into the box.
Jeter didn't just come for the show, however, as he laced a double to right field to get in scoring position right off the bat. He then scored the first run of the game on an RBI triple by Mike Trout.
He picked up his second hit of the night in the bottom of the third, singling to right with another leadoff hit. Jeter moved up to second on a wild pitch by Alfredo Simon, but was stranded after Trout flew out to right, Robinson Cano struck out, and Cabrera lined out to shortstop.
He went out to the field to take warm-ups before the top of the fourth, then was called off to be replaced at shortstop by Alexei Ramirez. Jeter's send off was complete with a full pause in the game as he tipped his cap to the crowd several times before hugging every player in the AL dugout, thanking John Farrell for giving him that chance before coming out for one last salute.
[fragment number=0]
Jeter finished his All-Star career with a .481 batting average, getting 13 hits in his 27 at bats. The AL won the event 5-3, clinching home-field advantage in the World Series for the second consecutive season.
Before the game, Derek Jeter gave a speech to his fellow AL All-Stars in the clubhouse, telling them to cherish the experience.
[fragment number=1]
After the AL's win, Trout was named MVP of the game after going 2-for-3 with a triple, two RBIs, and a run scored. It seemed right that the 22-year-old knocked home the 40-year-old Jeter in the first inning, with Jeter metaphorically passing the torch of the next era of baseball to the young Angels' star, who will now pick up where Jeter leaves off.