Red Sox
Childhood Accident Put Things Into Perspective for Mookie Betts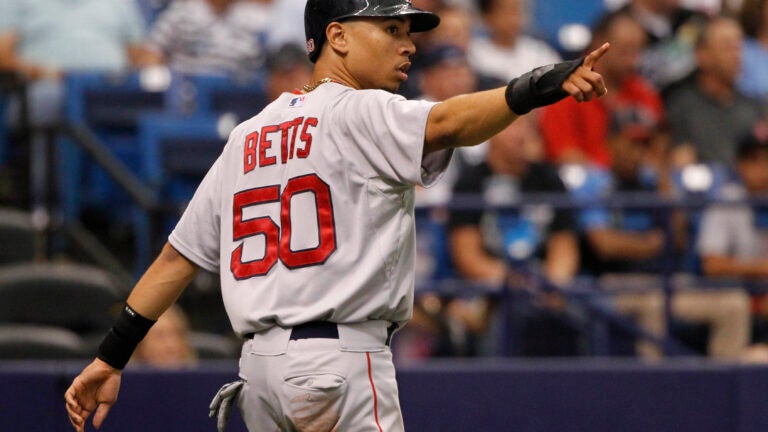 Twelve-year-old Mookie Betts lay on the road in the direction of oncoming traffic. He screamed for his mother as cars came to a halt. That's what he has been told to help piece together the events of that day in Kansas City. An accident during the Spring of 2005 could have changed his future. Instead, nine years later, he is making a name for himself on the Boston Red Sox.
Betts, an avid bowler, was on a road trip from Nashville, Tennessee for a tournament. Betts' stepfather drove the family's SUV, carrying his mother and three members of the bowling team. The young Betts dozed off behind the driver's seat. While he slept, his stepfather hit a pole, veered off the road and rolled into the median. Betts was ejected from the vehicle.
"I got thrown out,'' he said. "I was on the road. My mom said if the cars kept on going, they probably would have rolled over me.''
Paramedics rushed to check for internal wounds. Betts' only clear memory of the accident is receiving medical attention at the crash site.
"I don't remember anything except them cutting my clothes off,'' Betts said. "Those were some good clothes. That was a good pair of jeans and a bowling shirt.''
His memory fast-forwards to waking up in a hospital bed with injuries from top to bottom. He suffered a dislocated wrist, broken toes, and injuries to his jaw. Doctors told him his braces helped keep his teeth in tact.
"My jaw was swollen, like double Kanye,'' he said, referencing Kanye West's well-documented accident.
Everyone in the car survived the accident. Betts' stepfather was life flighted to the hospital and recovered. His mother sustained a broken shoulder. One of his friends, who was sitting in the back passenger seat, only chipped his tooth.
Betts spent a week in the hospital. Once he was discharged, his father traveled to the hospital to bring him back home. Betts quickly realized a side effect of the accident during the drive to Nashville.
"Me and my mom were terrified of riding in the car at that point,'' he said. "My dad drove back from Kansas City, and if he went over a little rock, me and my mom would flip. We tried to go to sleep and couldn't. I sleep in the car for some reason. If you hit the little ridges on the side of the street, I'll flip out and I won't go back to sleep. To this day I'm still kind of whatever, but that has nothing to do with baseball.''
As a sixth grader, Betts wanted to move on. He returned to school with swollen cheeks and marks on his face. Even though he was supposed to be on a liquid diet, his father still snuck him potato chips.
He was especially determined not to let the accident hold him back from sports. Watching his teams from a distance was one of the toughest aspects. In spite of being sidelined from playing basketball with a cast, he spent that time learning how to use his left hand. When it came to baseball, he found an inventive way to get back on the field.
"My wrist took the longest,'' he said. "I couldn't throw because it (the cast) was on my right hand, but I could hit … Then you had a DH (designated hitter) and an EH (extra hitter)– I was the EH. I put a batting glove on, had my bat, and I could kind of wrap my hand around it and I hit. I literally played in games with a cast on my wrist. I don't know how I did it.''
Betts put the accident behind him. He didn't see photographs of the vehicle until three years later.
"I thought, 'Wow.' The car was messed up,'' he said. "I don't know how we stayed alive in that thing, but hey, we did.''
Nearly 10 years later, Betts doesn't think about the day in Kansas City. He is focused on his bright future as a Major League Baseball player. Betts has made things look easy this season. He was fast tracked from Double-A in April to his big-league debut at the end of June. He is batting .280 (4 home runs, 11 RBIs) and was moved up to the leadoff spot. Only 21, he is already being mentioned in trade rumors with star players.
On the surface his path to the majors seems seamless. Even though he refers to the accident as "a little setback,'' it has a big impact on his outlook.
"You can't take anything for granted,'' Betts said. "At that point, I was like life can be taken from you at any time. Try to be happy … Anything can happen at any time.''