Red Sox
Phillies Reportedly Seeking Sox' Swihart in Exchange for Hamels; Sox Refusing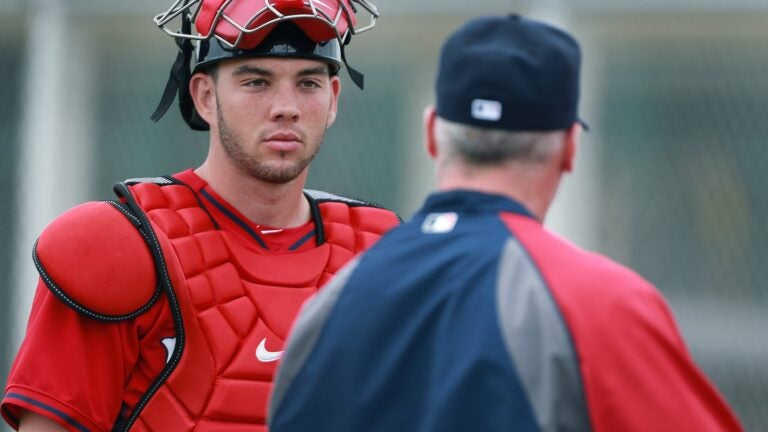 With the Hot Stove season rolling into 2015, here's a brief collection of reports, rumors, and available players that could be on the radar for Red Sox GM Ben Cherington and his staff.
Phillies Want Swihart for Hamels; Sox Not Interested
The Red Sox have reportedly been in hot pursuit of Phillies lefthander Cole Hamels this offseason, but the Philly club's asking price remains the sticking point.
According to USA Today's Bob Nightengale, the Phillies would require top catching prospect Blake Swihart be included in a trade for Hamels, an exchange Boston's front office appears unwilling to make.
[fragment number=0]
Swihart, 22, was recently named the top catching prospect in the minors by MLB.com. He has yet to play an inning for the Red Sox but has steadily risen through the ranks in the minors, most recently slashing .261/.282/.377 over 18 games in AAA Pawtucket.
Hamels, 31, is entering the third year of a six year, $144 million contract with a club option for a seventh year at $20 million. He was 9-9 with a 2.46 ERA over 204.2 innings for the bottom-dwelling Phillies in 2014.
Red Sox Reportedly Sign Dana Eveland
After making big moves for the starting rotation and lineup, GM Ben Cherington is quietly making moves to help the bullpen regain form.
[fragment number=1]
Dana Eveland, who pitched 27 1/3 innings for the New York Mets last season with a 2.63 ERA, undewent Tommy John surgery and missed the entire 2013 season. In his career, Eveland owns a 5.27 ERA and 283 strikeouts in 420 innings pitched.
Red Sox, Dodgers 'Aggressive' in Pursuit of Pitcher Alexi Ogando
Two dozen teams attended a workout by former Ranger Alexi Ogando last week, with the Red Sox and Dodgers reportedly showing the most interest in the righty.
[fragment number=2]
Ogando, who was both a starter and reliever five years in Texas, would presumably take the latter role for a Red Sox team in need of another bullpen arm. He owns a 3.35 career ERA, but struggled last season with a 6.84 ERA over 25 innings.
According to the Boston Globe's Nick Cafardo, Ogando's injury history could relegate him to the minor leagues, though.
Red Sox May to Be Out of the Running for James Shields
It appears James Shields will be the next free-agent pitcher to earn a big payday as he's reportedly on track to be offered a contract worth at least $100 million over five years. But the Red Sox are not expected to the team offereing Shields the Big Game Dough. Ken Rosenthal of Fox Sports reports via a source: "The Red Sox, projected to be an early favorite for Shields, are maintaining contact with his camp but are 'highly unlikely' to sign him.''
Rosenthal reports that several teams have backed off on their interest in the 33-year-old Shields due to the high price tag. No team appears to be the frontrunner for signing Shields at this point.
[fragment number=3]
Two executives told Rosenthal that Shields has a five-year, $110 million offer and is looking for an even higher guarantee.
Reports: Yankees, Chase Headley Agree to Four-Year Deal
The New York Yankees have their third baseman for the foreseeable future, and his name is not Alex Rodriguez.
FOX Sports' Ken Rosenthal reported on Monday that Chase Headley and the Yankees were close to agreeing on a four-year deal, while CBSSports.com's Jon Heyman said that the contract is for four years and slightly over $50 million.
[fragment number=4]
[fragment number=5]
The Yankees' revolving door at third base in 2014 was locked down by Headley after he was acquired by the Bronx Bombers from the San Diego Padres in July. He hit .262 with six home runs and 17 RBIs in 58 games with the Yankees down the stretch.
The 30-year-old has played 966 games over eight MLB seasons, hitting .265 with 93 homers and 418 RBIs. His best year came in 2012 with the Padres, when he led the National League with 115 RBIs and won a Gold Glove and Silver Slugger.
With Headley locked down for the next four years, it's not yet clear what the Yankees plan to do with Rodriguez, who is returning from the season-long suspension he served in 2014. He will most likely DH and play some occasional third base.
Sox Announce Wade Miley Trade; Make Additional Deal With Diamondbacks
The Red Sox officially announced their trade with the Arizona Diamondbacks that will bring lefthander Wade Miley to Boston.
The Sox will send righthanders Rubby De La Rosa and Allen Webster, both acquired in the 2012 megadeal with the Dodgers, back to Arizona along with rookie league infielder Raymel Flores. In addition, the Sox also acquired right-handed pitcher Zeke Spruill from the Diamondbacks in exchange for minor league pitcher Myles Smith.
Miley, second in the National League Rookie of the Year voting and an All-Star in 2012, has made 66 stats the last two seasons, the most in the majors for a lefty. in his three full seasons, Miley was fourth in the NL in wins by a lefty with 34, behind the Dodgers' Clayton Kershaw, the Giants' Madison Bumgarner and the Nationals' Gio Gonzalez.
Spruill, 25, was 1-1 with a 3.57 ERA in 22.2 innings for the Diamondbacks in 2014. Arizona designated him for assignment on Monday. Smith pitched for Single-A Greenville in 2014, going 5-10 with one save and a 5.82 ERA.
Masterson Signing Official
The Red Sox made their agreement with free agent righthander Justin Masterson official on Thursday night, announcing a one-year deal with the 2013 all-star. CBSSports.com's Jon Heyman has the terms.
[fragment number=6]
Masterson's signing brings the tam's 40-man roster to 39 players. Masterson was drafted by the Sox in the second round of the 2006 June Draft and pitched in parts of two seasons before being included in a trade to the Cleveland Indians for catcher/first baseman Victor Martinez
Free Agent Justin Masterson May Join Sox Rotation
Free agent pitcher Justin Masterson has reportedly agreed on a contract with the Red Sox, ESPN's Buster Olney reported this morning.
[fragment number=7]
Details are scarce, but the Boston Globe reported earlier in the week the Red Sox were looking to ink their former prospect to a one-year deal.
Masterson, who will turn 30 in March, had a 5.88 ERA over 128.2 innings last season with the Indians and Cardinals. He earned his first all-star nod a year before, going 14-10 with a 3.45 ERA for the Indians. He threw a league-high three complete game shutouts that season.
Reports: Ball Appears to Be in Jon Lester's Court; Giants, Dodgers Out
There's one less horse in the race for Jon Lester: the San Francisco Giants.
The Giants have been told that Lester will not be signing with them, according to multiple media reports.
[fragment number=8]
[fragment number=9]
[fragment number=10]
[fragment number=11]
[fragment number=12]
Meanwhile, the Los Angeles Times' Dylan Hernandez is reporting that the Dodgers are not in on Lester, a sign that points to the two strongest candidates still vying for his services are the Red Sox and Cubs.
[fragment number=13]
General Managers for the Red Sox and Cubs have stated to various media members that they've provided all the necessary information to highly sought-after free agent pitcher Jon Lester, and it's time to give the lefty some space.
Mark Gonzales, Cubs beat writer for the Chicago Tribune, reported this tidbit:
[fragment number=14]
While The Boston Globe's Pete Abraham tweeted this piece of information from San Diego:
[fragment number=15]
Many thought a decision would come Tuesday at some point, but it could spill over into Wednesday as many teams in Major League Baseball eagerly await Lester's announcement.
Report: Red Sox in Talks With Phillies About Antonio Bastardo
While the Red Sox wait to hear on whether Jon Lester was returning to Boston, the team appears to be looking into a deal for another left-hander to add to their pitching staff.
The Red Sox and Phillies are discussing a trade that would bring reliever Antonio Bastardo to the Red Sox in exchange for infield prospect Sean Coyle, according to CSNNE.com's Sean McAdam.
Bastardo pitched in 67 games for the Phillies last season, logging 64 innings with an ERA of 3.94. He has a career ERA of 3.72 and a 2.59 strikeout/walk ratio. Coyle was an Eastern League All-Star for the Portland Sea Dogs last year, hitting .295 with 16 home runs in 96 games at Double-A.
Lester's Reps Not Ready to Present Him With Final Offer
According to Rob Bradford of WEEI, a major league source said, as of Tuesday evening, "Jon Lester's representatives were not at the point where they were prepared to offer their client a presentation of final offers from the four teams involved.''
With all four ownership teams involved, according to Bradford, there was a very good possibility that the decision would be pushed to Wednesday.
Bradford's source went on to say Lester's agents did meet with the Red Sox earlier on Tuesday. Pete Abraham of the Boston Globe recently tweeted the Red Sox were set to meet again with Sam and Seth Levinson Tuesday night.
[fragment number=16]
ESPN's Buster Olney is reporting that Lester should see the offers soon, and the decision could be made Tuesday evening.
[fragment number=17]
ESPN's Gordon Edes is confirming that Lester will have all the info tonight.
[fragment number=18]
SB Nation Reports Lester is Chicago-bound
SB Nation's Over the Monster reports that industry insiders expect Lester to sign with the Chicago Cubs.
Over the Monster has learned through multiple league sources of a growing sense in the industry that Jon Lester is leaning towards signing with the Cubs. Sources have indicated that the Cubs are making a hard push to sign Lester and the two sides are deeply entrenched in conversation. A final decision will likely come on Tuesday or Wednesday from Lester's camp.
Giants Assistant GM on Free Agent Jon Lester: "We're Not in The Driver's Seat''
The San Francisco Giants appeared to make a late push for Jon Lester, ending up this morning as one of the likelier teams to aquire the left handed pitcher. In a statement on MLB Network Radio, Giants assistant GM Bobby Evans made comments revealing new information, the feeling the Giants don't have a great chance in signing Lester anymore.
[fragment number=19]
Henry Schulman, Giants beat writer for the San Francisco Chronicle, offered up this analysis.
[fragment number=20][fragment number=21]
According to a recent tweet from Nick Cafardo, Giants GM Brian Sabean says the Giants are still very much in the mix.
[fragment number=22]
Lester has strong ties to both Boston and Chicago, last pitching with the Red Sox before his trade to the Atlhetics, and has a good relationship with Theo Epstein, the current GM of the Cubs, formerly of the Red Sox.
Reports: Francisco Liriano Re-Signs With Pittsburgh Pirates
Jon Lester is one of the Red Sox' top pitching options during the 2014 Winter Meetings in San Diego. But in the case that the Sox don't sign him, they have a bevy of backup options, from both free agency and trade. According to Jon Heyman, sources say one option is off the table.
[fragment number=23]
Liriano had a lackluster season last year in Pittsburgh, going 7-10 with a 3.38 ERA in 29 games. His best season came just a year before, going 16-8 with a 3.02 ERA,. He was ninth in Cy Young Award voting.
Reports: Red Sox Offer Justin Masterson One-Year Contract
Justin Masterson was once with the Red Sox organization, throwing off the mound at Fenway Park for the first season and a half of his career, before being traded to the Cleveland Indians in 2009 for Victor Martinez. According to a major league source, Nick Cafardo reported that the Red Sox had extended the tall Jamaican-born right-hander an offer.
[fragment number=24]
Masterson spent last season split between the Indians and the St. Louis Cardinals, going 7-9, with a 5.88 ERA in 28 games. He also spent more than a month on the DL due to a knee injury. His best season came in 2013 with the Indians, going 14-10 with a 3.45 ERA, and was named to the 2013 All Star Game, although he didn't pitch.
Jeff Samardzija Out of the Red Sox Picture
One name that has been connected to the Red Sox throughtout this offseason has been pitcher Jeff Samardzija. Boston can officially take him off the board, as the Chicaco White Sox have completed a trade with the Oakland A's for the 29-year-old righhander.
Samardzija will join Chris Sale and Jose Quintana in the White Sox starting rotation. The White Sox will send infielder Marcus Semien, right-hander Chris Bassitt and a third player to the A's. The White Sox also landed former Yankees closer David Robinson via free agency to shake up their pitching staff.
Lester's Agent Denies Report Red Sox Are Out of the Running
In what may be the final 24 hours of the Jon Lester sweepstakes, conflicting reports have emerged about the Red Sox chances of landing the free agent southpaw.
At 4:36 p.m. on Monday, Fox Sports' Ken Rosenthal reported that there are two teams remaining for Lester to choose from, but the Red Sox were not one of them.
[fragment number=25]
Within half an hour after that report came out, Lester's agent Seth Levinson told WEEI.com that the idea of Sox being out of it was "absolutely untrue.''
The Red Sox have openly pursued free agent Lester and have been linked in trade talks to Philadelphia's Cole Hamels as a back-up plan. Rosenthal suggested earlier on Monday that the moves might not be mutually exclusive.
[fragment number=26]
Elsewhere, ESPN's Buster Olney is saying Lester's decision will come Tuesday at the latest.
[fragment number=27]
Report: John Henry Pays Jon Lester a Visit
WEEI.com's Rob Bradford and Alex Speier report that according to multiple sources, Red Sox principal owner John Henry visited forner Sox pitcher/current free agent target Jon Lester at his his home in the greater Atlanta area on Friday. Speier and Bradford report this personal visit was the second Henry has made to Lester's home since free agency officially began (with the first including other members of Sox ownership) and that it's believed Lester will make his decision on where to sign at some point during this coming week's winter meetings in San Diego.
Ortiz: Time to Man Up, Red Sox
Count Red Sox slugger David Ortiz among the Red Sox players who hope free agent pitcher Jon Lester returns to his Boston baseball roots.
"Now is the time to step, man up, and try to make the guy happy,'' Ortiz told reporters Thursday at his annual charity golf tournament in the Dominican Republic.
"Most of the time we come through,'' Ortiz said. "I know it's a tough situation because my boy Lester, he's got a lot of people in his head right now talking to him. I always wish him the best, but hopefully we end up having him. We need him.''
Pitcher-Heavy Braves Don't Re-Sign Medlen, Beachy
Among the two dozen or so non-tendered free agents made available after Tuesday's deadline, two stand out as intriguing free agents: Braves pitchers Kris Medlen and Brandon Beachy.
Both represent possible middle-of-the-rotation options for the Red Sox, but with one major caveat: both men had their second Tommy John surgery last offseason, and neither is expected back before May. The 29-year-old Medlen is the more attractive option numbers-wise, having put up a 2.96 ERA since moving out of the bullpen in 2010 including 138 innings of 1.57-ERA ball in 2012. The righty offers solid control alongside a plus fastball and changeup.
Beachy, 28, doesn't have quite those numbers — he has a 3.23 ERA oer 46 career starts — but the right would likely come cheaper.
Either signing would involve some risk, but the payoff could be worth it for a pitching-needy team like the Red Sox.
Yankees and Dodgers May Be Latecomers in Lester Bidding War.
Just as it started to look like some clarity might be coming in the Lester sweepstakes, two more teams might have joined the fray.
Chicago radio personality Matt Abbatacola tweeted last night the Yankees are pursuing the southpaw, calling it a "late and large offer.''
It's hard to consider this much more than a rumor at this point considering the source, but the Cubs' reported pursuit of the lefty lends it at least a little credence. CBS baseball insider Jon Heyman is among the major voices questioning the report.
[fragment number=28]
Meanwhile, Heyman has joined others in reporting the Dodgers may in fact be the "mystery team'' looking to sign Lester.
Braves Look to be Out on Jon Lester; Giants Join Cubs and Sox in Chase
Cross one team off the list of those involved in the Jon Lester sweepstakes.
It seems the Atlanta Braves, who met with the former Sox lefthander early on in his free agent tour, have taken themselves out of the running for his services. Apparently, the price was not right.
[fragment number=29]
Lester reportedly met with the San Francisco Giants on Monday. According to CBSSports.com's Jon Heyman, the Cubs and the Sox are currently the front-runners to nab Lester, with "sources suggesting'' Chicago has offered him $138 million over six years and Boston "suggested at least a willingness to go to $130 million'' also for six years.
John Henry 'Hopeful' On Signing Jon Lester; Says Red Sox Can 'Blow Through' $189 million Luxury Tax Threshold
So much for the bargain basement hunting by the formerly frugal Red Sox. Principal owner John Henry said Tuesday that the team is prepared to exceed the $189 million luxury tax threshold in player salaries heading into the 2015 season. "The way it's structured we can blow through one year,'' Henry said after newly-minted left fielder Hanley Ramirez was introduced to the media.
Even after investing nearly $200 million in two position players in Ramirez and Pablo Sandoval this week, the Red Sox remain in the hunt for free-agent southpaw ace Jon Lester. "I'm hopeful,'' said Henry when asked if he was optimistic about re-signing the former ace of the Sox staff.
It's been reported that the Chicago Cubs offered Lester a contract in the $135 million range over six years. The Globe's Nick Cafardo reported that the Sox offered Lester a six-year deal in the range of $110-120 million after meeting with owner John Henry, chairman Tom Werner, president Larry Lucchino, and COO Sam Kennedy. Lester — who has met with the Red Sox, Cubs, and Atlanta Braves, will next pay a visit to the San Francisco Giants next week, according to an AP report.
Report: Sox Have Had 'Most Serious Talks' With Phillies About Cole Hamels
With the news coming out on Monday that the Red Sox had agreed to deals with both Hanley Ramirez and Pablo Sandoval, the question remained how the Sox would fix their starting rotation.
According to multiple media reports, if they lose the sweepstakes to bring back Jon Lester, that answer could likely be Philadelphia's Cole Hamels.
USA Today Sports' Bob Nightengale reported on Monday that the Red Sox "have had the most serious talks with the [Phillies] for Cole Hamels,'' while Yahoo! Sports' Jeff Passan also reported that "the Phillies are confident that if Red Sox don't get Jon Lester, Boston's desire for an ace will make a Cole Hamels trade very likely.''
Does it matter that Cole Hamels has the Red Sox on his no-trade list of 20 teams? Not according to the Globe's Nick Cafardo who writes that "after discussing the issue with Hamels's agent, John Boggs (fourth cousin of Wade Boggs), it appears the Red Sox and Phillies could still make a deal for the lefthander.''
Cafardo goes on to write that the Phillies southpaw has no issues with the Red Sox and can revise his no-trade list every year.
The 30-year-old Hamels went 9-9 with a 2.46 ERA for the Phillies in 2014.
Ramirez Reunion With Red Sox Now in Play
Pablo Sandoval isn't the only infielder the Red Sox want to bring to Boston. It seems one of the former top prospects is in the conversation now too.
According to CBSSports.com's Jon Heyman, the Sox are "involved'' with Dodgers' free agent shortstop Hanley Ramirez. Heyman reports that the Sox have remained in contact with Ramirez "since as far back as the GM meetings,'' and are "believed to be possibly moving toward an agreement with the star shortstop.''
Heyman also makes sure to note that even though it's not clear what position Ramirez would play if he were to sign in Boston, "there's no doubt the Red Sox are in play for Sandoval and Ramirez at the moment,'' and that talks "have grown more serious in recent days.''
Sandoval Leaning Toward Signing With Sox?
The latest conjecture regarding Giants' third baseman Pablo Sandoval comes from San Francisco Chronicle reporter John Shea, who wrote Saturday afternoon that he "hears Sandoval is leaning toward signing with the Red Sox.''
Shea also notes that "things could change in a hurry,'' and that Giants' assistant GM Bobby Evans "suggested the third baseman could make his decision before Thanksgiving.''
The Globe's Nick Cafardo reported Saturday that the Giants "stepped up… with discussions that put them back at least level with the Red Sox,'' who he also reported "were in the lead'' for Sandoval on Friday.
Report: Jon Lester to Meet With 'At Least Two More Teams Next Week'
The Jon Lester sweepstakes won't be ending anytime soon.
After meeting with the Red Sox, Cubs, and Braves over the past week, Lester will meet with "at least two more teams next week,'' according to WEEI.com's Rob Bradford.
The Globe's Nick Cafardo reported on Wednesday that the Sox had offered Lester a six-year deal in the range of $110-120 million after meeting with owner John Henry, chairman Tom Werner, president Larry Lucchino, and COO Sam Kennedy.
Bradford also reported that the Red Sox would show a "willingness to negotiate'' on their offer, while Lester's agent Seth Levinson told WEEI.com that the Red Sox "extended great respect'' to Lester in their meetings.
Lester is coming off one of the best years of his career finishing the 2014 campaign with a 16-11 record, 220 strikeouts, and a 2.46 ERA between Boston and Oakland.
Red Sox Make Offer to Jon Lester: $110m-120m Over 6 Years
According to Nick Cafardo of the Boston Globe, the Red Sox have offered Jon Lester a deal in the $110-120 million range over six years.
WEEI's Rob Bradford wrote that, according to Seth Levinson (one of Lester's agents) that the Red Sox "extended great respect to Jon'' when the former Sox southpaw met with Boston brass earlier this week.
Lester met with the Chicago Cubs on Tuesday and Peter Gammons of GammonsDaily.com told CBS Radio that the Cubs believe Lester is going to sign with the Red Sox, but the Yankees could be waiting in the wings to join in the Lester bidding. "The Cubs think he's going back to Boston,'' Gammons said. "He and his reps are going to wait and see if the Yanks jump in and they might.''
It was widely reported that Lester rejected a a four-year, $70 million contract offer extended by the Red Sox during spring training. Now it is expected that Lester will sign a deal that could be worth as much as $20-25 million annually over six years.
[fragment number=30]
Lester — who is reportedly being pursued by six teams — will also meet with the Braves Thursday in Atlanta, which is only about 30 minutes from the former Sox lefty's winter home.
Report: 90 Percent Chance Sandoval Signs With the Red Sox
According to a report from KPIX CBS San Francisco, "there is a 90 percent chance'' that free agent third baseman Pablo Sandoval will sign with the Red Sox. The report indicates that Sandoval is likely not returning to San Francisco after the Giants offered the Panda the same contract given to Hunter Pence: 5 years at $90 million and that the Giants were "never his first choice.'' Sandoval reportedly countered the Giants offer by asking for a seven-year deal.
[fragment number=31]
CSNNE's Sean McAdam quickly refuted the report, tweeting that the Giants being out of the Sandoval sweepstakes was "not accurate.''
Multiple reports indicate that the Red Sox have prepared and/or delivered a contract offer to Sandoval, who is in Boston to meet with Sox brass.
According to ESPN's Jerry Crasnick, both the Red Sox and Giants have discussed five year deals worth between $80 million and $90 million for Sandoval. Crasnick wrote that things could "come together quickly'' on a deal for the free-agent third baseman, and that the Red Sox are a "serious player.''
The Report by KPIX CBS San Francisco states that the Toronto Blue Jays have a 10 percent chance of signing Sandoval if negotiations with the Red Sox fall through.
In other news on the Red Sox infield, Boston has claimed 1B-3B Juan Francisco off waivers from the Blue Jays. The 27-year-old Francisco played 106 games for Toronto last season, batting .220 with 16 doubles, two triples, 16 home runs, and 43 RBIs. A left-handed batter, 34 of his 63 hits went for extra bases.
Report: Sandoval Decision May Come Quickly as Red Sox and Giants Discussing Deals Worth $80-90 Million
The Panda watch may be coming to an end soon.
[fragment number=32]
According to ESPN's Jerry Crasnick on Twitter, both the Red Sox and Giants have discussed five year deals worth between $80 million and $90 million for Sandoval. Crasnick wrote that things could "come together quickly'' on a deal for the free-agent third baseman, and that the Red Sox are a "serious player.''
[fragment number=33]
Sandoval arrived in Boston on Monday and is meeting with Red Sox management Tuesday.
[fragment number=34]
It was reported on Monday that the Red Sox and Giants have some company in wooing the services of Sandoval.
The San Diego Padres, Chicago White Sox, and Toronto Blue Jays are also interested in Sandoval, according to CBSSports.com's Jon Heyman. Heyman believes that Sanodval to the Padres makes sense because of their need of offense, their lack of power at third base, and their familiarity with Sandoval, as the third baseman has played his entire career in the NL West.
Fox Sports' Ken Rosenthal had reported last week that the market for Sandoval was down to the Red Sox and Giants, saying that the White Sox and Blue Jays "interest seems limited.''
Sandoval is set to visit Boston this week, according to multiple media reports. It was reported by ESPNBoston's Gordon Edes on Nov. 12 that the Red Sox were "all in'' on trying to sign Sandoval.
Stanton and Marlins Agree to $325 Million Deal, Richest Contract in MLB
Giancarlo Stanton's record deal is done. He will not be coming to Boston anytime soon.
Stanton, the Marlins' young, super power hitting right fielder, has agreed to terms with the team on a 13-year, $325 million deal, which will be officially announced by the Marlins on Wednesday. All that's left to do, says CBSSports.com's Jon Heyman, is some work on the language of the contract, which will make Stanton, 25, the highest paid player in the game. The deal will surpass Detroit first baseman Miguel Cabrera's, previously the biggest in the majors, at 10 years and $292 million.
The average annual value of the contract will be $25 million according to Heyman, which is less per year than what Cabrera makes for the Tigers. Heyman also reports that the deal will include a no-trade clause as well as an opt-out provision.
Giancarlo Stanton Reportedly Discussing Record-Breaking $320 Million Contract With Marlins
Marlins slugger Giancarlo Stanton — who has been rumored to be a coveted trade target for the Red Sox in the last couple of years — is discussing a long-term contract extension in the $320 million range, sources confirmed to Fox Sports' Ken Rosenthal on Thursday.
"The two sides are discussing a deal that would be for at least 10 years and at least $300 million, major-league sources say,'' according to Rosenthal. "The contract, according to one source, is in the range of 12 years, $320 million.''
ESPN's Buster Olney on Friday writes that the contract is "something in the range of $325 million over 12 years, which is one of the options that has been discussed.''
While Stanton's agent declined to comment on the deal, Marlins GM Dan Jennings told Rosenthal that the two sides have continual dialogue but wouldn't say the two sides are close to an agreement. The Marlins control Stanton for another two years before he is eligible for free agency.
On Sept. 11, Stanton's 2014 season came to an end when he was hit in the face by a pitch and suffered multiple fractures, a laceration requiring stitches, and dental damage. Stanton led the NL with 37 home runs and a .555 slugging percentage last season.
Miguel Cabrera of the Tigers currently has the richest contract in sports — a 10-year, $292 million deal that runs through 2023.
Report: Jon Lester Will Visit Chicago Cubs Top Brass Next Week
According to multiple reports from ESPN and CBSChicago.com, prized free agent southpaw starter Jon Lester will meet with old friends Theo Epstein, Jed Hoyer and the Cubs brass in Chicago next week.
"They always treated me with the utmost respect and class,'' Lester said over the summer of Epstein and his assistants (via ESPN.com). "I have nothing but good things to say about them. If you're in that position you do your homework. Obviously there's the familiarity with those [Epstein] guys.''
The Red Sox are also reported to be one of just a half-dozen of teams seriously in the running for the free agent southpaw. The Globe's Peter Abraham reports that Lester could also be in attendance for formal meetings with Red Sox brass next week as well.
There are six clubs that have shown "legitimate interest'' in signing the former Sox ace, a major league source told WEEI.com's Rob Bradford, with Bradford saying the Red Sox are one of those teams.
Meanwhile, Sox GM Ben Cherington told the media on Wednesday that he had met with representatives of Lester on Tuesday, but they did not talk about specifics.
"I met with them kind of socially and talked about all sorts of things,'' Cherington said (via WEEI.com). "I expect the conversation will continue. They have to go through their thing. I still feel like the relationships are in place [and] we can have those conversations.''
Pablo Sandoval Expected to Meet with Red Sox Next Week
Will there be Pandamonium in Boston?
The Globe's Nick Cafardo reports that Sandoval is expected to meet with the Red Sox in Boston as early as next week in his first face-to-face sit-down with Sox brass. Cafardo also writes that "sources close to Sandoval indicate that he loves the fact that Boston is so interested.''
[fragment number=35]
Ken Rosenthal of Fox Sports reported Wednesday that the Giants and Red Sox are the favorites to land free agent third baseman Pablo Sandoval, but "unless [Boston] makes a big play, [San Francisco is] the favorite.'' Rosenthal also report that the Red Sox are weighing other options. Hanley Ramirez has been widely reported to be one of the options the Sox are considering to take over duties at third base next season.
[fragment number=36]
ESPN's Buster Olney writes that the Sox willingness to sign the conditioning-challenged Sandoval "doesn't make a lot of sense'' due to the fact that Boston would offer more to Sandoval — more than $100 million — than they did to either Jacoby Ellsbury two years ago or Jon Lester over the past year.
And don't worry because the Farrelly brothers have weighed in, proclaiming support for the Sox signing Sandoval on ESPN's SportsCenter Wednesday. "After the Sox season last year, certainly they gotta try something new,'' Bobby Farrelly said. His brother echoed his support for the Sox brass: "We've been so blessed with the Red Sox the last 10 years that it's hard to get down on them,'' Peter Farrelly said. "I believe in the front office from John Henry down and if they think that's a good idea, then I trust them, they've done well.''
Report: Red Sox 'All In' on Trying to Sign Pablo Sandoval
Well, it looks like the Sox are going to do everything they can to land the man nicknamed "Kung Fu Panda.'' ESPNBoston's Gordon Edes reports that "an executive with another major league club said Tuesday that the Red Sox are 'all in' on the free-agent third baseman and are making a big push to sign him.''
Edes says that Sandoval is "seen as an ideal fit for the Red Sox because he meets their need for a left-handed bat…he plays third base…and he could ultimately succeed David Ortiz as the team's designated hitter.''
Sandoval is coming off a season where he hit .279 with 16 home runs and 73 RBIs, but shined for the San Francisco Giants in the postseason, hitting .366 over 17 games and helped the Giants to their third World Series title in five years.
Report: Baseball Exec Predicts Red Sox Will Re-Sign Jon Lester
Meet the new ace, same as the old ace? ESPNBoston's Gordon Edes reports from the GM meetings that "a well-connected baseball executive who has had conversations on the subject with the Red Sox, predicted that Boston will indeed re-sign Lester, and may make an exception in Lester's case to their pledge not to offer a long-term deal to pitchers north of 30 years old.''
The exec told Edes that a six-year offer for at least $20 million per year could not be ruled out for Lester.
The Globe's Dan Shaugnessy doesn't see Lester coming home again: "For those who still believe the Red Sox are serious about signing Jon Lester, I have some land in Truro to sell you. Really. There's a better chance of Bill Belichick going out to lunch with Eric Mangini. The Lester number is probably going to be north of $140 million and the Sox already have drawn a line. Lester would like to come here, but not for two-thirds of what he can make. His agent doesn't want to be decertified. Lester sold his home in Greater Boston. It's over, folks.''
Is Hanley Ramirez the Backup Plan at Third if the Red Sox Can't Sign Sandoval?
Hanley Ramirez is reportedly willing to switch positions which has put him on the Red Sox radar. Jon Heyman of CBSSports.com reports that Ramirez is telling teams he is willing to play "wherever there's a need'' and the Red Sox are one of the teams that's been in touch with him about possibly playing third base.
The former Red Sox prospect batted .283 with 13 homers and 71 RBIs in 2014. Ramirez put up a .810 OPS which led all shortstops last season.
Report: Red Sox to Meet With Pablo Sandoval Next Week
The Red Sox have begun to kick the tires on one of the most coveted free agents on the market this year.
Representatives of third baseman Pablo Sandoval and the Red Sox have agreed to meet at the general managers' meeting in Arizona next week, according to the Globe's Nick Cafardo, citing a major league source.
The 28-year-old recently rejected a one-year, $15.3 million qualifying offer from the San Francisco Giants, meaning any team that signs him this offseason would have to surrender a first-round draft pick to the Giants.
The three-time World Series champion has hit .344 with a .935 OPS in his postseason career; he is reportedly seeking a deal worth over $100 million.
Pablo Sandoval Rejects Qualifying Offer from Giants
San Francisco Giants third baseman Pablo Sandoval has officially rejected his one-year, $15.3 million qualifying offer, according to Ken Rosenthal of Fox Sports. The 28-year-old Sandoval is one of the top free agents in the market and is reportedly looking for a multi-year deal. The Red Sox have been named as one of the potential suitors for Sandoval's services. The bulky third baseman — fresh off a strong performance in the 2014 World Series — batted .279/.324/.415 during the regular season. Any club signing Sandoval would have to surrender a first-round draft pick as compensation.
Nelson Cruz Among 12 Free Agents That Receive Qualifying Offers
Nov. 3 marked baseball's deadline for players to receive one-year, $15.3 million qualifying offers from their current teams. One possible [read: long shot] Red Sox target — slugging outfielder Nelson Cruz — received a qualifying tender from the Orioles, the second consecutive year Cruz has received one. Last year, the 34-year-old Cruz rejected the qualifying offer from the Texas Rangers as he set his sights on a multi-year deal. He would end up signing a one-year deal with Baltimore when the market for his services was cool in part due to a 50-game suspension levied against him in 2013 for his involvement in the Biogenesis drug scandal.
Cruz accepted an $8 million offer from the Orioles in February and would hit an MLB-best 40 home runs while driving in a personal-best 108 runs in helping the O's to a first place finish in the AL East. By tendering Cruz, Baltimore will be awarded with a future draft pick should Cruz sign elsewhere.
In total, 12 players were extended qualifying offers on Monday. In addition to Cruz, the list includes: Max Scherzer (Tigers), Victor Martinez (Tigers), David Robertson (Yankees), Melky Cabrera (Blue Jays), James Shields (Royals), Hanley Ramirez (Dodgers), Pablo Sandoval (Giants), Russell Martin (Pirates), Michael Cuddyer (Rockies), and Ervin Santana (Braves).
Shields and Sandoval are also often mentioned as being possible Red Sox offseason targets as well.
Koji Uehara's Back in Boston for 2 More Years
The clock will keep striking Koji Time in Boston for a couple more seasons.
The Red Sox announced on Oct. 30 that they've re-signed All-Star closer and World Series hero Koji Uehara to a two-year deal that will keep him in town through the 2016 season. Uehara, 39, will make $18 million over the course of the contract.
In a couple of moves to clear space on the team's 40-man roster, the Sox cut ties with a pair of utility infielders on Nov. 3 as Jonathan Herrera was outrighted to Pawtucket and became a free agent, while Carlos Rivero was claimed off waivers by the Seattle Mariners.
Also on Nov. 3, the Red Sox worked out Cuban outfielder Yasmany Tomas at their academy in the Dominican Republic. The 23-year-old slugger defected from Cuba in June after playing five seasons in Serie Nacional. He represented Cuba in the 2013 World Baseball Classic, where he hit .412 with two home runs and a double. The Sox are not alone in vying for Tomas' services, as he has also taken part in workouts with the San Diego Padres, Texas Rangers, and Philadelphia Phillies.
On Oct. 31, the Red Sox announced that they had declined the $4 million option for 2015 on lefty reliever Craig Breslow, who now becomes a free agent. Red Sox GM Ben Cherington did not rule out bring the 34-year-old Breslow back for next season. Breslow struggled out of the bullpen for the Red Sox last season, posting a career-worst 5.96 ERA along with eight homers homers in relief in 2014.
The Red Sox 40-man roster now stands at 36 players.