Red Sox
Ex-Sox Hurler Jake Peavy Inks Two-Year Deal to Stay With Giants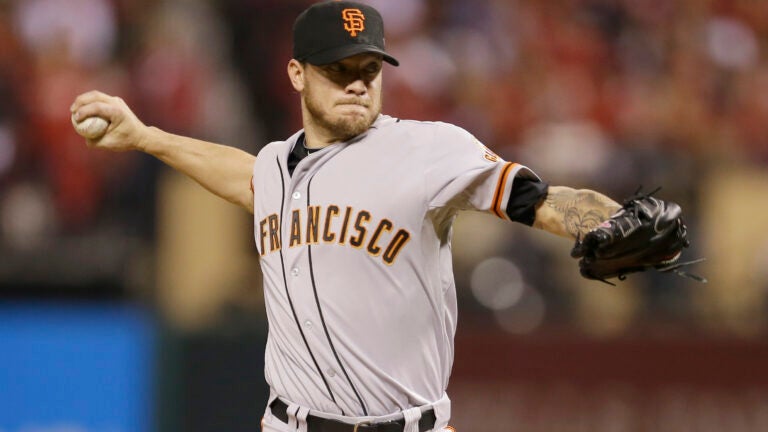 Former Red Sox pitcher Jake Peavy has changed teams a few times over the past two seasons, but for the first time since 2012, he'll be staying in one city for an entire year.
The 33-year-old agreed to a two-year, $24 million contract on Tuesday to re-sign with the San Francisco Giants, the team that acquired the right-hander from the Red Sox at the trade deadline.
Peavy pitched well for the Giants down the stretch in 2014, going 6-4 with a 2.17 ERA in 12 starts. He made four starts in the postseason – including two in the World Series – as the Giants beat the Kansas City Royals in seven games to capture their third World Series title in five seasons.
The championship secured back-to-back titles for Peavy, as he also won a World Series ring with the Red Sox in 2013. He made 30 starts for the Red Sox after being dealt from the Chicago White Sox on July 30, 2013 through his trade to the Giants just under a year later, going 5-10 with a 4.48 ERA.
Peavy became one of the premier pitchers in baseball during his tenure with the San Diego Padres from 2002-09, when he posted a 3.29 ERA in 212 starts, was a two-time National League All-Star, and won the 2007 NL Cy Young Award.
Peavy got his first taste of the junior circuit in 2009, when the Padres traded him to the White Sox. He held a 4.00 ERA in 84 games with the White Sox and was named an AL All-Star in 2012.
In exchange for Peavy, the Red Sox acquired pitching prospects Heath Hembree and Edwin Escobar. Hembree posted a 2.70 ERA in seven appearances for Triple-A Pawtucket after the deal, while Escobar went 0-2 with a 4.28 ERA in five starts with the PawSox.