Red Sox
Internet Eats Up Pablo Sandoval's Fat Tuesday Photo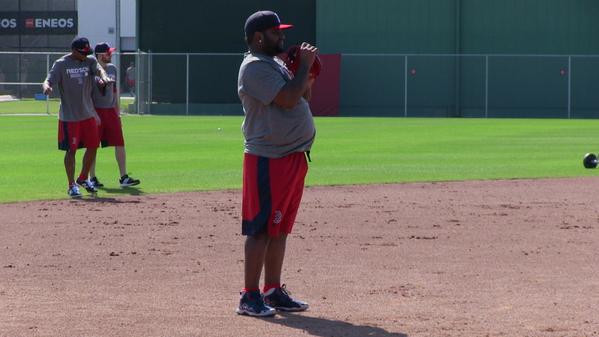 There's a picture floating around the web, taken Tuesday by our own Steve Silva, of Red Sox newcomer Pablo Sandoval looking a little paunchy.
[fragment number=0]
Manyhaveinsinuated that Sandoval, whose nickname is Kung Fu Panda, might not be in tip-top shape on his first day of spring training in Fort Myers, Florida.
[fragment number=1]
[fragment number=2]
[fragment number=3]
Listed on RedSox.com at 5'11'' and 245 pounds, Sandoval was never going to be mistaken for the new, gaunt Matthew McConaughey. But without getting the man to step on a scale, it's pretty clear Sandoval comes to camp with a sizable gut. Compare Sandoval Tuesday to an Instagram picture of Sandoval before last spring training with the Giants:
[fragment number=4]
The comparison is a little unfair because one is a posed picture (think sucking in) from the front, and the other is a side view. and Silva reportedthat Sandoval appeared catlike in fielding drills Tuesday. Does a third baseman need to be in tip-top shape to hit .279 and swipe zero bags, like he did in San Francisco last year? We'll find out.