Red Sox
It's now more clear than ever that John Farrell is the problem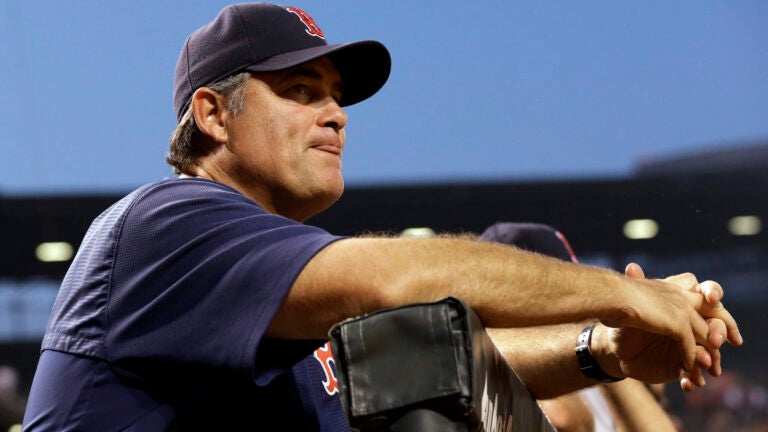 COMMENTARY
This is more about John Farrell than it is Wade Miley.
For sure, the Red Sox starting pitcher deserves much of the attention after a dugout scuffle with his manager that speaks to the discombobulation of these Red Sox, swept by the Baltimore Orioles at Camden Yards, and now facing a season-high seven-game deficit in the American League East, where they are mired with a record of seven games under .500.
The lefty, Miley, was truly awful Thursday night in the Red Sox' 6-5 loss, allowing nine hits, three home runs, and five earned runs. But when Farrell pulled him, albeit when Baltimore had a two-run lead, a relative Everest for this pathetic offense to surmount, Miley let loose on his manager in the Red Sox dugout, frustrated over…what, exactly?
[fragment number=0]
"Are you on acid?'' NESN's postgame analyst Dennis Eckersley asked of Miley in the wake of the incident after the game.
The Red Sox' flagship television network's post-game coverage has actually become must-see television in this season of suckitude. Eckersley, Tom Caron, and Steve Lyons aren't exactly holding back in their criticism of this team, a refreshing detour from owner John Henry and general manager Ben Cherington's nauseating mantra of "Everything is Awesome.'' That's far from the case, a matter that Farrell reiterated to the masses in his postgame scrum, during which he might as well wrapped himself in a 3×9 discount carpet.
"He's a competitor,'' Farrell told reporters. "You work four days for your start and he doesn't want to come out of there, but while I thought he had good stuff and where we were on the scoreboard, I felt we needed a change of contrast and change of style and made a move after four innings.
"He didn't want to come out of the game and that's his competitive spirit. But while he had good stuff they got decent swings against him. We felt we needed to make a move.''
Yuck. Imagine the reaction had former Red Sox manager Joe Morgan told an aging Jim Rice that he admired his "competitiveness'' when he lifted him for Spike Owen in the initial stages of "Morgan's Magic'' in 1988.
That regime suspended Rice for three games after shoving his new manager, in an interim position after the team fired John McNamara. "We couldn't condone the action so we had to suspend Rice,'' Morgan said following the suspension. "I've never had any trouble with Jimmy. I've been a booster of his, but we couldn't let it go.''
That sound anything — anything — like the current, embattled manager?
"Between me and John. It is what it is,'' Miley said, channelling his inner Bill Belichick. "It's fine. It's over. If you want to talk about the game, we can talk about the game. That's it.''
Sure, let's talk about the game then, Wade. Do you feel you were as terrible as you looked?
While this wasn't the best look for Miley, the excusatory Farrell did everything in his ability to, once again, prove that a managerial change is needed in Boston. Exactly how can Farrell, watching his legacy in Boston be kicked into a Fenway sewer, continue to pander to his clubhouse when the lifeboats are falling off the cruise? The fact that Farrell refuses to take a stand, like Morgan 27 years ago, speaks volumes either about the nature of today's job of pandering ultra-sensitive millionaires, or a personality that's just simply wrong for this band of underachieving malcontents.
"We've had a chance to talk,'' Farrell said. "He's a competitive guy and I respect it. There's no lack of competitiveness with Wade. You work four days to get your start and on nights when it doesn't go as anticipated it's frustrating. I can respect his emotion.''
Neat. You can respect the emotion, but that also doesn't mean you have to deal with it.
"I think everybody in here — position players every day, and pitchers once every five days — you get an opportunity, you want to be out there as long as possible,'' Miley said.
That's no different than most starting pitchers, but their ability to control their emotions also goes along way in being able to channel their talent. At some point a little bit of realization has to come into play.
Miley was terrible on Thursday night. It was the fifth time this season that the pitcher has allowed four or more earned runs. (Rubby De La Rosa, the pitcher who went to Arizona in exchange for Miley last offseason, is coming off a five-inning, nine-run performance).
But his outing was less concerning than the aftermath, which included the Red Sox' ever-apologetic manager, willing to make any variety of excuses he needs in order to appease his team.
On Thursday it became clear that the inmates have taken the keys from Farrell.
Turns out the Red Sox aren't only missing clutch hitting in their clubhouse. They're clearly also lacking any semblance of backbone from their manager.
The manager needs to go. That's now more clear than ever.
Notable Red Sox in-season trades:
[bdc-gallery id="106412″]