Red Sox
David Ortiz on playing first base, the All-Star game, and life after baseball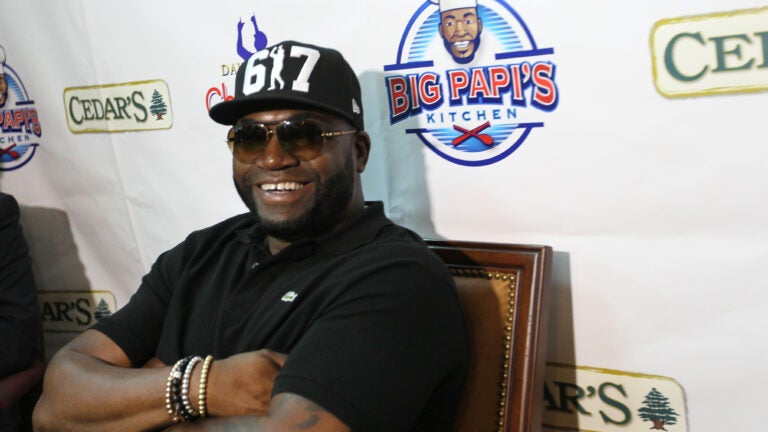 Like Red Sox fans, David Ortiz is looking forward to watching Brock Holt in MLB's 2015 All-Star Game. He's also confident it won't be too long before those fans are cheering on large Boston contingents during the event again.
Between 2007 and 2011, the Red Sox sent no fewer than six players to the All-Star Game each year. This year, Holt may be the team's only representative: The utilityman will be joined by shortstop Xander Bogaerts if he can win MLB's Final Vote for the last American League spot.
"It happens, it happens,'' Ortiz, a nine-time All-Star, said Tuesday at an event to introduce new products from his culinary line, Big Papi's Kitchen. "That's part of being on a major league baseball team. In MLB, it's not always gonna be six, five, whatever number of guys.''
"We were lucky that before we have tons of guys going in, but I never doubt that it's going to happen again, soon. It's just a matter of time.''
Ortiz also thinks it's time for Red Sox Nation to step up to the computer and get Bogaerts on the team via MLB's Final Vote.
"Get him in,'' Ortiz said. "It'll be his first one. He's been playing very well this year so hopefully he makes it.''
If Bogaerts can get more votes than Tigers outfielder Yoenis Cespedes, Yankees outfielder Brett Gardner, Twins second baseman Brian Dozier, and Royals third baseman Mike Moustakas, the 22-year-old would become the youngest Red Sox All-Star in 48 years.
Ortiz understands that he's on the opposite end of the age spectrum and may have already played in his last midsummer classic.
David Ortiz on playing the field, All-Stars, and more
http://brightcove.vo.llnwd.net/v1/unsecured/media/245991542/201507/122/245991542_4342873595001_ortiz-BC-medium.mp4?pubId=245991542&videoId=4342808672001
Red Sox slugger David Ortiz shared his thoughts on a number of topics at an event to introduce new products from his culinary line, Big Papi's Kitchen. (By Steve Silva, Boston.com Staff)
"I think I'm a little too old for the All-Star Game anymore,'' the 39-year-old slugger said. "I prefer to [on] those days just to chill with the family and watch my boy [Brock Holt] go out there and do it.
"I have fun pretty much going to the All-Star Game. Who knows? Maybe before I'm done with the game, I'm going to go to another one but right now we have a few guys, Brock Holt and I think it was really, really good the fact that as a utility [player], the manager picked him up, bring him to the All-Star Game. I think it's a wonderful experience.''
As far as his team getting back in the race with three months of baseball to go, Ortiz is not in panic mode.
"We're getting closer and closer so you never know,'' he said. "We've been playing well. Hopefully that's the beginning of something good. Hopefully we stay there and go into the second half like that.''
Ortiz could find himself playing more first base in the second half, something he did on Sunday to spell the struggling Mike Napoli as part of manager John Farrell's plan to have Ortiz, Hanley Ramirez, and Alejandro De Aza in the lineup together.
"I've done that before,'' Ortiz said when asked if he was sore after playing the field Sunday. "I've been in there before, nothing crazy, nothing new. Be surprised when I get to be playing shortstop.''
When asked if he'd like to get man first at least once every fifth night, Ortiz pumped the brakes a bit.
"I'm not a first baseman no more, remember that,'' he said.
While he's still got plenty of at-bats ahead of him, Ortiz is planning for a life beyond baseball.
"My career ain't forever,'' Ortiz said. "I have a career that at some point is going to end and my life's going to continue so why not? My career opens some other doors for some other things and the only way you can get it done is just approach it. I never stop working. I never stop doing different things because like I say, I know my career is not forever. I'm not a doctor. I'm not one of you guys.''
When asked if he'd consider joining the media and possibly sit alongside his old teammate Curt Schilling at ESPN, Ortiz left the door open.
"Never know. Probably. It all depends,'' he said. "There's more fun things to do than that. You gotta be up to anything and I think the food business is pretty established. Nobody here spends a day without eating, right? So, why not?
Among the food offerings Ortiz was pitching at the moment included a refreshed recipe for Big Papi's Kitchen's signature fresh salsa as well as a new black bean salsa, Caribbean hummus, and tortilla chips.
A portion of all sales benefit the David Ortiz Children's Fund, providing critical pediatric healthcare for children in New England and Ortiz's native Dominican Republic.
Forgotten Red Sox All-Stars
[bdc-gallery id="141804″]