Red Sox
Watch Pedro's emotional, euphoric Hall of Fame speech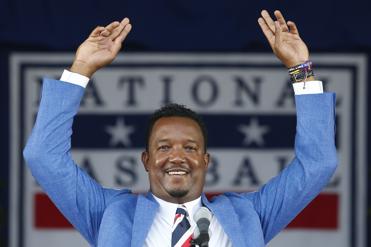 From his opening shouts of "Hola!,'' Pedro Martinez had the crowd in his legendary right hand during the Hall of Fame induction ceremony on Sunday.
The former Red Sox ace made no effort to contain his enthusiasm as Hall of Fame chairwoman Jane Forbes Clark introduced him
[fragment number=0]
Martinez was the last speaker of a 2015 Cooperstown class that also included Astros catcher-turned-second baseman Craig Biggio, longtime Braves pitcher John Smoltz and five-time Cy Young Award-winner Randy Johnson.
Martinez acknowledged his fellow inductees, calling Biggio a tough out, praising Smoltz's pitching repertoire and calling Johnson his "brother from another mother.'' He drew big laughs with his own take on the classic "how's the weather up there?'' crack when speaking about the 6' 10'' Johnson, whom he was caught giving bunny ears earlier in the ceremony.
[fragment number=1]
[fragment number=2]
At turns touching and humorous in his speech, Martinez said he hoped to be "a sign of hope'' for his native Dominican Republic. His family and heritage were focal points of his speech. After finishing his remarks, he invited fellow pitcher Juan Marichal, the only other Dominican player enshrined in the Hall of Fame, to join him on stage.
[fragment number=3]
Scenes from the 2015 Hall of Fame induction
[bdc-gallery id="114823″]