Red Sox
Pedro Martinez shares poignant story about why he thinks he didn't win 2002 Cy Young Award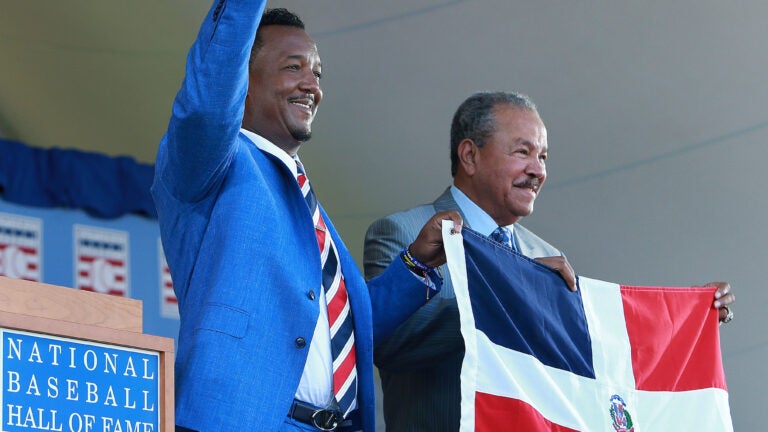 By many metrics, Pedro Martinez was the best pitcher in Major League Baseball in 2002, let alone in the American League. And yet, it was Oakland Athletics ace Barry Zito who won the AL Cy Young Award that year.
Why?
According to Martinez, he missed out on winning the AL award for a third time with the Red Sox because he ceded his last start of the season to rookie teammate Josh Hancock. In a touching anecdote during his Hall of Fame induction speech Sunday, Martinez referenced a missed opportunity for his younger brother, Jesus, when describing his decision to allow Hancock to take his final turn in the rotation that year:
Well, that Cy Young I didn't win because I chose to give an opportunity to a kid named Josh Hancock. And why do I bring it up? Because out of four brothers that we are, Ramon, Nelson, me and eventually Jesus, three of us made it to the big leagues. But Jesus is not in the record books because the organization he was playing for did not find the chance to give him one pitch in the big leagues so that he could be in the records.

That was the main reason why I decided not to take that outing, but to give it to Josh Hancock. I felt bad that my brother Jesus did not experience what it was like to pitch in that game that day.
Martinez's statistics in 2002 were undoubtedly impressive, but Zito's dominant campaign (23-5, 2.75 ERA in 229 1/3 IP) earned the hardware after ballots were tabulated (114 points to 96). While Zito didn't stack up to Martinez in WHIP (1.134 to Pedro's .923) or strikeouts (182 to 239), he threw 30 more innings and was more valuable to his team, according to Baseball Reference's WAR formula.
Before his first career start at the end of the 2002 season, Hancock had made two relief appearances for the Red Sox. After his rookie campaign in Boston, he would spend five seasons playing with the Phillies, Reds and Cardinals. He died in a car accident in 2007 while a member of the St. Louis organization.
Pedro's greatest games
[bdc-gallery id="116156″]