Red Sox
13 things you didn't know about Pedro Martinez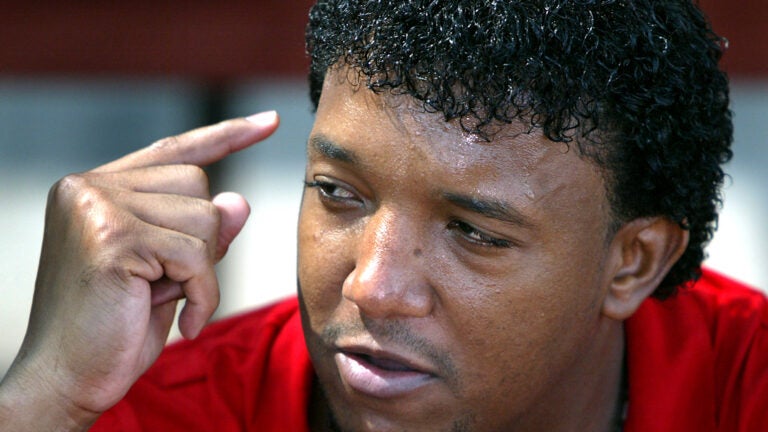 You might think you know every last thing about Pedro Martinez.
You watched the 5-foot-11, right-handed pitcher dominate hitters like few ever have en route to winning a trio of Cy Young awards and helping Boston to a curse-busting triumph in the 2004 World Series.
You heard him tell stories about his childhood in the Dominican Republic, including a few involving that famous mango tree.
You know who his daddy is.
But there is still plenty you might not know about him.
For years, Martinez thrived at the center of the baseball universe. Now that he has found a well-deserved place in Major League Baseball's Hall of Fame, we're putting him back under the microscope.
Here are 13 things that you probably don't know about Pedro.
1. Martinez credited calluses on the tips of his fingers for the incredible movement on his pitches.
Martinez's fastball clocked 97 mph in his prime, but it wasn't the pace that puzzled batters — it was the spin. He says that movement was aided by callouses on the tips of his fingers.
"The longer the ball stays on your fingers, the more spin you get,'' Martinez told Sports Illustrated in 2000.
2. Martinez never pitched a no-hitter, but …
With the Montreal Expos, Pedro pitched nine perfect innings against the San Diego Padres in 1995. With the score deadlocked at 0-0, the game went into extra innings. In the 10th inning, Martinez allowed a double from Bip Roberts, and was pulled from the game. Martinez had eight one-hitters in his career.
"I've had enough achievement in my career,'' Martinez told CBS in August 2000. "A no-hitter is not what's going to dictate what kind of pitcher I am. I think my career is more interesting than one game.''
3. He once worked as a mechanic
Growing up in house with dirt floors and a tin roofs, Martinez wanted to be a doctor. But he actually worked as a mechanic, according to The New York Times, before pitching his way to baseball stardom.
4. Pedro's older brother, Ramon, taught him how to throw a curveball and changeup
Ramon was already making a name for himself as a pitcher when Pedro showed up to a pitching academy in the Domincan Republic weighing 137 pounds and throwing a 82-mph fastball, according to Sports Illustrated. During those formative years and beyond, Ramon tutored his younger, smaller brother.
Pedro presented Ramon with his second Cy Young Award.
Pedro said to Ramon: "There is more of you in this trophy than there is of me.''
5. Martinez received death threats after the infamous 2003 ALCS Yankees-Red Sox brawl
Martinez throwing Yankees bench coach Don Zimmer became an the Yankees-Sox rivalry in the extreme. The brawl got so out of control that officials at Fenway Park feared a riot and stopped selling beer in the fourth inning, according to History.com. Martinez was fined $50,000 for the incident.
In his book Pedro, he writes that New York fans sent him death threats. He also said it was not safe for his family to travel to New York for Game 7.
Martinez admitted to the New York Times in May 2015 that throwing Zimmer to the ground was biggest regret of his career.
6. He scouted the 1999 Home Run Derby to make sure he didn't pitch Mark McGwire home run balls in the All-Star Game
In the 1999 All-Star Game, which was played at Fenway Park, Mark McGwire was one struck out five of six batters faced, including McGwire, who was a season removed from breaking MLB's single-season home run record. After Pedro noticed that the slugger liked pitches middle-up in the strike zone during the derby, McGwire struck out swinging on the fourth pitch of their confrontation. Martinez picked up the win for the American League and was named All-Star Game MVP.
7. The patches on Martinez's jacket at the Hall of Fame were symbols of his U.S. Citizenship and Dominican heritage
Pedro's suit may have been loud, but the patches on it spoke volumes.
"The flag from the Dominican Republic and this is the symbol from the United States – and I wanted to make sure that I recognized both sides, the Dominican Republic, because I was born there, a lot of the people, as you saw, showed up from all over the country and the Dominican Republic and different places to support one of its sons being inducted into the Hall of Fame,'' Martinez told The Boston Globe. "I'm a U.S. citizen, I respect America. I wanted to recognize America. I wanted to give America the same props I gave the Dominican Republic because without America, I wouldn't be standing in Cooperstown, New York, being inducted into the Hall of Fame.''
8. He claims Curt Schilling choked him with his gold chain during the 1996 Expos-Phillies brawl
Mike Williams gave Martinez a dose of his own medicine, attempting to peg Pedro, who responded by charging the mound, taking off his helmet, and chucking it at Schilling.
And of course, the benches cleared.
During the scuffle, Schilling grabbed his Martinez's necklace and yanked on it, Martinez wrote in his book.
"All that Schilling remembers from that fight is that he was trying to kill me,'' Martinez wrote, via The Boston Globe.. "He was starting to succeed — the chain was choking me — when finally Uggie Urbina, my teammate, told me to let [Mike] Williams go.'''
[fragment number=0]
9. He liked gardening before his starts
His mother lives in the mountains in the Dominican Repulic, and when he goes to visit her — which he does often — he likes to garden and "clean up the flowers and make them pretty.'' That's how he got hooked on the activity, which became an hobby he practiced before his starts, according to the New York Times.
"I couldn't sacrifice myself or live the fast life we have to live if I didn't have a place like this to find peace,'' he said of his property in Connecticut when he was playing for the Mets.
The man who had a tendency to instigate bench-clearing brawls softened with his flowers.
"What about you, beauty?'' he said to his tulips. "Aren't you going to grow up to be so pretty?''
10. According to ESPN, he said he wants two of his children to go to Boston College and the other to Harvard
Martinez is a father — it sounds like he wants them to be Boston Strong.
11. He hates signing action photos of himself
"That is one ugly face,'' Martinez told Sports Illustrated in 2000.
12. He once spent his minor league paycheck on a signed Reggie Jackson ball
He attended a silent auction at Dodger stadium. Upon spotting the ball, he tried to pay for it on the spot in cash, but someone at the event explained how silent auctions worked. The $250 ball cost him his paycheck from the last 15 days of work.
13. Martinez still holds a grudge against Jorge Posada
He may feel badly about his beef with Zimmer, but there's no love lost between he and Posada. The former Yankees catcher cursed about his mother during a brawl, according to Martinez.
Posada was probably mad Martinez struck him out 33 times over the course of his career.
"I'm not friends with Posada and he's not friends with me … We never got to be really close and I don't really want to interact with Posada,'' Martinez said in an interview with WFAN's Mike Francesca. "So Posada pops up out of the dugout and he's talking and he's curses my mom, that's what he says … I said, 'Hey, I'll remember that.'''
[fragment number=1]