Red Sox
Jason Varitek, Tim Wakefield among four to be inducted into Red Sox Hall of Fame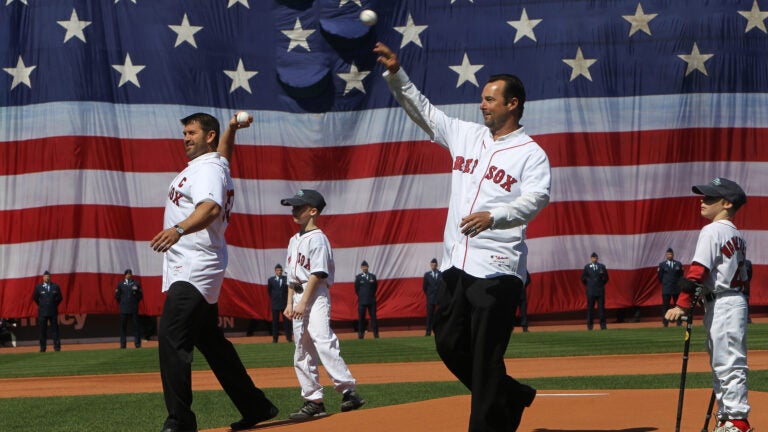 Jason Varitek, Tim Wakefield, the late Ira Flagstead, and Larry Lucchino will join the Red Sox Hall of Fame, the team announced Monday. Former Red Sox CEO and President Lucchino will be a non-uniformed inductee.
A 14-person panel, comprised of Red Sox executives, print and broadcast media members, booster club representatives, and historians, selected the 2016 class.
Varitek's wife, Catherine, wished the legendary catcher and Wakefield congratulations on Twitter.
[fragment number=0]
Varitek was a two-time World Series winner, three-time All-Star, Gold Glove winner, and Silver Slugger winner during his 15-year career behind the plate. He caught four no-hitters, has a career batting average of .256, and finished in the Red Sox' top 10 for his career with 1,546 games played, 513 extra-base hits, and 757 RBI.
Wakefield's 17 seasons with the Red Sox is the most for a pitcher in the team's history. The two-time World Series champion is the franchise leader in starts with 430, and innings pitched with 3,006. The knuckleball pitcher is ranks second among Red Sox in appearances with 590, and in strikeouts with 2,046. He's third in wins with 186.
Flagstead played outfield for the Red Sox from 1923-29. In all of his five full seasons with the Sox, he received AL MVP votes, and was a defensive standout, leading all outfielders with 115 assists during his time with the Sox.
Former Red Sox President and CEO Lucchino served during three World Series wins, as the Red Sox made seven playoff appearances in his 14-year tenure.
The "Great Red Sox Moment'' — which is selected for its special significance in Red Sox history — was David Ortiz's 2013 game-tying grand slam in Game 2 of the ALCS.
[fragment number=1]
Which Red Sox are in the Hall of Fame?
[bdc-gallery id="463814″]