Red Sox
NESN announces plans to broadcast 16 Red Sox spring training games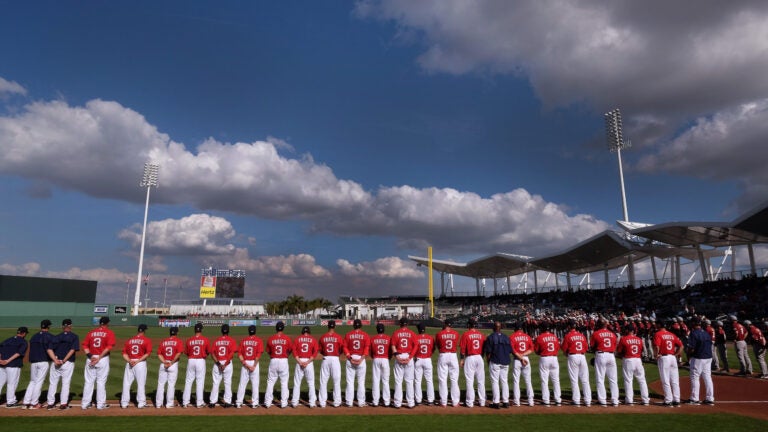 The NFL season is approaching its pinnacle, and the Patriots, as usual, are right there in the championship hunt.
But it won't be too long before attention turns to baseball. Red Sox pitchers and catchers report to spring training in less than a month, with the first workout in Fort Myers, Fla., scheduled for Feb. 19.
With that date approaching, NESN revealed its spring training coverage plan, which includes 16 live game broadcasts, the most the network has offered in more than a decade.
NESN will begin its game telecasts on Monday, Feb. 29 with the annual exhibition doubleheader in which the Red Sox play Boston College and Northeastern. Coverage begins at 1 p.m.
Other schedule highlights include two games with the Yankees — a Sunday, March 5 matchup in Tampa (1 p.m.), and then on Tuesday, March 15, the AL East rivals will meet in the annual Red Sox Foundation game (6 p.m.), a broadcast that will feature limited commercial interruptions.
The Red Sox visit the National League champion Mets at their Jupiter, Fla., complex on March 20 (1 p.m.). They will close out spring training with exhibition game broadcasts versus the Blue Jays at Olympic Stadium in Montreal on Friday, April 1 (7 p.m.), and Saturday, April 2 (1 p.m.).
Color analyst Jerry Remy is scheduled to work all 16 spring training broadcasts as he begins his 29th season on NESN. He will be joined by Dave O'Brien, who replaces Don Orsillo on NESN's broadcasts after nine season in the Red Sox radio booth.
Tom Caron will fill in on play-by-play when O'Brien misses spring games due to ESPN commitments.
Guerin Austin returns as the primary Red Sox sideline reporter. She will alternate with several other NESN reporters during spring training and the regular season.