Red Sox
Yes, Hanley Ramirez is still the Red Sox' plan at first base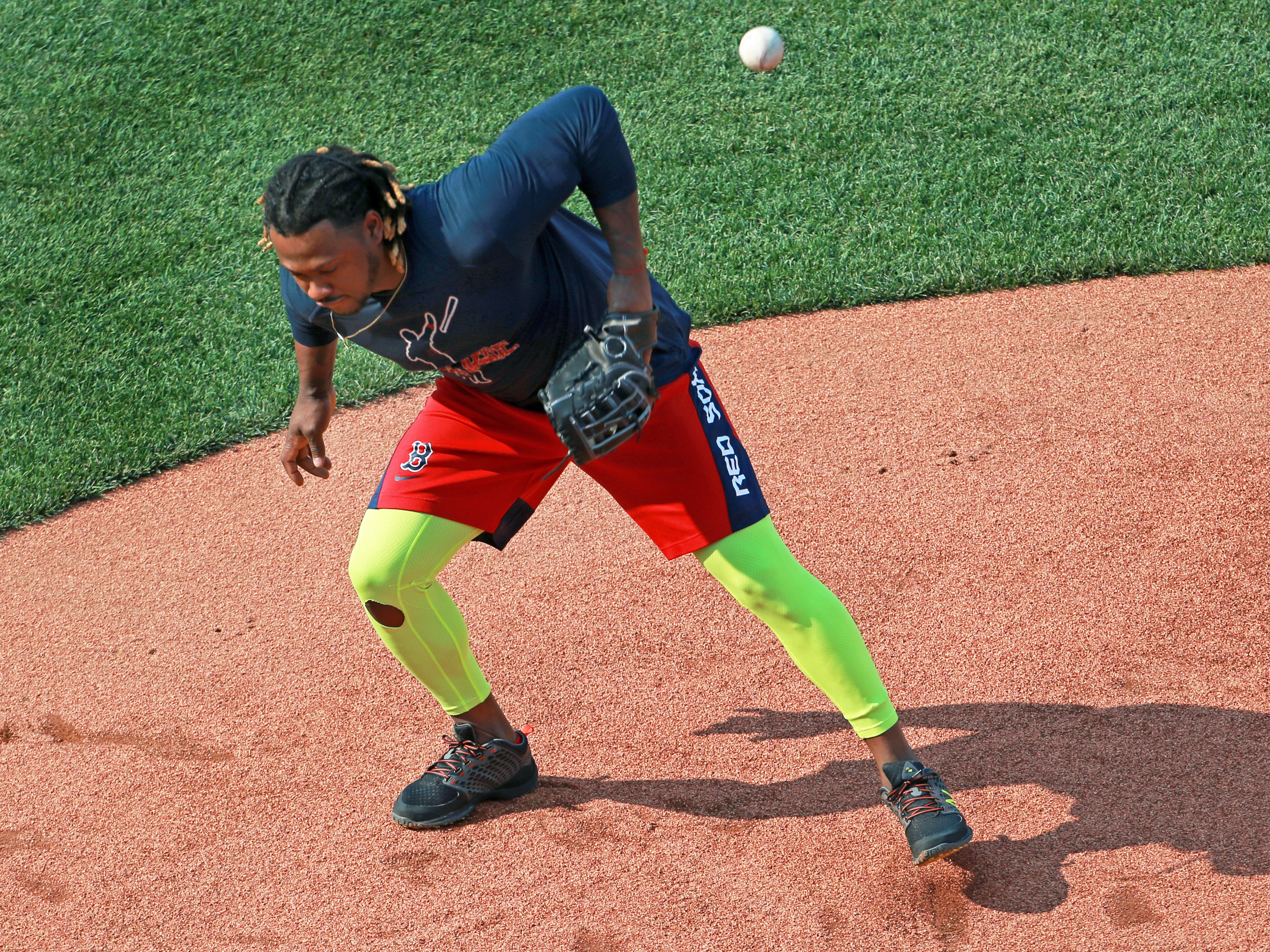 COMMENTARY
Among the many phrases that Boston Red Sox fans have used to describe embattled slugger Hanley Ramirez since he signed a four-year, $88-million deal with the team in the fall of 2014, are a handful not suitable for the ears of the innocent.
In any family-friendly setting, the mention of Ramirez — who hit .249 with 19 home runs, 53 runs batted in, and a .717 OPS in his return season to the franchise that signed him out of the Dominican Republic as an amateur free agent 16 years ago — often requires hushed tones to keep expletive-fueled tirades from causing unnecessary offense.
It's probably fair to say a similar approach is taken in the Red Sox' front office, where president of baseball operations Dave Dombrowski has been forced to smile and talk hopefully about the albatross that former general manager Ben Cherington left him as a parting gift.
Ramirez turned 32 last month, and will be attempting to lock down a third full-time position in the last three years. Perhaps 2016 will be the final year he needs to don a glove before taking over as the Red Sox' designated hitter thanks to the looming retirement of David Ortiz after the season. The Red Sox' previous assumption that the longtime shortstop could simply master left field, a position Ramirez had never played before, was a viable proposition, as long as you discounted his renowned laissez-faire attitude and apparent noncompliance when it came to — get this — working to improve in the outfield.
Of course, the left-field experiment was a laughable farce (his defensive WAR was minus-2.5, by far the worst on the team), and one of the holy trinity of reasons (Rick Porcello, Pablo Sandoval) why Cherington was sent packing last summer.
So, here we are, one year later, with the Red Sox desperately trying to pigeonhole a guy whom they're seemingly stuck with for three more years into another position that has the potential to be another disaster. Dombrowski is seemingly committed to having Ramirez play first base, a development that suggests every other GM in baseball laughed into the receiver when he called proposing a trade for the long-term loafer.
"I hope so. We're counting on it,'' Dombrowski said last fall on the topic of Ramirez playing first in 2016. "We're committed to trying, to making the effort and I believe he's committed to making the effort.''
Hanley Ramirez "making the effort.''
Good one.
"Will it work? Time will tell.''
Well, it's been nearly four months. How's this for a progress report?
[fragment number=0]
Woof.
While that little video snippet seems to validate existing concerns over the ability — or attitude — that Ramirez possesses in a return to the infield, it's not as disconcerting as the delusional statements he made last weekend during the Red Sox' Winter Weekend at Foxwoods Resort and Casino.
"I've always been an infielder, so it's going to be easy,'' Ramirez said, presumably without a wink of levity. He's had a negative defensive WAR in five of his last six seasons.
"I think I know more territory and I'm going to feel more comfortable at first,'' he said. "I turn everything into a positive. I never played outfield, and I decided to play outfield to win a world championship, but then I ran into the wall [literally]. It's something that I can't control. And after I hit that wall, everything was in a different way, everything started going down. Mentally, I'm stronger and I know what I'm going to do. It's a winning time, and I know that, and we're here to win.''
First of all, Hanley's problems started well before his infamous dash into the padding at Fenway. Second, he's what you might classify as a BS artist.
The only reason Ramirez was willing to play the outfield in 2015 was that the market for his services had dried up in quicker fashion than his T-shirt sales on Yawkey Way. It was a savvy act of desperation by agent Adam Katz (knowing they had a sucker in Cherington, who had been enamored with the former Boston minor leaguer since before he was dealt for Josh Beckett and Mike Lowell prior to the 2006 season) to persuade the Red Sox to offer his client a deal, even with up-and-coming shortstop Xander Bogaerts laying claim to his position.
"He wants to do it,'' Ortiz said of Ramirez moving to left field during spring training last year. "Sometimes a team will tell a player he has to move and he doesn't want to. But Hanley, this is what he wants. He'll be fine out there.''
Whoops.
Ortiz wasn't the only one who erred on that assessment though.
"He's our left fielder,'' Cherington said last June.
JUNE.
"If you go back and look at examples of teams where you're not going to get defense out of every single spot, but you can win with that if you're doing well enough in enough other areas. I just think focusing on any single aspect of what's going on is not helping us.''
"I look at it a little differently than probably some of you are. I think here's a guy who was an elite player at one position for a long time in this league and wanted so badly to be in Boston that he, in my mind, had the courage to come here and change positions, and has worked at it.''
Courage.
Perhaps the only thing Ramirez has been courageous about was how he dealt with being a laughingstock.
Still, there's no denying that the switch to first base must come with a certain level of bravery not normally seen in your average major leaguer. In fact, it goes war heroes, fathers and mothers, firefighters, and baseball players taking on a new position in my book.
This has the potential to be a disaster, and that's already assuming the oft-injured Ramirez can manage to stay on the field and produce offensively.
Bu at least you can sleep well knowing he's making the effort.
Again.
Contact Eric Wilbur at: [email protected]. Follow him on Twitter: @GlobeEricWilbur and Facebook www.facebook.com/GlobeEricWilbur
The biggest free agent busts in Red Sox history
[bdc-gallery id="139708″]