Red Sox
Jonny Gomes to play in Japan next season: 'I'll go win over there'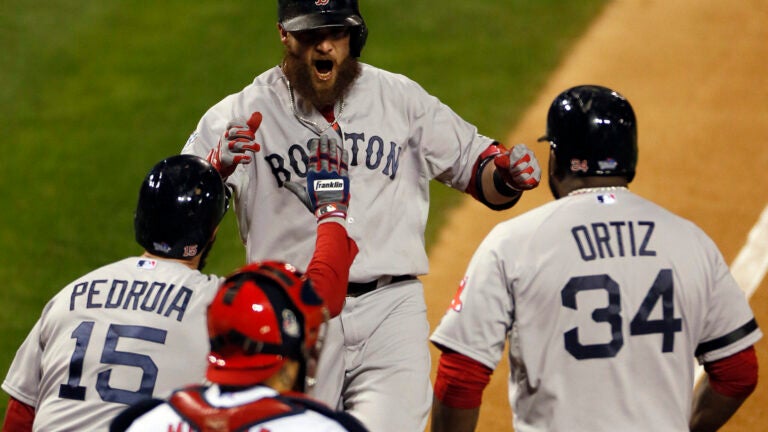 Free agent outfielder Jonny Gomes will be playing in Japan next season, signing a one-year contract with the Rakuten Golden Eagles, according to FOX Sports.
Gomes, 35, started last season with the Atlanta Braves before being traded to the Kansas City Royals, who went on to win the World Series. He also played a role for the Red Sox during their 2013 championship run, hitting a pivotal three-run home run in a 4-2, Game 4 win to knot the World Series up at 2-2.
[fragment number=0]
Gomes hit .242 with 19 homers and 84 RBIs in 194 games with the Red Sox. He was traded, along with Jon Lester, to the Oakland Athletics at the trade deadline in 2014 in a deal that brought Yoenis Cespedes to Boston. Gomes and Cespedes winded up facing each other in last year's World Series.
"The last couple of years for me, it's been World Series or bust,'' Gomes told FOX Sports. "This is World Series or bust with a little twist. I'll go win over there.''
The deal includes a mutual option, and Gomes is guaranteed $2 million with a possible $1 million in incentives, according to the report.
The veteran outfielder is known for being bombastic. He wore an American flag suit to the White House when the Sox won in '13, and had a rather large American flag by his side while giving a memorable speech at the Royals' World Series parade.
Gomes says he grew tired of waiting for Major League Baseball clubs to approach him, but also said there could be a chance of him returning to the league at some point.
"This isn't a farewell tour,'' Gomes said. "I have no plans of hanging it up. I can always come back or, if I take off over there, finish my career there.''
What if the Red Sox were all homegrown?
[bdc-gallery id="115311″]