Red Sox
Red Sox' Eduardo Rodriguez won't throw for at least 72 hours after knee injury 'scare'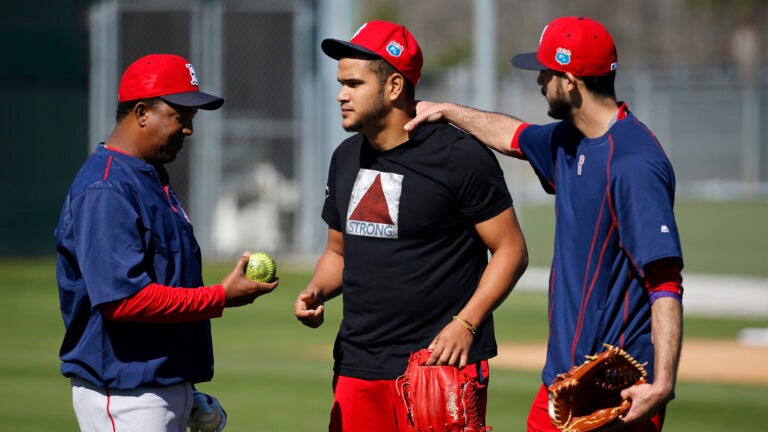 [fragment number=0]
Red Sox pitcher Eduardo Rodriguez will not throw for at least 72 hours after suffering a right knee injury during a fielding drill on Saturday. An MRI revealed a patella subluxation but no structural damage, according to the team.
"The cartilage is fine. The ligaments are fine. There's some swelling,'' Red Sox manager John Farrell told reporters on Sunday. "He's going through some treatment and will continue to do so. When he's deemed ready to initiate a throwing program, we'll do so at that time.''
The 22-year-old left-handed starting pitcher sustained the injury when his spikes got stuck while fielding fly balls in a pop-up drill on Saturday morning in Fort Myers.
"It was a scare because I feel like I broke my knee,'' Rodriguez said. "It's fine now. It was a scare like that but I'm going to be fine.''
Rodriguez is expected to be a key member of the Red Sox pitching rotation for the 2016 season. During the 2015 season, he pitched 121.9 innings with a 3.85 ERA and 1.290 WHIP.
This content was written and produced by the editorial staff of Boston.com with no participation from the presenting sponsor.
The first images from Red Sox training camp
[bdc-gallery id="467756″]