Red Sox
Morning Sports Update: Dustin Pedroia says Red Sox 'have the pieces'
Good morning, sports fans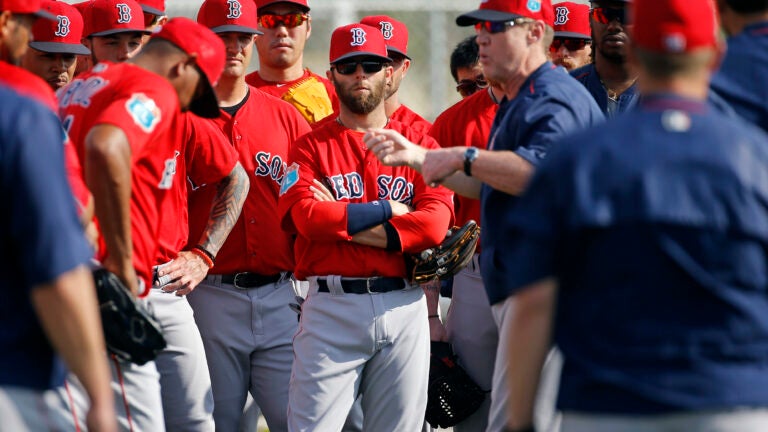 [fragment number=0]
Dustin Pedroia sounds optimistic about Red Sox' personnel, Avery Bradley blocks Gordon Hayward in the final seconds of the Celtics' 100-95 win over the Jazz, and the Bruins acquire two veterans at the trade deadline.
Dustin Pedroia says Red Sox 'have the pieces': "We have the pieces,'' he said. "It's a matter of playing well. It's time to win again. With all these young guys we have, their mind-set is in the right place. Everyone is going in the right direction.'' (The Boston Globe)
Avery Bradley elevates for a game-saving block: "I love to take that challenge, to be able to get a stop for our team, because I want to win the game that bad,'' Bradley said. "I'll guard anybody for my team.'' (ESPN.com)
[fragment number=1]
Bruins acquire veterans John-Michael Liles, Lee Stempniak at NHL trade deadline: "The Boston Bruins acquired a pair of veterans before the NHL trade deadline passed on Monday afternoon, dealing for defenseman John-Michael Liles from the Carolina Hurricanes and forward Lee Stempniak from the New Jersey Devils.'' (Boston.com)
Bruins and Loui Eriksson will reportedly continue to negotiate a new deal: "According to a source familiar with the negotiations, the Bruins did not trade Loui Eriksson at the trade deadline and will continue to work on an extension for the player.'' (WEEI.com)
Tom Brady jabs at Julian Edelman in Leap Day celebration:
[fragment number=2]
Isaiah Thomas laughs off CSNNE Gary Tanguay's critical comments: "That guy is funny,'' Thomas said. "The funny thing about it, he's going back on everything he's saying because he knows he's wrong. I don't know him, but he's got some bad rap on social media, so that says a lot about him. But it is what it is. I told you: They'll find something to say.'' (NESN.com)
This content was written and produced by the editorial staff of Boston.com with no participation from the presenting sponsor.
Ranking the Patriots' playoff losses in the Brady era
[bdc-gallery id="545368″]