Red Sox
John Farrell says Eduardo Rodriguez should be ready for Opening Day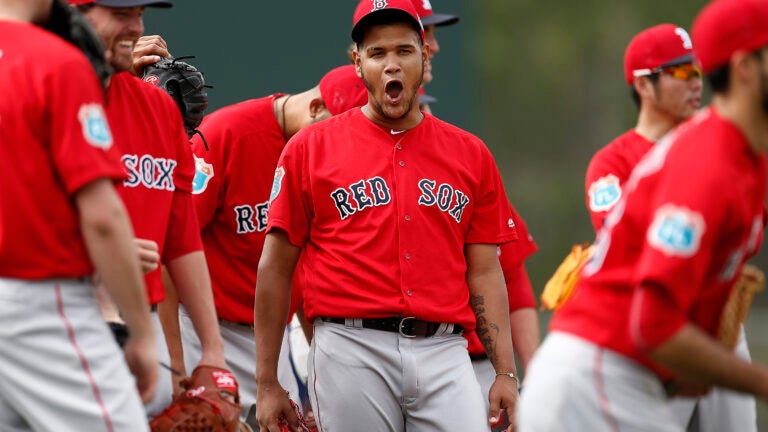 [fragment number=0]
A sigh of relief for the Red Sox pitching rotation Wednesday morning: Eduardo Rodriguez has been cleared to resume throwing activities and should be good to go for his first start of the regular season, according to manager John Farrell.
The 22-year-old southpaw, who experienced a right knee patellar subluxation on Saturday, was kept out of workouts for 72 hours for the training staff to thoroughly evaluate the injury. Farrell announced Wednesday that Rodriguez seems to have avoided anything severe.
[fragment number=1]
"Eduardo is improving,'' Farrell told reporters at JetBlue Park, via WEEI, before Wednesday's contest against the Minnesota Twins. "There is still a little bit of swelling in the knee, but improving to the point where we will put a ball in his hand today and he'll being a throwing program on flat ground. It will be shortened distance, but we feel he has made enough progress to keep his arm moving and keep his arm in shape given the status of where he's at.''
Farrell made it clear that although Rodriguez looks to be set for Opening Day, the Red Sox are going to monitor the young lefty's status meticulously throughout the month of March.
"We think he'll be ready to start the year, but I have to temper that with he'll be out there when he's out of danger,'' Farrell said. "We don't want to rush it to the point where you're looking at his landing leg. That has to be full strength to support the weight, the momentum coming down the mound when he's ready to get on the mound.''
Rodriguez is coming off a rookie campaign in which he was 10-6 with a 3.85 ERA in 21 starts.
15 Reasons Boston Loves Mookie Betts
[bdc-gallery id="655770″]
This content was written and produced by the editorial staff of Boston.com with no participation from the presenting sponsor.