Red Sox
Red Sox lose to Twins, 7-4, in Grapefruit League opener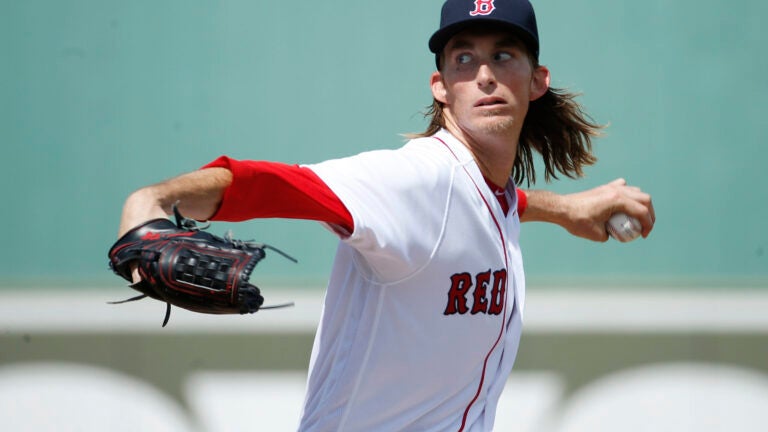 FORT MYERS, Fla. (AP) — South Korean slugger Byung Ho Park struck out three times in his exhibition debut, Phil Hughes breezed through two scoreless innings and the Minnesota Twins beat the Boston Red Sox 7-4 on Wednesday in the teams' Grapefruit League opener.
Signed to a $12 million, four-year contract and acquired for a $12.85 million fee, Park struck out swinging his first two at-bats and then took a called third strike.
''I've got to admit I was a little nervous,'' he said through a translator. ''Because it was the first game, (I'm) not thinking too much. I feel good. I'm glad I got the first one out of the way.''
Twins manager Paul Molitor thinks Park needs at-bats during spring training to adjust.
''I'm sure he was excited and possibly a little bit nervous,'' Molitor said. ''There's been a lot of anticipation since everything fell into place with him coming over here. You just pat him on the back and encourage patience. He's just trying to get a feel for how things are going to flow here.''
Hughes needed just 20 pitches and allowed only one hit — Hanley Ramirez's single. He did extra throwing in the bullpen after his outing.
Jorge Polanco hit a two-run homer for the Twins in the first of seven exhibition games between the clubs.
Henry Owens struggled with his control, giving up two walks and two hits, but struck out five in two innings.
Trevor May got the win, allowing two hits in two scoreless innings. Well regarded prospect Brian Johnson was the loser.
STARTING TIME
Twins: Hughes mixed his pitches and didn't overpower hitters, but was fairly sharp. He threw 15 pitches in the bullpen when he was done.
''I felt like I was around the zone with pretty much everything, threw a couple of good curveballs, a couple of cutters. Neither of the innings were too tough on me really results-wise,'' he said. ''It's always a good time when you have to throw extra instead of coming out in the second inning.''
Red Sox: Owens hopes to have a strong spring training to make the rotation. He came up in early August last year and went 4-4 with a 4.57 ERA in 11 starts. ''I felt like it was nice to get that first one out of the way and go full speed ahead,'' he said.
TRAINER'S ROOM
Twins: Molitor said after the game that ''everyone's healthy and overall it was a good day for us.''
Red Sox: LHP Eduardo Rodriguez, who injured his right knee on Saturday, threw on a back field late morning. . Manager John Farrell said DH David Ortiz is expected to play Friday when Boston hosts Tampa Bay and LHP David Price, signed to a $217-million, seven-year free agent contract during the offseason, is slated to start in a simulated game on Saturday instead of making a two-hour trip to Tampa when the Red Sox face the Yankees.
UP NEXT
RHP Rick Porcello is scheduled for the Red Sox against LHP Tyler Duffey when the teams meet again Thursday night the Twins' park.
BOBBLE
Converting 1B Ramirez had a routine grounder bounce off his glove and few feet away, but he flipped to Owens covering for the out.
DEALS
The Red Sox agreed to one-year contracts with 25 players on their major league roster and the Twins to deals with 26. Both clubs have deals with all 40-man roster players.