Red Sox
Travis Shaw continues torrid spring for Red Sox with homer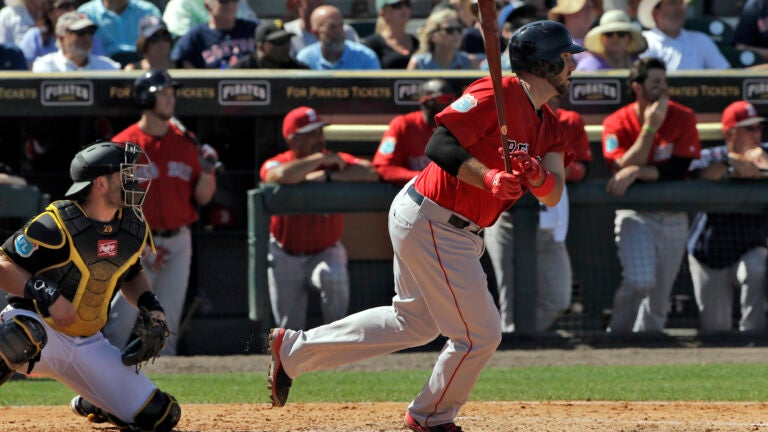 [fragment number=0]
In Boston, spring temperatures are rising. In Florida, Travis Shaw's spring training batting average is doing the same.
The Red Sox' versatile corner infielder hit a two-run, opposite-field home run against the Pittsburgh Pirates in the top of the first inning on Wednesday. He finished his afternoon with two hits, three RBI and a walk in four plate appearances in Boston's 6-2 win.
[fragment number=1]
"Left-center field. That's me,'' Shaw said of his homer, via MLB.com. "I fell behind 2-0 and was just looking for something out over the plate. It was middle away. I was looking to go that way. Things just kind of timed up right there.''
Shaw, 25, was batting .545 (six hits in 11 at-bats) entering play on Wednesday. After another productive afternoon at the plate, he's hitting .571 (eight hits in 14 at-bats). He got the start at first base on Wednesday, but is behind teammate Hanley Ramirez on the depth chart. In the Red Sox' early Grapefruit League games, Shaw has also appeared at third base and as a designated hitter.
Playing his first season in the majors, Shaw hit .270 with 13 home runs and 36 RBI in 65 games with the Red Sox in 2015.
Notable Red Sox rookie performances
[bdc-gallery id="463597″]
This content was written and produced by the editorial staff of Boston.com with no participation from the presenting sponsor.