Red Sox
Bryce Harper wants baseball to be more fun; Goose Gossage does not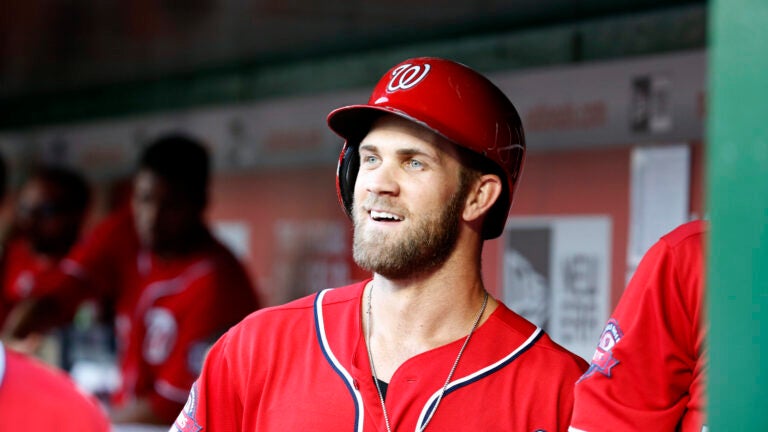 Bryce Harper is expressing himself with his full capabilities, and he wants the MLB to take his lead.
The reigning NL MVP was recently profiled in an ESPN The Magazine feature, and he had some thoughts on personal expression, and how it's perceived in the "tired sport'' of baseball.
"Baseball's tired. It's a tired sport, because you can't express yourself. You can't do what people in other sports do. I'm not saying baseball is, you know, boring or anything like that, but it's the excitement of the young guys who are coming into the game now who have flair. If that's Matt Harvey or Jacob deGrom or Manny Machado or Joc Pederson or Andrew McCutchen or Yasiel Puig — there's so many guys in the game now who are so much fun.''
Harper wants a culture change, and he says you can already see other players showing their "flair,'' like Marlins pitcher Jose Fernandez.
"Jose Fernandez is a great example. Jose Fernandez will strike you out and stare you down into the dugout and pump his fist. And if you hit a homer and pimp it? He doesn't care. Because you got him. That's part of the game. It's not the old feeling — hoorah … if you pimp a homer, I'm going to hit you right in the teeth. No. If a guy pimps a homer for a game-winning shot … I mean — sorry.''
The 22 year-old phenom thinks that baseball should take the lead of the NFL and NBA, where expression reigns supreme.
"Look at those players — Steph Curry, LeBron James. It's exciting to see those players in those sports. Cam Newton — I love the way Cam goes about it. He smiles, he laughs. It's that flair. The dramatic.''
Meanwhile, the MLB vanguard adamantly stands by its conservative roots, as evidenced by Hall of Famer Goose Gossage's comments via ESPN Thursday.
"[Jose] Bautista is a f—ing disgrace to the game…He's embarrassing to all the Latin players, whoever played before him. Throwing his bat and acting like a fool, like all those guys in Toronto. [Yoenis] Cespedes, same thing.''
Probably shouldn't ask Goose if he read ESPN's Bryce Harper feature.