Red Sox
Red Sox springing some of the same concerns that not much has changed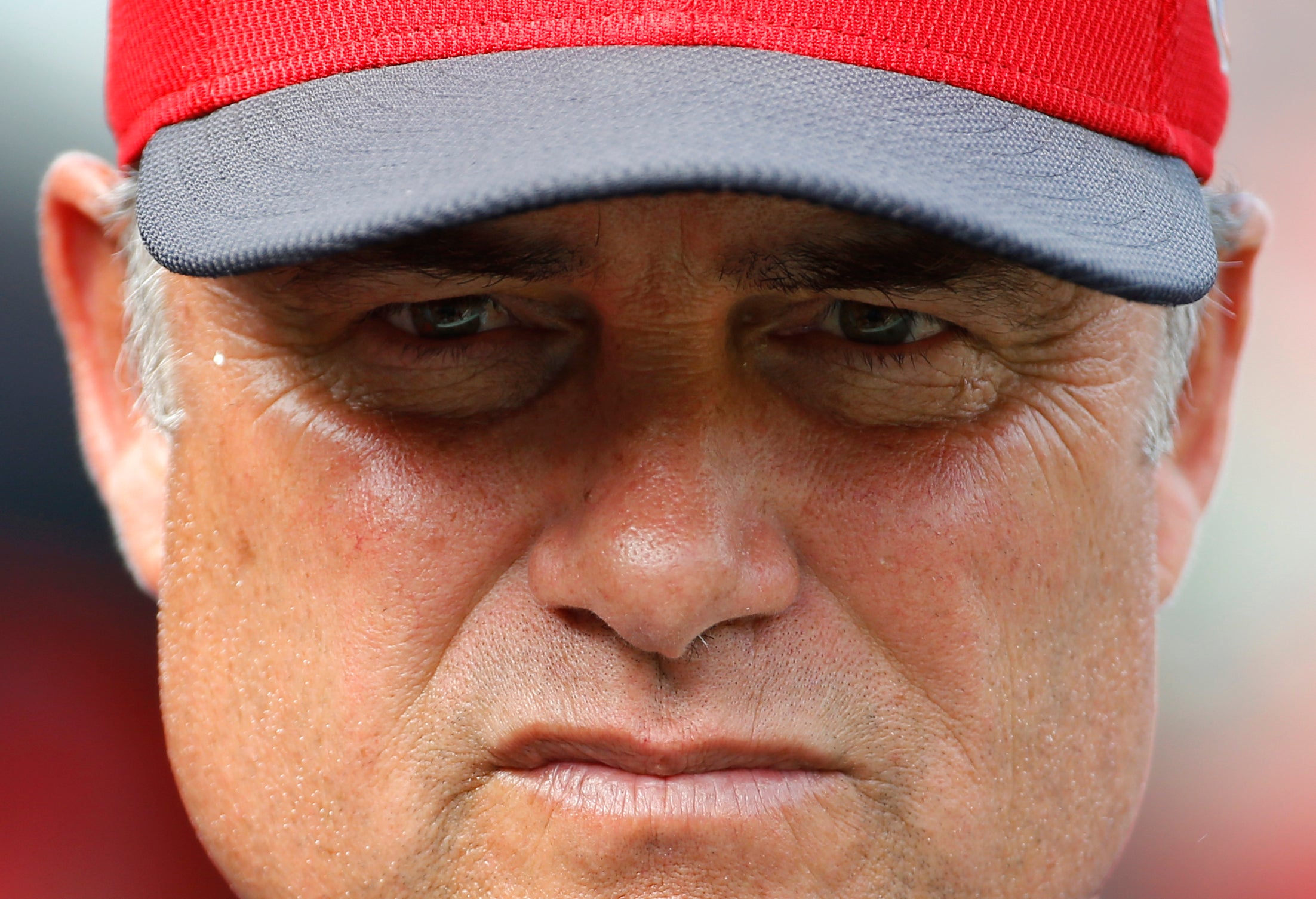 [fragment number=0]
COMMENTARY Well, this all looks very familiar. One month into spring training, the Boston Red Sox have given their fans scant reason to ease up on what most concerns them about the defending last-place team heading into the 2016 baseball season.
Third baseman (for now) Pablo Sandoval is a mess in the field and unimpressive at the plate. Starting pitcher Rick Porcello has a 16.20 ERA through two outings of work. Clay Buchholz has looked like, well, Clay Buchholz, and nobody has any clue whether or not Hanley Ramirez will, in fact, be able to handle his new chore at first base.
Or, whether or not he decides to quit on trying before there's an answer.
Mix in the fact that promising starter Eduardo Rodriguez is likely to miss the start of the regular season with swelling in the knee he injured two weeks ago and manager John Farrell's hot seat getting even more stifling with the revelation of his clubhouse romance with Comcast reporter Jessica Moran, and while it's not quite a debacle in Fort Myers, Fla., it's starting to remind us of everything that fell apart the last two years.
Granted, there have been encouraging aspects of spring, most notably the prowess of Travis Shaw (.522 batting average, 1.430 OPS), who is playing well enough to justify benching Sandoval at third, even if such a move would push the portly underachiever further up the list of worst free agent contracts in Red Sox history. New closer Craig Kimbrel has been good in his limited work (two innings, one hit), and there's been nothing to suggest that Boston's influx of young talent — Xander Bogaerts, Mookie Betts, Jackie Bradley, Jr. — is due for a bump in the road to their further development.
But none of those guys were ever part of the concern heading into the spring.
The Red Sox were 5-7 in Grapefruit League play through Sunday. Not that it matters, of course. Just as it's no big deal that ace David Price wasn't exactly in midsummer form during his first start of the spring last week. David Ortiz is hitting under .100 and it couldn't mean less for what's destined to happen beginning next month than the fact that Rainel Rosario is batting 1.000 (1-for-1). Dustin Pedroia only has two hits, but it isn't exactly time to revisit the debate whether or not he's certainly on the downside of his career.
But the starting rotation has elicited very few exhibits in which to not consider president of baseball operations Dave Dombrowski's work incomplete after tossing a record wad of cash at free agent Price during the offseason. Joe Kelly heads into Monday's start with a couple good outings already, but the Red Sox' best starter of the spring has been Steven Wright (eight hits, two earned runs over seven innings), who is out of minor league options and may have to join the team to start the season anyway with the likelihood of Rodriguez heading to the disabled list.
Meanwhile, Porcello (eight runs on 10 hits over three innings Sunday afternoon) has been atrocious, exhibiting no confidence whatsoever that his first season in a Red Sox uniform was an aberration. Nobody knows what to expect from Buchholz anymore, except for the fact that if things start well for the righty, he should be sidelined by mid-June.
Yup. As feared, beyond the sight of Price, the Red Sox rotation could very well be a mess.
Still.
But no player has cast a bigger shadow — literally and figuratively — on what could ail the Red Sox than Sandoval, who came to camp last month looking as if he ate Pedroia, despite insistence that he spent the winter on a regimented schedule of working out and dieting. Then again, Sandoval did admit that he didn't work on his defense during the offseason, which was a tremendous consideration considering how awful he was at third base in 2015. The guy hit .049 last season batting right-handed, but everything else seemed to go so swimmingly (it didn't) that the $95 million Sandoval has decided to take up switch-hitting again in 2016. He did hit a double over the weekend batting righty against Miami Marlins lefty Chris Narveson. So, there's that.
The way Sandoval arrived at spring training and how he's proceeded to prove so little about the "work'' he put in during the offseason has even made some folks more optimistic about what's happening on the other side of the infield, where Ramirez may be a disaster waiting to happen at the bag, but at least one that might make up for his deficiencies with a bat that slumbered through much of his first season back with the Red Sox organization.
Which, of course, all brings to mind what Farrell had to say about the first-and-third base positions at the dawn of camp in February.
"If they falter,'' Farrell told WBZ-Radio, speaking of Ramirez and Sandoval, "we feel like we've got guys to step in because our driving force is to win the division.''
Maybe. At least it appears that way with Shaw, who has played most of the spring thus far at third after bursting onto major league scene late last season.
But it's going to take a hell of a lot defining character for Farrell to make that decision, particularly with his job on the line. For a guy that most figure won't make it to Memorial Day, it can't be the easiest decision in the world to tell your bosses you're sitting the $17 million third baseman in favor of the guy making $515,000. Farrell can make every excuse about doing so in the name of winning the division, even if the clear-cut reason he'd make such a maneuver at the beginning of a season was to simply try and save his job.
And if he doesn't, Sandoval might just help sink him anyway.
Price gets the ball on Opening Day in Cleveland, only three weeks away.
Hopefully that's not the only thing that looks a whole lot different for this team.
Because, right now, things seem an awfully lot like we remember them.
Contact Eric Wilbur at: [email protected]. Follow him on Twitter: @GlobeEricWilbur and Facebook www.facebook.com/GlobeEricWilbur
This content was written and produced by the editorial staff of Boston.com with no participation from the presenting sponsor.
15 reasons why Boston loves Mookie Betts
[bdc-gallery id="655770″]