Red Sox
The Red Sox' season is near, but should it be worthy of optimistic anticipation?
The Red Sox season begins April 4, with new ace David Price on the mound. So why is the author anticipating the Patriots' season more?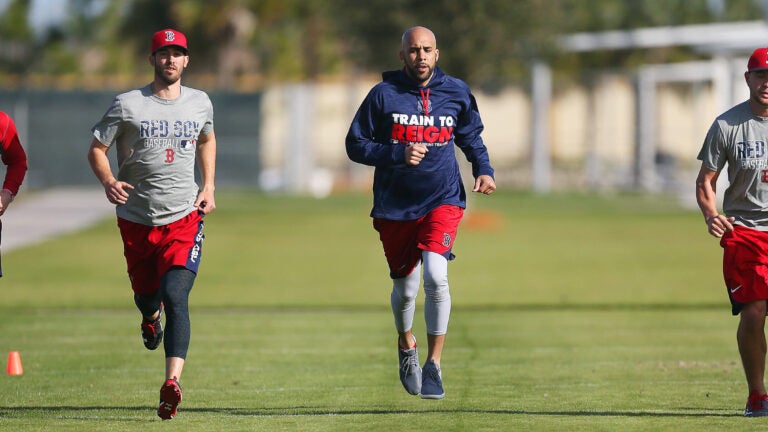 COMMENTARY
I'm not sure whether this qualifies as an admission that will surprise you or one with which you are likely to agree: But here we are, two weeks from the first pitch of the 2016 Red Sox season, and yet I find myself anticipating the far-away September start of the Patriots' season rather than the beginning of baseball.
I suppose it makes sense to some degree.
The Patriots have been perennial championship contenders for a decade-and-a-half, with arguably the greatest coach-quarterback combo that football has ever known during that time. While their season ended two months ago and doesn't begin again for another six, they have been in the news lately for interesting football reasons. They've added a tight end, Martellus Bennett, who should complement their current all-world tight end, Rob Gronkowski, and have acquired a number of other potentially intriguing cogs, including former No. 2 overall pick Chris Long. I can't wait to see how the new guys fit.
But the calendar demands that we wait.
In the interim, the Red Sox will attempt to keep us entertained. In most springs, thoughts about football are relegated to the distant corners of my sports-addled mind. Baseball is my favorite sports to follow as a fan – for once, and just this once, I'll spare you all of my well-worn, sepia-toned memories of watching the Sox with my dad as a kid – and I've habitually greeted the new season with an optimism that probably makes some of you wonder how the hell I ever ended up in the world of sports media, where cynicism can be an especially lucrative personality trait.
This year, though, optimism for the Red Sox is hard to come by honestly. Sure, they've added a few new faces who will help; I am looking forward to seeing where David Price ultimately rates among Pedro Martinez, Roger Clemens, Josh Beckett, Curt Schilling, Jon Lester and the franchise's relatively recent cast of aces. They will feature two of the brightest and most charismatic young stars in baseball in 23-year-old wonder twins Mookie Betts and Xander Bogaerts. The bullpen has layers of talent in Craig Kimbrel, Koji Uehara, and Carson Smith. David Ortiz is preparing for his final bat-flipping go-round, and a reminder to appreciate him before he's gone should be unnecessary.
But I can't help but look at this roster and see a slightly improved but still fundamentally flawed sequel to last year's 78-win also-ran in the AL East. It's impossible to be excited about the rotation beyond Price and the currently injured Eduardo Rodriguez. How can anyone have confidence or hope for consistency from Clay Buchholz (this is his 10th season and he's still an enigma), Rick Porcello and Joe Kelly?
The lineup is dotted with question marks, too. Pablo Sandoval is not going to get better. This is what he is. He's regressed for four years, and his lack of conditioning has eroded his talent before he turns 30. Carl Crawford was a better signing. Rusney Castillo struggles against breaking pitches and fastballs, and he turns 29 in July. The Red Sox paid $72.5 million for the Cuban Dwayne Hosey.
Travis Shaw is mashing this spring and is becoming perceived as a solution somewhere, but this is a player who turns 26 in April and has a .715 OPS in 668 Triple-A plate appearances – or more than 2 ½ times as many as he has in the majors. Can Jackie Bradley Jr. hit? Can Blake Swihart catch? Can Hanley Ramirez and Dustin Pedroia stay healthy? For a presumed contender – and with a roster assumed to be much improved – the Red Sox sure do have a lot of questions. Common sense and the law of averages indicate we're not going to like all of the answers.
The manager is one of those questions, too. John Farrell needs a fast start this April if he wants to have the job by the time the kids are out of school. Perhaps that bodes well for him – his teams have typically done better in March/April than they have over the full season. His career winning percentage in the season's first month is .544 (68-57), while overall it is .496 (400-410).
But the pressure is on, immediately. In his five seasons as a manager – two in Toronto and three here – he's had one winning season. Yes, that happened to be one for the ages – the 2013 Red Sox were an admirable bunch – but given his track record, it's fair to wonder whether Farrell found his way to success in the players' wake rather than being someone who guided them there.
I know, pretty pessimistic. Hey, it's an honest assessment. Perhaps it will change come April 4, should Price outduel Corey Kluber in Cleveland, with Kimbrel getting the save, Ortiz hitting a home run, and everything working out according to the offseason design. But right now, there are too many nagging questions that only the long season can answer, and even an optimist (or more accurately, someone who actually likes sports) knows that all of them won't be answered the way a Red Sox fan hopes.
I'm looking forward to baseball season. But I'm going to need some convincing on these Red Sox. Meanwhile, the Patriots already have me ready for some football. It's a strange kind of sports seasonal effective disorder, one I'm not used to. But I know this much: It's the Red Sox' own doing.