Red Sox
David Ortiz's retirement tour has already begun, and we can't help but wonder if it will ever end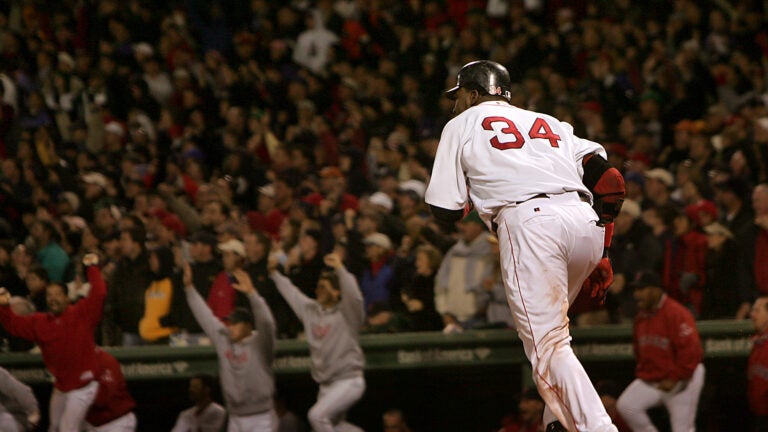 COMMENTARY
That didn't take long.
We're still a week away from the first pitch of the Boston Red Sox' 2016 season, and yet can already feel the onset of exhaustion surrounding the impending retirement pilgrimage of slugger David Ortiz.
When the three-time World Series hero announced last November that he would retire after this season, baseball fans could already envision the sort of extended farewell tour that former New York Yankees Derek Jeter and Mariano Rivera partook in during their own exits from the game. Ortiz is sure to get a surfboard from the Los Angeles Angels of Anaheim. A pair of cowboy boots from the Texas Rangers. A rocking chair from whichever nondescript franchise can't summon enough local pride to influence a distinguishing mark on the end of Ortiz's career.
Anyone with a shred of understanding the marketing reality that the Red Sox have become already understood this meant a season-long tribute to the "Greatest Clutch Hitter in the History of the Boston Red Sox" (there's a plaque and everything), with the team milking every opportunity it possibly could to squeeze every drip of nostalgia from the guy before they have to deliriously try and re-invent themselves without him.
Of course, these Red Sox can't wait for the regular season in order to force-feed the Ortiz brigade on their fans, electing to begin what is sure to become a farce during spring training. The team announced on Wednesday that it would honor its designated hitter on March 28, prior to what will be hint final appearance at JetBlue Park in Fort Myers, Fla., otherwise known as the supposedly sacred ground where he's made perhaps a couple dozen appearances or so since the place opened in 2012.
Ortiz's No. 34 will be spray-painted on the grass on both baselines, which is just a selling point worth the price of admission alone ($126 seats still available). He will also be presented with gifts from the Red Sox that commemorate his spring training days in Lee County.
Neat. But does the guy really need an Applebee's gift card, or whatever is equal to haute cuisine in Fort Myers?
The Red Sox, collectively, don't get it. Finishing in last place three out of the last four years has delivered a certain blow to the Olde Towne Team in the city's popularity battle, briskly led by the New England Patriots. Yet the way they continue to sell themselves and attempt to leap back into the good graces of a dubious yet thirsty fan base has become a running gag across the city. There was no way they weren't going to make the Ortiz news an around-the-clock event that even the most fervent Red Sox fan will surely tire of by the time Memorial Day arrives.
We can only imagine where the nonstop promotion goes from what's already scheduled on the Red Sox' 2016 regular season calendar. Got tickets to the game on April 12? If you're one of the first 15,000 fans in attendance, you'll receive a replica of Ortiz's own necklace commemorating his 500 career home run accomplishment. It should topple small children who wear it if it's a similar weight as the original looks like it is. It's also Journalism Night at Fenway Park, which we assume was an idea enacted only after former reporter Jessica Moran resigned from Comcast Sports Net following questions about her relationship with Red Sox manager John Farrell.
You can receive an Ortiz canvas print on May 24. A "Papi Gnome" for your home's garden or hastily-produced travel commerce commercial. On July 26 (16 days after Wally and Tessie bobblehead night), fans are invited to "Build-A-Papi," which sounds like one hell of a way to sucker a few bucks out of the parents of grade-schoolers intent on stuffing their creating with every ingredient other than the PEDs that Ortiz never took. You can receive a talking bobblehead on Aug. 9, sure to utter phrases such as the one when he called new teammate David Price "a little bitch." That's all only leading up to the stretch run of nightly Ortiz serenades both home and away.
Are you ready?
Not since 1983, when Carl Yastrzemski ended his career on a celebratory, crisp, fall weekend at Fenway Park, has a Hall of Fame-caliber Red Sox player been able to retire in fitting fashion in Boston, with so many of them shipped elsewhere in the "twilight'' of their careers, or choosing to depart for greener wallets in other locales.
But 33 years ago, "Yaz Day'' served as the bulk of the farewell tour, the victory lap limited to Yastrzemski's trot around Fenway Park, shaking hands with some of the fans who watched him play for 23 years.
The Red Sox are probably going to have 81 Papi Days in 2016.
Either way, Ortiz has already said he doesn't expect his retirement tour to live up to the same hype as Jeter's, Rivera's, and Alex Rodriguez's might in 2017. Or whenever exactly it is he decides to retire.
"I didn't announce my retirement because I was expecting any of it," Ortiz said. "I announced it because I know our fans have a hard time getting into Fenway and I know that they would love to watch me play in my last season. I want to make sure before we get there, they get comfortable with their tickets and stuff. That's why I announced it."
Who knows. If you're lucky, you might even be able to get a magnet this season.
David Ortiz's most memorable walk-off hits
[bdc-gallery id="119803″]