Red Sox
Are these Red Sox destined to fail…or ultimately surprise?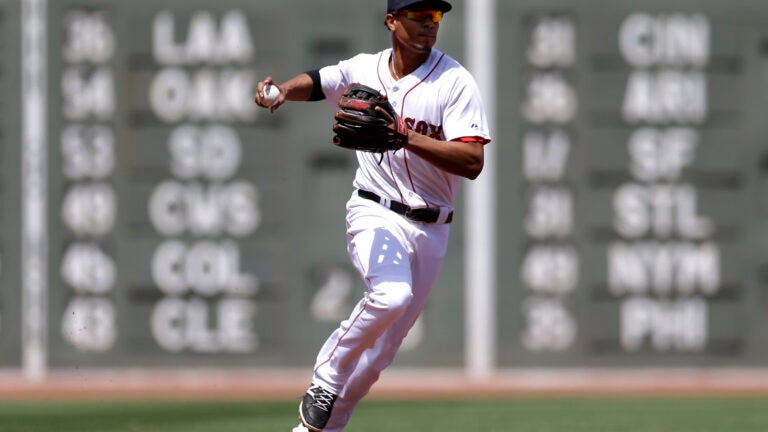 COMMENTARY
We're a week out. What do you really expect out of the Red Sox?
If you were to take the pulse of most Boston baseball fans, the general consensus would seem to be that this team still stinks. You would probably hear that the 2016 edition is a product that, despite the record investment in a premium ace and the impressive re-working of what was a bullpen once filled with flaws, never received enough offseason attention in a handful of additional construction zones that are already percolating as problems with first pitch of the 2016 Major League Baseball season set for next Monday afternoon.
You can start with Clay Buchholz: The veteran destined for the disabled list remains the de facto No. 2 starter in a pitching rotation that seems to have been stitched together with look-good dollar bills rather than actually rebuilt. There's also the logjam and potential mess at third base, with minimum wage Travis Shaw trying his best to push $95 million Pablo Sandoval, who has been a train wreck defensively in spring training this month, right to the bench. Elsewhere, Rusney Castillo and Jackie Bradley, Jr. may have to combine their offensive numbers to equal the output of fellow outfielder Mookie Betts. To top it all off, manager John Farrell is probably going to be fired by Memorial Day.
Indeed, the 2016 Red Sox don't seem any less flawed coming out of spring than the three Boston teams that finished in last place over the last four years.
Still, there's a more complicated query that still lingers out there: Like, what if they're good?
What if Betts really is a candidate for American League Most Valuable Player Award?
What if Xander Bogaerts is able to produce a bit more pop with his already consistent bat?
What if Rick Porcello isn't a complete disaster for a second straight year?
What if Hanley Ramirez can hit again, never mind play first base at some level of competency, and shows he can indeed be the heir apparent to David Ortiz at designated hitter?
What if Castillo shows why the front office thought he was worth $72.5 million?
What if Joe Kelly and (eventually, once he returns from the disabled list) Eduardo Rodriguez are potentially ready to form the back end of one of the more dominating starting threesomes among major league rotations?
There are, really, plenty of reasons to think these Red Sox might not be all that bad. They might even have the ability to be great, even.
They just as well might be awful.
If the 78-84 Red Sox of a year ago are to repeat on their seven-game improvement from the previous season, Boston would be in line for an 85-win campaign in 2016. That would be the first time the Sox would finish above .500 since their inspired run to the World Series title in 2013, but not good enough in dartboard-worthy American League East.
Yet, Yahoo's Tim Brown likes this group as the fifth-best team in baseball coming out of spring training. Sports Illustrated's Jonah Keri has them eighth, one spot ahead of the defending AL East champion Toronto Blue Jays. CBS Sports has the Red Sox ranked 12th.
"One of the tougher teams to rank," Matt Snyder of CBS writes. "There's an awful lot of talent here, but we could have said that last season. This time around, there's David Price, Craig Kimbrel and more in addition to reasons for optimism from the likes of Joe Kelly and Rick Porcello. Mookie Betts and Xander Bogaerts are poised to be the next offensive nucleus, too."
Clearly, that core of youth is the most exciting aspect of the uncertainties of this Red Sox team. The Boston Globe's Nick Cafardo had some fun over the weekend wondering to which recent group of farm-raised talent this edition compares best. It isn't on the level of Jorge Posada, Derek Jeter, Bernie Williams, Mariano Rivera, and Andy Pettitte. It probably won't be.
Jim Rice, Fred Lynn, Rick Burleson, Dwight Evans, and Carlton Fisk? Meh.
Jim Lonborg, Carl Yastrzemski, Rico Petrocelli, Mike Andrews, Reggie Smith, and Tony Conigliaro? Not likely.
Roger Clemens, Oil Can Boyd, Bruce Hurst, Ellis Burks, Mike Greenwell, and Todd Benzinger? Maybe. But can Bradley play the part of juiced Brady Anderson?
That last group's 1988 season might end up to be a pretty good comparison for this team some 28 years later. It was that year, of course, that manager John McNamara was fired at the All-Star break, leading Joe Morgan to take over and institute his brand of "Morgan Magic." That being said, how does bench coach Torey Lovullo add up "six, two, and even, anyway?"
Greenwell and Burks were 24 and 23, respectively, in 1988, when the former came in second to slugger Jose Canseco in the AL MVP vote. Twenty-three-year-old Betts currently has the fifth-best odds at winning this year's trophy.
But if David Price is Roger Clemens (18-12, 2.93 ERA) at the top of the rotation, who's Bruce Hurst (18-6, 3.66)? Even a lowered expectation of Joe Kelly, who's had a phenomenal spring, presumes he can be about as good as Wes Gardner (8-6, 3.50) or Oil Can Boyd (9-7, 5.34). But are Porcello or Buchholz more in line with Mike Boddicker (7-3, 2.63) or Jeff Sellers (1-7, 4.83)?
That '88 team, despite fizzling toward the end of the regular season, won the AL East before getting swept by the Oakland A's in the American League Championship Series. That central crop of talent, however, give or take a few, went on to only one more postseason berth, two seasons later, when it met the same fate against the A's.
The '88 team also won a mere 89 games in what used to be known as the AL Least. That group won 88 in 1990.
So, sure, the Red Sox can be that good in 2016. But it won't likely be enough for a postseason berth.
Maybe.
Then again, what do fans really expect? Because right now it doesn't appear to be too much, which might mean these Red Sox are destined to surprise the bulk of us.
Forgotten Red Sox All-Stars
[bdc-gallery id="141804″]