Red Sox
Craig Kimbrel will bring much-needed relief to Sox — but will he measure up to their past championship closers?
In the Red Sox' greatest recent seasons -- 2004, '07 and '13, of course -- they have always featured an exceptional closer. In the 27-year-old former Brave and Padre, they have one again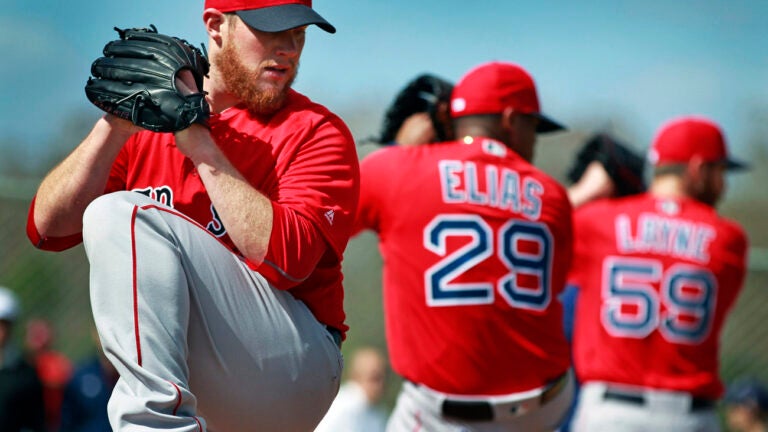 COMMENTARY
I suppose it's not a total coincidence that in the three greatest Red Sox seasons of this post-curse era – 2004, 2013 and 2007, in order of gratification if not chronology – the ball club featured an exceptional closer.
In 2004, there was Keith Foulke, exhausted and armed by the end with little more than guts, guile and a fastball that was ominously morphing into his changeup, recording the final outs that we thought may never come. In 2007, there was wild-eyed fireballer Jonathan Papelbon overwhelming the helpless Rockies with his precise you-can't-touch-this heat. And in 2013, there was the joyful Koji Uehara – a stylistic opposite of Papelbon in all the right ways – using a delightfully deceptive repertoire to tie hitters in knots and deliver one of the most pristine seasons a relief pitcher has ever submitted.
The trio of champion Sox closers were as individually excellent as they were different. And even in years that did not end with the closer bounding into the catcher's arms or vice versa, the Red Sox have typically had a lights-out ninth inning specialist on their best teams. (I'm thinking of '98 Flash Gordon there, or assorted other Papelbon seasons.)
I'm not suggesting there's absolutely a direct parallel between having a premier closer and making the postseason. The 2009 Phillies won the NL pennant. Their primary closer was Brad Lidge, who had 31 saves … and a 7.21 ERA, 1.80 WHIP, and 1.7 HR/9. And occasionally the opposite occurs and lousy teams end up with the luxury of carrying an effective closer on the roster – for example, Mike DeJean saved 27 of the 2002 Brewers' 56 wins, if you want to get all obscure with me.
But Excellent Closer/Excellent Season has been a recurring theme with the Red Sox in recent years, and so perhaps that history is some small impetus for encouragement this year. It's been somewhat lost in the scattered narratives that have carried into spring training – the David Price signing, David Ortiz's pending farewell, the excitement about the dynamic Mookie Betts/Xander Bogaerts duo, the Pablo Sandoval/Hanley Ramirez status updates – but the acquisition of Craig Kimbrel from the Padres should be hugely beneficial to the Red Sox staff this season.
The reasons for that are obvious, I suppose, but they're worth restating since we haven't talked about him all that much since the Red Sox sent four prospects to the Padres in November for the smoke-throwing 27-year-old. Foremost, he is arguably baseball's premier closer of the past half-decade. Four times (2012-15) he led the National League in saves; last year, his first with San Diego, he had 39 for a 74-win team. Last season, he struck out 87 hitters in 59 innings, for a Dibble-esque 13.2 strikeouts per nine innings – and that was the lowest K/9 of his career. He's pitched 348.1 innings in his career, and allowed just 193 hits while striking out 563. He is similar to vintage Papelbon, but slightly better and far less liable to attempt to strangle a superstar teammate.
Kimbrel's presence and its effect on the rest of the bullpen should help alleviate some of the deficiencies in the rotation. Uehara, who was effective last year before getting drilled in the wrist with a line drive, should remain stellar in the eighth if age (he's 41) doesn't catch up to him. Tazawa will get the ball earlier in games, and hopefully less often given John Farrell's habit of overusing him. And Carson Smith, who has electric stuff but has a max-effort, odd-angle delivery that makes you wonder whether it would be prudent to keep Dr. James Andrews on retainer, should be a huge asset once he returns from his strained flexor muscle in his pitching arm. Don't write off Matt Barnes yet, either.
The bullpen is a strength now. Last year, it was a wholly atrophied weakness. From August 28 on last season – or over the season's final 35 games — the Red Sox bullpen, which was without Uehara and dependable setup man Junichi Tazawa — compiled nine saves. Robbie Ross Jr. contributed six, Jean Machi two, and Craig Breslow one. That's not exactly Dellin Betances-Andrew-Miller-Aroldis Chapman there, is it?
Could the Red Sox have used a rebooted version of '02 Mike DeJean last September? Hell, they almost could have used '09 Brad Lidge. Instead, they went out and got one of the best there has been. I can't promise you how the first few innings on a given night are going to go, especially on the days Price does not get the ball. But Kimbrel will make the ninth inning a good time on most nights. Maybe, like his greatest Boston predecessors in the role, he'll have a few memorable moments in October, too.