Red Sox
The curious case of Rick Porcello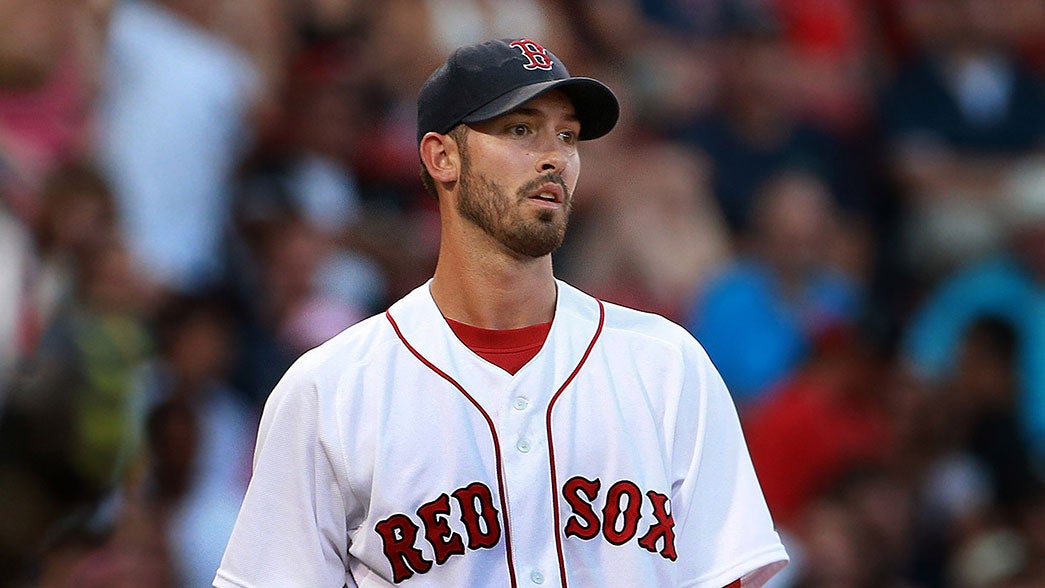 COMMENTARY
Los Angeles Dodgers outfielder Carl Crawford will make $20.75 million this season in Year Six of the seven-year, $142 million contract the Boston Red Sox gave him as a free agent in 2010.
He hit .171 during spring training warmups for the 2016 Major League Baseball season, coming off a year when he managed to play in only 69 games. He'll start 2016 as perhaps the most-expensive bench player in professional sports.
Boston third baseman Pablo Sandoval is set to enter the second season of a five-year, $95 million contract, one buoyed by more fat jokes than optimism. Hanley Ramirez will make $22 million in 2016 as part of his four-year, $88 million deal, one year after posting a .717 OPS. The Sox even gave $72.5 million to Cuban "slugger" Rusney Castillo, who has either ended up in manager John Farrell's doghouse, for whatever reason, or has simply failed to live up to even the slightest hype of auction guys like the Chicago White Sox' Jose Abreu.
Farrell confirmed on Tuesday that Castillo would begin this season on the bench, essentially as a fifth outfielder with Brock Holt and Chris Young splitting the time in left field.
Yeesh.
But of all the disastrous contracts the Red Sox have handed out over the past half-decade, perhaps none comes closer to the deflating promise of starting pitcher Rick Porcello, who has yet to earn a dime of the four-year, $82.5 million extension that Boston awarded him last spring before ever even throwing a pitch in its uniform.
He'll make $20 million this season, one year after going 9-15 with a 4.92 ERA and 1.36 WHIP over 172 innings pitched.
If there were any lingering hope that another year might mean a Renaissance for a guy that won 15 games with the Detroit Tigers in 2014, spring training did no favors for that stretch. Porcello was a joke during the Red Sox' exhibition schedule, giving up 17 earned runs over 15 2/3 innings pitched. His ERA: 9.77.
Yuck.
It's one thing to translate spring training numbers into some semblance of concrete evidence that a player will either soar or falter during the regular season. It's another to assume they mean nothing at all when it comes to an underperforming bust like Porcello.
There's enough evidence in this case to presume the latter.
"He's capable of better. He has shown that," Farrell said after Porcello allowed five runs on 10 hits — three of which were home runs — over 6 2/3 innings against the Baltimore Orioles on Monday. "We need Rick to pitch to his strengths, which are continually worked on. . . . We need him to be a little bit more consistent."
A bit, eh?
Free agency and contract extensions for players with no history tied to Boston hasn't been kind to Boston of late. Crawford remains the premium example for caution when sinking a hundred million dollars into a player, but Sandoval, Ramirez, and Porcello are creeping up on that scale. It's enough to even draw concern that the Red Sox might have made another blunder in inking lefty ace David Price to a seven-year, $217 million deal over the winter, the highest amount ever given to a free agent in Major League Baseball history.
Look, it probably wasn't. Price (18-5 with a 2.45 ERA last season between Toronto and Detroit) should be great. But the Red Sox' track record with these sorts of things is something on par with presuming success at a casino.
Still, watching slugger Yoenis Cespedes — the man the Red Sox traded to the Tigers last offseason in exchange for Porcello — swat 17 home runs for the New York Mets following a trading deadline deal for the National League champions, stings even worse while watching the banality of every Porcello start.
Red Sox president of baseball operations Dave Dombrowski has already made a big deal this spring by proclaiming the Red Sox won't feel tied down to big contracts on its roster, a nifty side shot at former general manager Ben Cherington, apparently succumbed to a double secret probation by the team for his lack of comment on any matter concerning the team since last summer. That, of course, opens the door for Travis Shaw to take over for Sandoval at third base to begin the season, if not preview the possible release of 40-year-old reliever Koji Uehara, who has a 27.00 ERA this spring (in less than two innings pitched) and is due $9 million this season in a reduced role in a revamped bullpen. It also gives reason why Castillo will start the year either riding pine or showing off his skills at McCoy Stadium in Pawtucket,
But with Porcello taking the ball every five days? The Red Sox might find it a bit more difficult to argue their performance-over-contract edict when it comes to their already-beleaguered starting rotation.
Fellow starting pitcher Joe Kelly allowed three more home runs a day after Porcello managed the feat, but is still coming off a strong spring training (3-1, 2.63 ERA) to follow up the hope he delivered during his solid second half of 2015. But he's still seen as the No. 4 in this rotation, behind Porcello (at least with Eduardo Rodriguez beginning the season on the disabled list), which is something of dubious note, particularly with the constant uncertainty of Clay Buchholz grasping at the No. 2 slot.
This spring, Monday in particular, gave little hope that anything is going to change for the guy.
Anybody want to tell him?
"It's just a matter of focusing in on some of those mistakes I made today," Porcello said after the Orioles teed off on him. "But really everything is working."
Oh.
Is it crazy to imagine it could work better?
Like a lot better?
The most lucrative contracts in Red Sox history
[bdc-gallery id="140855″]