Red Sox
10 spring training stats that should worry Red Sox fans
Sweating yet, Red Sox fans?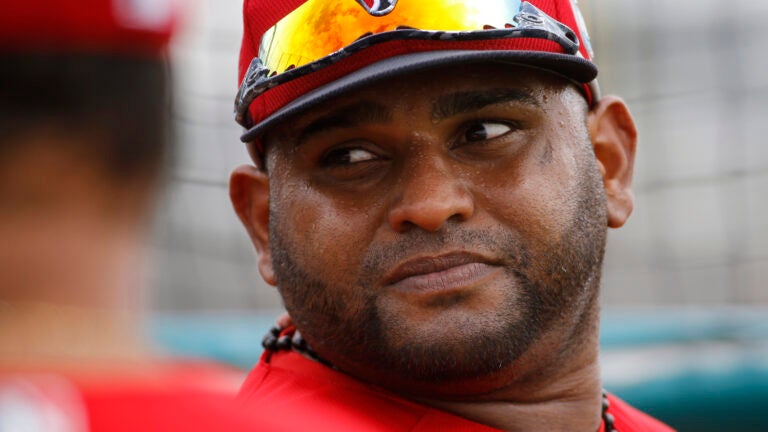 Spring training has not put a spring in the step of Red Sox players.
For the most part, the Red Sox have struggled to be consistent on the mound, in the field, and at the plate. Though it hasn't been all bad. Jackie Bradley Jr., Travis Shaw, Mookie Betts, Joe Kelly, and Steven Wright have put together respectable springs. But the woes of Pablo Sandoval, Rick Porcello, and Rusney Castillo have been well-documented.
Here are 10 stats from spring training that should leave Sox fans worried.
4: Sandoval leads the team with four errors. He's also in a 12-way tie for second-most errors in the MLB.
23: The Red Sox had 23 homers, which puts them at 23rd in the league.
1.63: The Red Sox pitching staff posted a 1.63 WHIP, the fourth-highest in the MLB.
5.40: Henry Owens was in the mix to lock up the fifth spot in the rotation. But after Owens posted a 5.40 ERA — and Steven Wright posted a 2.66 ERA — the 23-year-old appears to be headed for Pawtucket.
.204: Castillo, who has slipped to the fourth or fifth spot on the outfielding depth chart, has gone 10 of 49 in his spring training at-bats. He also has two errors, which ties him for third-most on the Sox.
9.77: Porcello allowed 17 runs (and 17 earned) in 15.2 innings for a 9.77 ERA.
27.00: Koji Uehara has thrown two innings for seven hits and five earned runs. His 27.00 ERA is the worst on the team.
126: The Red Sox offense has the 24-most runs in the MLB with 126.
$71,746,428: During the 2016 season, Hanley Ramirez ($22,750,000), Rick Porcello ($20,125,000), Pablo Sandoval ($17,600,000), and Rusney Castillo ($11,271,428) are set to earn a total of $71,746,428, via Spotrac.com.
106: The Red Sox pitching staff has a league-high 106 walks. Via ProBaseallReference.com, none of those walks were intentional.
The most lucrative contracts in Red Sox history
[bdc-gallery id="140855″]