Red Sox
25 Red Sox players, 25 questions
The answers will come over the course of the long season. But before the first pitch, here's an attempt to answer the biggest question regarding each player on the roster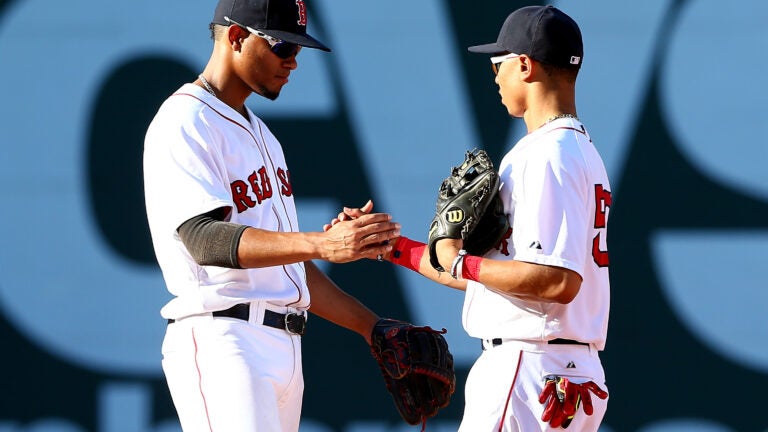 COMMENTARY
Before baseball season formally arrives, it is traditionally preceded by baseball prognostication season — that time of year when pundits and reporters make predictions that are destined to go horribly wrong and give the @OldTakesExposed guy on Twitter lots of material come October.
Related to that, five of six Boston Globe writers picked the Cubs to win the World Series this year. Theo Epstein has built a player-development juggernaut, but they are the Cubs, and I suspect this one might be regrettable before it's all over.
It has been interesting to see how the national baseball media figures the Red Sox will fare, especially compared to the local view. The Sox are getting some respect as a potential AL East champion from a few other corners of the country. But around here, we're a little more skeptical, and justifiably so. The Sox have a tandem of 23-year-old superstars in Mookie Betts and Xander Bogaerts, and David Price and Craig Kimbrel enhance what nevertheless remains a flawed pitching staff. There is an abundance of high-end talent, but for a team with a $200-plus million payroll, there are more unanswered questions than there should be.
As it happens, I've got a question – some more serious than others — about every single player on the now-finalized 25-man roster. Let's get to 'em …
MOOKIE BETTS
Is he a legitimate MVP candidate?
OK, so at least we're leading this one off positively, and with full confidence that Betts will be in the MVP mix. It's Mike Trout's world, and Josh Donaldson is the reigning MVP, but the 23-year-old budding superstar has a chance to be one of his serious challengers. He's already received MVP votes, finishing 19th last year, and respected ESPN Fantasy Baseball writer Tristan Cockroft predicted this week that Betts would win the MVP and lead the majors in runs scored. Maybe some fans who aren't that familiar with Betts's ascent would be skeptical of the heady optimism – 2015 was just his first full season, after all – but it doesn't take a lengthy stay on his baseball-reference.com page to recognize that he is already one of the premier all-around offensive players in the game. Last season he put up a .291/.341/.479 slash line with 174 hits, 92 runs scored, 18 homers, 42 doubles, 77 RBIs, and 21 steals in 145 games. He was at his best in the second half, continuing a virtually uninterrupted upward trend of improvement since 2013. It's not that he's going to emerge as one of the best players in the league this year; it's that people are finally noticing outside of New England that he already has.
DUSTIN PEDROIA
Can he stay healthy and productive?
I doubt he can stay healthy – he's missed 96 games over the last two seasons, and second basemen who play with his fearlessness take a relentless beating. But he'll hit for the 125 or so games he's out there, provided he follows this ground rule: He needs to stop trying to play through injuries. I know that goes against his nature, but he tends to endure a steep fall to ineffectiveness when he's trying to tough it out. Ultimately that doesn't end up benefiting him or the team.
XANDER BOGAERTS
Is it reasonable to expect improvement that is more than incremental?
I wouldn't put anything past this kid – at 22 years old, he made himself into an above-average defensive shortstop through determination and dedication, all the while lifting his batting average 80 points (from .240 to .320) from the season before. It was an extraordinary bound to stardom even for a prospect of his reputation and pedigree. But I'd expect the progress to become more incremental now, and he may even regress in some statistical categories, only because he raised the bar so high last year. He'll probably hit a few more homers, and his batting average may dip a bit (.300 seems about right), which is just fine. Hey, it's not like he's raising his batting average 80 points again – if he did, Ted Williams would have some new company in the .400 club for the first time in 75 years.
DAVID ORTIZ
Will his body suddenly remember it ain't that young anymore?
I think we've taken Ortiz's durability for granted as he heads toward the twilight of his career, pardon the expression. He's had at least 600 plate appearances every season since 2008 except for '12, when he was limited to 93 games by an Achilles' injury. I'm not especially worried about his production, even at 40 years old – he has a reasonable chance of breaking Darrell Evans's record for homers by a 40-plus player (34 in 1987) … but only if he can stay on the field. Only three players in history have had at least 600 plate appearances, more than 24 homers and an OPS above .800 in a single season after the age of 40: Edgar Martinez in 2003, Evans in '87, and Dave Winfield in 1992. The Red Sox are counting on Ortiz so much that it's practically imperative that he becomes the fourth. I hope it's not too much to ask.
HANLEY RAMIREZ
Will he win the Gold Glove at first base?
Why, yes. Yes, he will. He is the new Keith Hernandez, with just a hint of Wes Parker. C'mon, of course he won't, but his surprising competence and only sporadic bumbling at the new position this spring has to be taken as a positive outcome given the low expectations. Actually, among all Red Sox, he might be the most predictable player of  all. He'll be one of the better hitters in the league when healthy, but he'll suffer an  injury or two that will keep him out of the lineup, and he'll drive everyone crazy with scattered mental lapses and what will be interpreted as indifference. I actually like Hanley and I'm glad he's here – what can I say, I have a soft spot for goofy, slugging dudes named Ramirez. But I know better than to trust him with significant expectations.
TRAVIS SHAW
Is he capable of being a major league regular?
He deserves credit for seizing the chance, and the Red Sox (whether it's John Farrell or Dave Dombrowki making the call) deserve credit for playing the guy they believe is better, salary be damned. But I can't help but be skeptical. He has showed some encouraging pop in the majors, hitting 13 homers in 248 plate appearances. But he was just OK in his longest trial, a 136-plate appearance stretch from September 1 on in which he slashed .250/.309/.427. I'd say he has a chance to be poor man's Brian Daubach … but Brian Daubach was a poor man's Brian Daubach. And how's this for a stat? Shaw has the same Triple A OPS — .715 – as Christian Vazquez.
BLAKE SWIHART
Is the catcher of the future and the present?
Should be, for sure. Swihart entered last season as a consensus top-20 prospect. He was rushed to the majors out of necessity, struggled early, but finished with respectable numbers (.274/.319/.374) due to a terrific second half (.303/.353/.452). He has some work to do behind the plate, but by all accounts he is putting in the time to win the pitchers' trust. This is a high-ceiling player who has a chance to be a cornerstone of this ball club down the road. (That's if Dave Dombrowski doesn't trade him for a No. 2 starter in May, I suppose.) Fans are smitten with Vazquez because of the lightning in his surgically repaired throwing arm, but if he doesn't hit, he'll be nothing more than a mid-level Molina. Swihart isn't the better catcher, but he will be the far better baseball player.
BROCK HOLT
Is it a good thing that he's starting in left field against righties?
Well, the end of the Williams/Yaz/Rice/early-career Greenwell superstar lineage in the shadow of the Monster came long ago. (No offense, Troy O'Leary.) But a team of the Red Sox' means should be able to do better than Holt as a strong-side platoon option at what should be a premium offensive position. He's a terrific utility player – maybe the best one they have had since … actually, they probably haven't had one better in my lifetime, though I adored Pokey Reese. But that's what he is. He gets exposed when he plays every day (he had a .653 OPS in the second half last year, which was up from .548 the year before). He true value is as a competent plug-and-play at various positions. Asking him to do more is detrimental to him and the team.
JACKIE BRADLEY JR.
Can he be consistent at the plate?
In a way, he has been, but not in the standard way. In a 25-game, 93-plate-appearance stretch from August 9 to September 7 last year, he was consistently awesome, slashing .446/.489/.952.  But pretty much the rest of the time during his career, he's been a consistent out, going 112-for-617, a .182 batting average. That torrid streak offers some hope, and if Bradley is slightly below league average at the plate, his defense means his name can be written in ink on the lineup card. But this is one question only the season can answer.
DAVID PRICE
Is he worth $217 million?
Probably not, because few nine-figure free-agents who aren't named Manny Ramirez ever prove worth it. But do not take that to mean that this deal is any way regrettable, because it's not. The Red Sox desperately needed someone to front the rotation (and be able to wear an "I'm The Ace" t-shirt without the irony meter combusting) after lowballing Jon Lester two springs ago; that they ended up having to pay Price roughly three times what they reportedly offered Lester initially is the cost of doing business when you've botched previous business. Price is a late-prime, durable, high-character, ultra-competitive lefthanded pitcher, and there aren't many of those models to go around. He may not prove worth every dollar of the contract, because that is a lot of money over a lot of years, and every pitching arm is in danger of acquiring a scar at some point. But if he remains healthy, for the next 4-5 years he will take his place in that Clemens-Martinez-Schilling-Beckett-Lester heritage of aces. And that is one exclusive neighborhood.
CLAY BUCHHOLZ
Is he actually underrated?
All right, after you stop screaming "Are you [assorted expletives] kidding me?," hear me out. Yes, Buchholz is an enigma and a recurring source of frustration. Yes, he gets hurt every year and has never thrown 200 innings. Yes, he seems to fall apart when circumstances are less than ideal. But you know why that's so frustrating? Because on those occasions when the planets are aligned, the sunscreen is slathered perfectly on his arm, and all is right, he's really good, maybe even one of the top 20 or so pitchers in the AL. It's sort of akin to how we perceive Hanley – he's outstanding for stretches, but the stretches are too brief and surrounded by moats of aggravation. I'm not saying you should trust him. You shouldn't. But he's not a bad pitcher, and there's a chance that he really does turn out to be an effective No. 2 starter.
RICK PORCELLO
Is he Matt Clement 2.0?
No, he is not Matt Clement 2.0, because Matt Clement actually had a decent half-season with the Red Sox in 2005 and even made an All-Star Game. There's a better chance of John Scott making the MLB All-Star game than there is of Porcello. And at last check John Scott was a hockey player.
JOE KELLY
OK, so is Joe Kelly Matt Clement 2.0?
That works a little better. Both have/had electric stuff and a maddening habit of forgetting how to use it. Kelly had a respectable second-half last year (8-1, 3.77 ERA, but with more hits than innings pitched), but it's hard to believe he's anything more than a perennial tease. He's not Clement. He's Nuke LaLoosh with slightly better mechanics.
STEVEN WRIGHT
Will he keep the fifth-starter job for the entire season?
Perhaps this is cruel to say, because his is a story of resilience, but let's hope not. He's a 31-year-old knuckleballer with a decent major-league track record (3.95 ERA, 7.1 K/9 in 26 games over three seasons). But 31-year-old knuckleballers with sporadic big-league opportunities are more likely to turn into Steve Sparks than Tim Wakefield. If Wright lasts in the rotation, it means one of two things, and neither is good: The Red Sox' young pitchers (Henry Owens, Brian Johnson, even Roenis Elias) haven't fared well at Pawtucket, Eduardo Rodriguez hasn't come back, or someone in the first four spots of the rotation either got lit up or hurt.
CRAIG KIMBREL
Is there anything to worry about at all with this guy?
Nah, not really. Statistically, last season was the worst of his career in some ways – his 2.58 ERA, 0.9 HR/9 and 13.2 K/9 were all career-lows (or tied for career-lows.) And yet, those numbers are still so exceptional that he could slip a little again this year and still be elite. That 13.2 K/9, for instance, is more than three strikeouts per inning higher than Hall of Famer Goose Gossage's career best. (Don't tell Goose about this – he'll sucker-punch one of those whippersnapper millennials if he finds out.) And here's a surprising fact: He's finished in the top 10 in Cy Young voting four times – as many as David Price. He's going to look like he's throwing 150 miles an hour when he follows Uehara to the mound.
CARSON SMITH
Is he doomed to being this year's Joel Hanrahan?
You know what I mean — a promising offseason bullpen acquisition who ends up suffering a season-altering injury before the season really even gets going. This one we can't answer right now. Forearm injuries are often ominous, and Smith has a funky, high-torque delivery that practically makes your own elbow ache from watching him. Smith is actually a more effective pitcher than "proven closer" Hanrahan was in '13, and he's important to the Red Sox' revamped and upgraded bullpen. For now, his roster spot is filled by Noe Ramirez, about whom I Noe next to nothing.
KOJI UEHARA
Does he have one more exceptional year in him?
The spring hasn't been encouraging for Uehara as he makes his comeback from a fractured wrist that ended his '15 season in August. He's pitched just 1.2 innings, allowing 7 hits in that span in Ft. Myers. It could be chalked up to puny sample size, but he does turn 41 April 3 and what looks like rust in March may turn out to be old age in June. That's not to say I'm down on Koji – he's been so excellent during his three seasons with the Sox (1.86 ERA, 0.77 WHIP, 11.5 K/9) that even a little slippage can be tolerated.
JUNICHI TAZAWA
Will his arm be spared in his new role?
Tazawa was so overused at times by John Farrell – including the many days when he'd warm up but never come in to the game – that a conspiracy theorist might think the manager was getting a commission for sending the pitcher to a second Tommy John surgery. That's silly, of course. The reason Tazawa was overused was a basic one: the Red Sox didn't have another righthander who could navigate the seventh or eighth inning as well. With Kimbrel taking over the ninth and Uehara and hopefully Smith setting him up, the burden on Tazawa should ease.
ROBBIE ROSS JR.
Is he better than Tommy Layne?
Ross had a 3.86 ERA, a 112 adjusted ERA, and six saves. Layne had a 3.97 ERA, a 109 adjusted ERA, and one save. Conclusion: Robbie Ross Jr. is vastly superior.
TOMMY LAYNE
Is he better than Robbie Ross Jr.?
I feel like I just answered a question similar to that. In all seriousness, carrying two mediocre bullpen lefties probably means the Sox will trade for a better version along the way if they're in contention. That's not suggest mediocre lefties like these two don't have a lengthy shelf-life, though. Did you ever think that when Javier Lopez had a 9.27 ERA for the 2009 Red Sox that he'd still be employed in a major-league  bullpen seven years later – not the mention that he'd be coming off a season in which he had a 1.50 ERA? These guys would survive Armageddon, or maybe even a Trump presidency.
MATT BARNES
Is the breakthrough coming this year that some expected last year?
It's definitely encouraging that the 19th pick in the 2011 draft (taken a spot after the A's grabbed preferred Red Sox target Sonny Gray) pitched well enough this spring to make the club. It's a bit of a surprise, too. He had a dismal '15 season that began with hopes of him becoming a dependable setup man and ended with a 5.44 ERA in nine homers allowed in 43 innings. But the talent is there. So is the velocity. I still like his chances, and this is a good role for him.
CHRIS YOUNG
Will he play only against lefties?
Man, that's tough to say. The 32-year-old mashed lefties for the Yankees last year (.327/.397/.575 in 175 plate appearances). But he was miserable against southpaws the previous season (.149/.290/.270 in 93 PAs), and frankly, there aren't that many lefties around to mash in the AL East anyway. He's a useful pickup, but with Holt slated to get the majority of the at-bats, I wish he were the strong-side platoon player. They wouldn't have been the second coming of Gary Roenicke and John Lowenstein, but he and David Murphy might have made an effective combo had the latter stuck around.
RUSNEY CASTILLO
Is he a major-league baseball player?
For now, and only because of his salary. In the long run? Doesn't look promising. Geez, did you catch that killer quote from a scout in Shaughnessy's column Wednesday morning? "To me, he looks like a No. 3 outfielder at Pawtucket." At Pawtucket. That's cold. A few columns ago, I referred to Castillo as the Cuban Dwayne Hosey. I may owe the American Dwayne Hosey an apology. At least he could hit a fastball.
RYAN HANIGAN
Is he pretty much out of central casting as the sage backup catcher with the occasional knack for a big hit?
So much so that he could change his name to Jake Taylor and no one would blink.
PABLO SANDOVAL
Is he the worst free-agent signing in Red Sox history?
It's shaping up that way, pun kind of intended. It's tempting to go with Carl Crawford, who got $127 million from the Sox to be redundant with Jacoby Ellsbury. But Crawford not a declining player when they signed him; Sandoval was. And Crawford had more homers (11), RBIs (56) and a higher OPS (.694) in his mess of a first season in Boston than Sandoval (10, 47, .658) had last year. And they were able to unload Crawford — he still had some appeal — while the Red Sox have already decided to plop Sandoval on the bench, which should really enhance his trade value. So, yes, Sandoval is the worst free agent signing in Red Sox history. How's that for ending on a positive note?
The top 15 Red Sox prospects
[bdc-gallery id="547310″]