Red Sox
Travis Shaw beats out Pablo Sandoval for Red Sox' starting third baseman job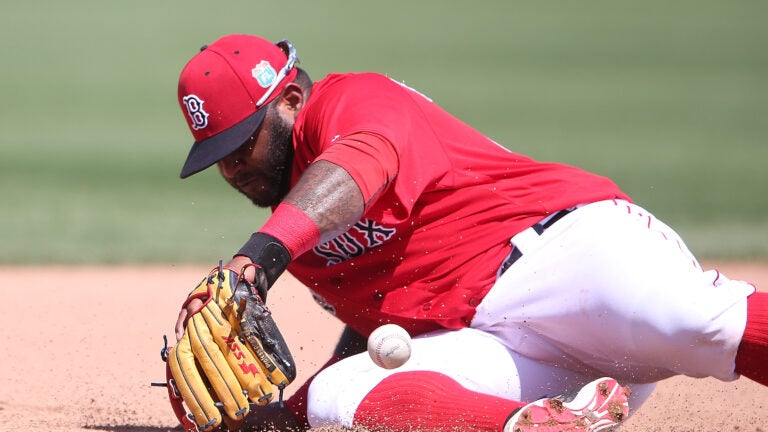 The Panda will start the season on the bench.
Travis Shaw will start at third base for the Red Sox on Opening Day instead of Pablo Sandoval, manager John Farrell announced on Thursday.
"I've had a chance to meet with both guys this morning, as I've met with them numerous times throughout the course of Spring Training," Farrell told reporters in Fort Myers, via MLB.com. "For right now, to start the season, we feel this is the best for our team to go with this alignment."
Shaw has a .333 batting average this spring with two home runs and 19 hits. He played a number of positions in the infield and outfield during spring training. Sandoval, whose physical condition was again a topic of conversation upon his arrival for spring training, has 10 hits and two homers to go with a .244 batting average. He recorded a team-high four errors, and injured his back on March 22 matchup against the Marlins while diving for a ball.
"We talked about it. I'm happy with the decision," Sandoval told WEEI's Rob Bradford. "They made the decision. It's the right decision to help the team win. I'm going to be happy. I'm going to be ready on the bench, get ready for anything. I'm going to get ready during the season to do my job."
Former Red Sox general manager Ben Cherington signed Sandoval to a five-year, $95-million contract during the 2015 offseason. Cherington left the team when Dave Dombrowski was hired as president of baseball operations during the Sox' 2015 season.
Boston selected Shaw in the ninth-round of the 2011 MLB Draft. After being called up from Pawtucket last season, Shaw had 61 hits, 18 home runs, and 36 RBI for a .270 batting average.
The biggest contracts in Red Sox history
[bdc-gallery id="140855″]