Red Sox
A few overs and unders regarding Red Sox statistical projections
Will Xander Bogaerts hit more than 12 homers, or fewer? Will David Ortiz go deep 30 times in his final season? We'll try to answer these questions and more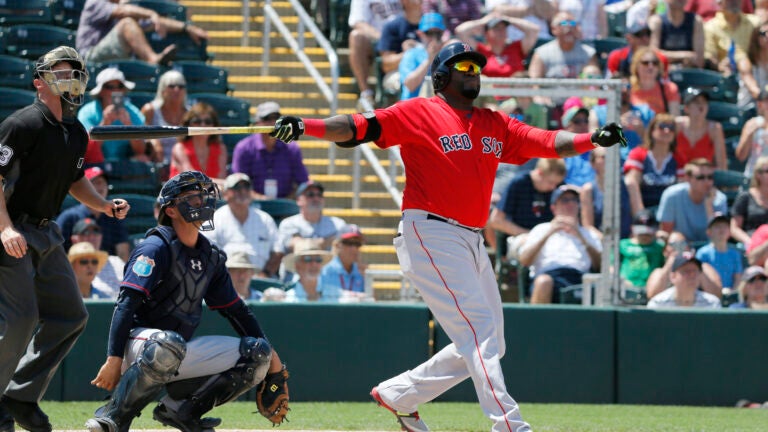 COMMENTARY
I can't think of a recent Red Sox season that began with so many possibilities — in positive and negative ways.
Mookie Betts could win his first American League MVP Award, David Price could win his second career Cy Young, and they could return to the top of the AL East after two lousy years at the bottom.
Or, Betts and Price (and Xander Bogaerts too) could still fare wonderfully … but if those surrounding them in question-addled lineup and thin starting rotation falter in large numbers, also-ran status is again a possibility.
For now, with Opening Day a turn of the weekend away, all we can do is ponder and imagine the possibilities. One fun way to do that is to take a look at a statistical projection model – I prefer Fangraphs' ZiPs system – and try to figure if players will surpass or fall short of certain projections.
We do that by playing the over/under game. ZiPS projects a 4.18 ERA for Rick Porcello? Gimme the way over on that one. But 13 homers for Jackie Bradley? I'll take the under, but I still appreciate the optimism.
As we wait for the season to finally begin and for answers to start arriving, let's take a look at 10 other ZiPs projections for Red Sox players, then decide whether we're taking the over or under. Ready? Swing away …
XANDER BOGAERTS
O/U: 12 home runs
The Red Sox' 23-year-old shortstop answered the two most pressing questions about his career last season in resoundingly positive fashion: Yes, he can hit major-league pitching well. Yes, he can play shortstop at the major-league level well. He took such a leap forward last season that I wouldn't be surprised – and wouldn't consider it a disappointment – if he regressed slightly, say, to a .295 average and 175 or so hits. But one area in which he can still improve – and still should, eventually if not immediately – is his power. He hit 7 homers last year. A dozen seems about right, but if you're going to make me choose, I'm taking the over.
MOOKIE BETTS
O/U: 18 homers, 26 steals
The ZiPs projections practically match his HR/SB numbers from a year ago when he had 18 homers and 21 steals in 145 games. Save for a brief adjustment period when he first arrived in the big leagues in 2014, he's done nothing but ascend since his 2013 season in Single A. One of the many great things about Betts is that it's reasonable to consider him an MVP candidate this year … and yet we have no idea what his ceiling might be. Go with the over on both. A 20/30 season doesn't just seem possible, but likely.
DUSTIN PEDROIA
O/U: .279 batting average
I thought this number seemed low upon first glance as I figured he'd never hit below something like .285 in his big league career. Actually, though, he had a lower batting average just two years ago, when he hit .278 in 609 plate appearances in 2014. But that's the only time he's dipped below .288 since 2008; he's hit over .300 four times and over .290 seven times. I like the chances of it happening again, so, over. It's not his bat I'll worry about; it's whether his bat is in the lineup.
DAVID ORTIZ
O/U: 30 home runs
Hmmm … tough one. Ortiz has averaged 34 homers and 142 games played over the past three seasons, his age 37-39 years. But as I've mentioned about 40 times recently, Darrell Evans of the '87 Tigers is the only 40-year-old to hit even 30 homers in a season, and only six (including the giant-head version of Barry Bonds, who did it twice) have hit as many as 25 after reaching that age. I'm skeptical that Ortiz can stay healthy enough in between the various retirement ceremonies to play 140 or so games. He'll get close to 30, but he won't get there. Under.
HANLEY RAMIREZ
O/U: 13 home runs, 12 steals
Hanley's HR/SB totals will probably add up to something like 25, but the balance will probably be around 21-4. If he can play even 120 games, he should hit around 20 homers – he's still a terrific offensive player when he's healthy and engaged – but speed isn't really in his repertoire anymore. Hard to believe he stole 51 bases in back-to-back seasons once upon a time. Over on homers, under on steals.
BROCK HOLT
O/U: 540 plate appearances
I'm going under, out of wishful thinking more than anything. Holt is a terrific utility guy, and his All-Star appearance was deserved last year. It was also confirmation of how badly the season was going for the team. I don't mean to disparage Holt, but if he's playing that much, it means two things: 1) Better players are injured or absent for some reason. 2) John Farrell has decided it's a good idea to give a ton of at-bats to a guy with little power or speed who twice has worn down in a season's second half.
BLAKE SWIHART
O/U: .252 batting average
He's one of the most underestimated Red Sox entering this season, a premier prospect who hit over .300 in the season's second half. I'm taking the over, and I'm taking the over by at least 30 points. He'll hit double-figure home runs, too.
PABLO SANDOVAL
O/U: 13 homers
Under by a dozen, excluding the three he hits for the Padres after the trade.
DAVID PRICE
O/U: 211 strikeouts
ZiPs projects the Red Sox' new and presumed ace to pitch 209.1 innings. (Clay Buchholz, probably: "Is that even allowed?") So that's essentially a strikeouts-per-nine-innings of exactly 9. Price's K/9 rate in 2014 was 9.8; last year, 9.2, including 10.5 after his trade to the Blue Jays. That rate of one strikeout per inning seems reasonable, but I'm taking the over on that 211 total, because Price is going to pitch more than 209.1 innings. In '14, he struck out a league-best 271 in 248.1 innings. Last year, he whiffed 225 in 220 innings. ZiPS isn't underestimating his strikeout totals. It's underestimating his workload.
CLAY BUCHHOLZ
O/U: 126.2 innings
Actually, this one seems exactly right. Push! I just want to know what happened to keep him from making it to inning No. 128. I'm betting on a dislocated eyelid suffered while taking an intense nap.