Red Sox
53,000 fans in Montreal watch Red Sox beat Blue Jays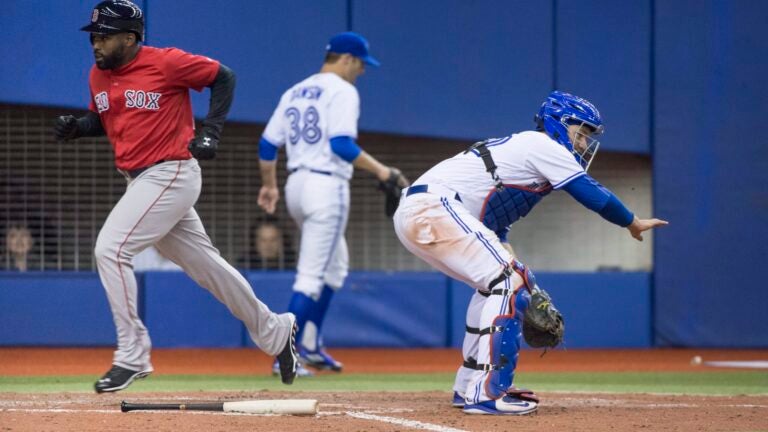 MONTREAL (AP) — The Toronto Blue Jays didn't get much time to rest up for opening day.
The Blue Jays lost to the Boston Red Sox 7-4 at Olympic Stadium on Saturday, the Blue Jays jetted back to Florida. Toronto opens the regular season Sunday at Tampa Bay.
"This is part of the life," Toronto center fielder Kevin Pillar said. "In an ideal situation, this wouldn't be the way to start opening day."
"But if you can't get excited about opening day, regardless of what the travel was like the day before, you're in the wrong industry because opening day is the most exciting day of the year," he said.
The Blue Jays hold their spring training in Dunedin, Fla., a short drive from Tropicana Field, where Marcus Stroman will start against Rays ace Chris Archer.
For the third year in a row, the Blue Jays ended exhibition play with a pair of games at the Big O. Montreal hasn't had a major league team since the Expos left after the 2004 season to become the Washington Nationals.
Ryan Hanigan homered during a five-run fifth inning as the Red Sox swept a two-game series before a crowd of 53,420. Boston won 4-2 Friday night with 52,682 fans watching.
"It simulates what it's like to play in regular season games," said Toronto-born, Montreal-raised Blue Jays catcher Russell Martin. "Packed houses, under the lights."
"Obviously you want to win, but these games didn't count in the standings. It didn't happen, but we're looking forward to starting the season on the right track. The guys are in good spirits. We're ready to go," he said.
Boston is off Sunday before opening Monday at Cleveland.
Toronto scored twice off Sean O'Sullivan in the third inning. Martin singled home Darwin Barney, and Josh Donaldson followed with a single to score Roemon Fields, who was pinch-running for Pillar.
Hanigan opened the fifth with a home run to left field off Shane Dawson. Jackie Bradley singled and scored on Josh Rutledge's double.
O'Sullivan gave up two runs and four hits in six innings.
"He threw strikes, had decent stuff and, for a guy who is going to provide depth for us, at least to begin the season, it was good to see him go out and throw the ball over the plate the way he did," Boston manager John Farrell said.