Red Sox
34 bold predictions for the 2016 Red Sox
Here's how the season will begin, how it will end, and every meaningful moment in between, including a no-hitter by a pitcher who isn't named David Price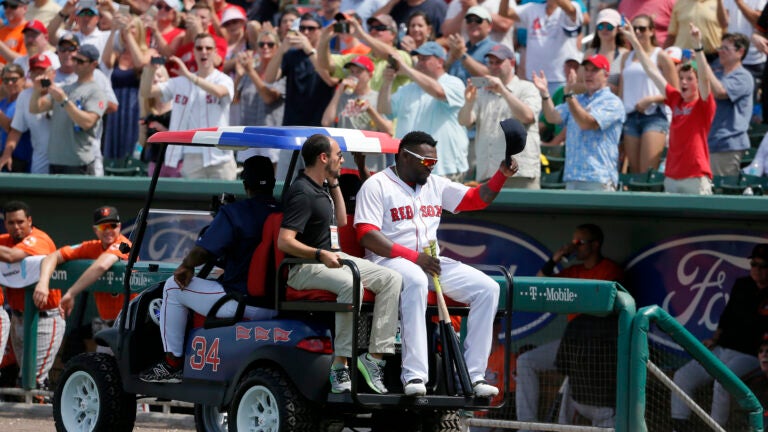 COMMENTARY
Nineteen of the following predictions will prove true, guaranteed. But I'm not telling you which ones now. Gotta maintain the suspense through the summer …
1. The Red Sox jump to the necessary fast start, winning six of their first nine games against Cleveland, Toronto and Baltimore.
2. But by the end of the April, the team will be just 13-12, having run into trouble against Houston and Tampa, then losing two games at home versus the Yankees to close the month. Sox fans will not be happy about that.
3. Speculation on manager John Farrell's job status will amplify as the calendar flips to May. But the Sox will get their act together as the weather warms, and Farrell will not lose his job during the season.
4. The pomp and circumstance of David Ortiz's long goodbye will get tiresome, in large part because of the organization's excessive and often ham-handed marketing approach.
5. But then we'll remember, and without much prompting, that this is the last season that we'll get to watch the greatest clutch hitter our [expletive] city has ever known, and the repetitive salutes will no longer seem such a bother.
6. Ortiz will miss 32 games with various ailments and creaks familiar to anyone over 40 years old. I worry about his Achilles' holding up over the short haul around the bases, let alone the long one. But he will still become just the second player in baseball history that age or older to hit 30 or more homers in a season.
7. Mookie Betts will become just the second player in Red Sox history to finish with more than 20 homers and 30 steals, following Jacoby Ellsbury (32/39) in 2009. For Betts, it will not be an outlier, but a promise of more feats to come.
8. Betts will finish fourth in the American League MVP balloting behind the Angels' Mike Trout, the Astros' Carlos Correa, and the Jays' Josh Donaldson. There will be much debate regarding the definition of value and whether he should have finished in front of any or all of them.
9. Dustin Pedroia will finish with exactly a .797 OPS for the third time in five years.
10. Pedroia will play more than 135 games (but not many more) for the first time in three years.
11. Xander Bogaerts will bat .295 with 13 homers and 41 doubles, securing his spot between Correa and Cleveland's Francisco Lindor among the AL's trio of extraordinary 23-or-under shortstops.
12. First baseman Hanley Ramirez will drive in 100 runs for the second time in his career. The first was in 2009, when he went .342-24-106 with 27 steals for the Marlins and finished second in the NL MVP balloting. He was pretty awesome once.
13. Ramirez will not cost the Red Sox 100 runs with his glove, which he may have done in left field last year.
14. Travis Shaw will hit .248 with 21 homers and 76 RBIs, an exact and appropriate replica of Brian Daubach's 2000 season.
15. Blake Swihart will lead American League catchers in batting average and doubles.
16. Red Sox president of baseball operations Dave Dombrowski will offer a package centered around Swihart to the A's for Sonny Gray before the trading deadline. A's executive vice president of baseball operations Billy Beane will ask for Swihart, Rafael Devers, Andrew Benintendi, and any random, chubby, high-OBP Single A third baseman the Sox might have, just for old times' sake. Dombrowski will turn off his phone and never speak of the counteroffer again.
17. Premier prospects Yoan Moncada, Benintendi and Devers will all advance to Double A Portland by midseason, and Benintendi will get called to the big leagues before September.
18. Swihart will prove surprisingly polished during occasional stints in left field in June after Christian Vazquez is recalled when Ryan Hanigan goes on the disabled list.
19. Recognizing that Brock Holt isn't the solution as the left fielder against right-handed pitchers and that he's needed as a utility man, Dombrowski will acquire Brandon Moss from the outfield-rich Cardinals for a player to be named later. "Glad to be back here," says Moss. "But they probably should have just kept my old buddy David Murphy."
20. David Price will win 20 games and finish second in the AL Cy Young balloting to his former Toronto understudy, Marcus Stroman.
21. Clay Buchholz will pitch like a legitimate No. 2 starter during most of the 24 starts he will make. He will finish second on the Red Sox in wins (14) but fourth in innings pitched (157.3).
22. On June 10, Joe Kelly will pitch a no-hitter against the Twins. He will need just 97 pitches. The masterpiece will lower his season ERA to 4.66.
23. On a whim, Dombrowski will offer Rick Porcello to the Mets for Yoenis Cespedes. "I suckered someone on this deal once," he figures. Sandy Alderson tells him he appreciates the laugh but Porcello isn't worth as much as Cespedes's cheapest car.
24. Koji Uehara will struggle to stay healthy, but he will not struggle on the mound when healthy. He will finish the season with an ERA under 2.50.
25. The Red Sox will have four right-handed relievers with K/9 ratio of 10 or higher – Craig Kimbrel, Uehara, Carson Smith, and Matt Barnes, who will surpass Junichi Tazawa in the bullpen pecking order.
26. Lefties Robbie Ross Jr. and Tommy Layne will be just ineffective enough that Dombrowski will inquire with the Orioles about the availability of minor-league lefty Hideki Okajima.
27. Smith and Eduardo Rodriguez will take longer than expected to return from their respective injuries, but both will be among the Red Sox' most effective pitchers in the second half.
28. In late May, Dombrowski will trade Pablo Sandoval and Henry Owens to the Padres for Andrew Cashner, with the Red Sox gulping down $45 million of Sandoval's remaining salary.
29. Rusney Castillo will make the All-Star team. In the International League.
30. The Red Sox will win 87 games, finishing eight back of the Blue Jays in the division race and one game up on the Angels and two on the Yankees in the wild card.
31. They will beat the Angels in the wild-card game when Betts leaps in front of the bullpen to rob Trout of a go-ahead homer in the ninth inning.
32. But they will fall to the Astros in five games in the Division Series. David Ortiz's game-tying homer in the top of the ninth will be wasted when Farrell decides not to use his closer in the ninth inning on the road in a tie game and Smith gives up a winning single to George Springer.
33. Ortiz will admit in the dejected postgame locker room that he'd like to play one more year, but giving back all of those retirement gifts would be too much of a hassle.
34. We will go into the winter hot-taking all over the place about Farrell's gaffe. Everyone will agree that he'll be on a short leash again when April comes around.