Red Sox
David Price makes an opening statement that the Red Sox haven't heard in a while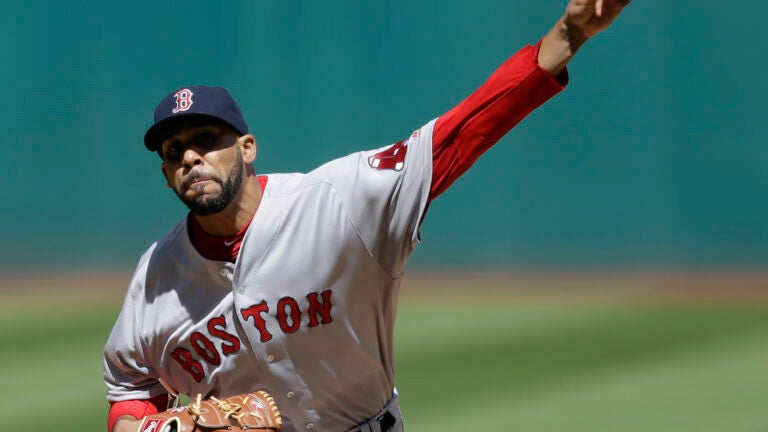 COMMENTARY
It had been 18 years since a Red Sox pitcher won an Opening Day debut with the team.
Not that the feat had been all that common in the franchise's history to that point. Only four Red Sox pitchers have managed to pull it off prior to Tuesday: The immortal Jim Bagby in 1938, Dick Ellsworth in 1968, Gary Peters two years later, and Hall of Famer Pedro Martinez in 1998.
David Wells had been the last Red Sox starting pitcher to make his debut with the team on Opening Day. Taking the mound for the defending World Series champs in 2005, he lasted a mere 4 1/3 innings against the Yankees.
The David Wells era in Boston was strange.
The David Price era? Well, that began just fine.
"You know you're going to get that out of him every time he steps on the mound," Red Sox outfielder Mookie Betts told NESN after hitting his first home run of the season to help lead Boston's 6-2 win over the Indians.
Well, probably not every time. But the promise that he should sometimes be even better over the course of the season was perhaps the most intriguing takeaway from Opening Day.
"He did an outstanding job for us," manager John Farrell said after winning his second straight Opening Day contest. "I thought we did a number of things well today, including what David did on the mound."
If we want to go so far as to compare Price's debut with the Red Sox to what Martinez was able to manage when he stepped on the mound in Oakland nearly two decades ago, then consider that Price hurled six innings against the Indians, allowing five hits and two earned runs. He walked two and struck out 10, throwing 103 pitches.
On April 1, 1998, Pedro silenced the Athletics over seven innings. He allowed three hits and no runs. Martinez stuck out 11 and walked two, throwing 116 pitches.
Price could have gone deeper in the game Tuesday had he not struggled with his cutter in the fourth inning, when the Indians scored both of their runs. Then again, it was 34 degrees at first pitch in Cleveland, the coldest season-opener ever played at Progressive Field. The Sox will take six such innings and hand it over to that effectively-reworked bullpen anytime.
Price won't be Pedro over the course of his seven-year, $217 million contract, but his debut revealed one simple truth for the Boston Red Sox: They probably haven't had an ace of that caliber since.
Oh, for sure, over the past 18 — eighteen — years since Pedro's victorious Opening Day debut, there have been other premium, ace-level guys that played here. Curt Schilling. Jon Lester. Josh Beckett. Daisuke Matsu…er, never mind.
But Martinez is generally regarded as the best pitcher to ever play in Boston, coming only two years after the "other" best pitcher in franchise history, Roger Clemens, took his act to Toronto. Since Martinez left for the New York Mets in 2004, the Red Sox have won two more World Series title, but each of them came in the absence of anyone fitting his bill. Schilling was awesome in 2004. Beckett was dominant in 2007. Lester confirmed his status as one of baseball's best postseason pitchers in 2013.
But it's fair to admit that for all their stretches of dominance, Schilling, Beckett, and Lester never reached that level of being an exceptional cornerstone of the Boston rotation.
Price is a different story, and the high-priced acquisition didn't disappoint on Day One.
Martinez helped lead the Red Sox back to the playoffs in his first season in Boston, even with a less-than-stellar rotation that pitched better than anyone could have figured. Tim Wakefield won 17 games, Bret Saberhagen 15. Heck, Steve Avery made 23 starts for a team that eventually lost to the Indians in the 1998 American League Division Series.
Price is a long way from that point, but he'll have to sit in the dugout and watch Clay Buchholz, Joe Kelly, Steven Wright, and (gulp) Rick Porcello over the next four days until he gets his next chance at the mound in Toronto on Sunday. As dominant as he can be, is that rotation, even the one that will eventually include the injured Eduardo Rodriguez, good enough for an October run?
Maybe not. On Opening Day though, that promise lingering is all that really matters.
"That was a good win," Price said. "We threw the ball well at times, we had some good defensive plays and big hits. Thats what you have to do."
Clearly these Red Sox have a different makeup with an ace like Price. No more "five number ones" as Farrell so erroneously proclaimed last spring.
"Price always brings something to the table," said designated hitter David Ortiz after hitting the final Opening Day home run of his career in the ninth inning, his 504th career round-tripper that tied him with Hall of Famer Eddie Murray for 26th place on the career list. "That's why we got him this offseason."
The season opener was confirmation. David Price has changed the face of these Red Sox.
From Pedro to Price.
At least for one day.
Photos: Historical look at Fenway Park
[bdc-gallery id="115689″]