Red Sox
When it comes to insane ballpark food, Fenway isn't trying to compete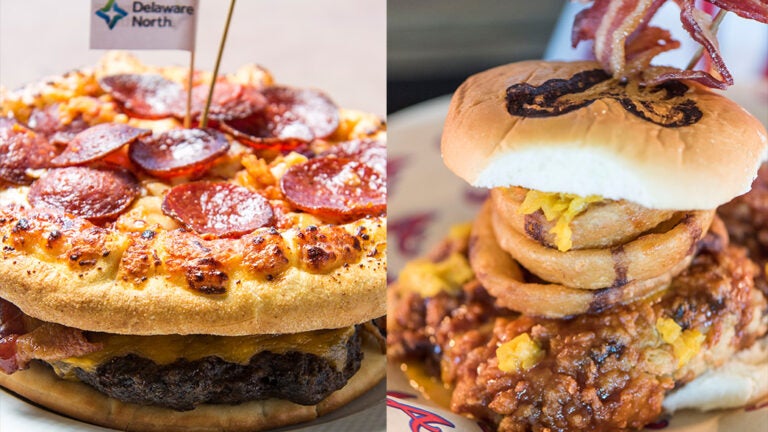 Opening Day was Monday, which meant the return of America's pastime: Not baseball, of course, but elaborately overindulgent food. For most fans, at least.
From the return of Houston's chicken and waffle cone at Minute Maid Park to Atlanta's outrageous new food lineup to any number of pulled pork iterations, clogging America's arteries (and Darren Rovell's Twitter feed) is as in as the longball.
Even at bourgeois Yankee Stadium, there's a pretzel bun cheeseburger that includes fried chicken and hashbrowns or, alternatively, bacon and pastrami.
New at @Yankees games: "Barnyard Wedding" — cheeseburger, fried chicken, hash browns & BBQ sauce on a pretzel bun pic.twitter.com/MpvwJIOXWq

— Darren Rovell (@darrenrovell) March 31, 2016
Food has always been an ingrained part of attending a baseball game — at least, according to the song — but only recently has its bastardization seemingly become a contest.
Except at Fenway Park.
According to Red Sox spokeswoman Zineb Curran, the focus over the past several years at Fenway has been geared more toward family-friendly fare, rather than pushing the limits of caloric intake.
"The goal is to develop a menu that maintains the traditions of baseball while incorporating current food trends," Curran told Boston.com.
Even if it doesn't size up against Cleveland's pierogi-filled "Thomenator," Fenway centers its menu around its traditional, namesake hot dog.
"Fenway Franks are far and away the best-selling item at Fenway Park and because of that, there is more focus and media attention on that particular menu item," Curran said, noting that "classic New England fare," including lobster rolls and New England clam chowder, is also a "ballpark staple."
For perhaps Fenway Park's most eclectic food, one doesn't even need a game ticket. But even Bleacher Bar's expansive  sandwich menu—which includes a pork belly Cubano—can't compete with the Brave's "burgerizza," not to mention the Arizona Diamondbacks' 18-inch cheese-stuffed corn dog.
But ballpark food isn't solely about auditioning for Epic Meal Time.
Some clubs have used their ballpark concessions to showcase local delicacies.
Nationals fan have access to D.C.'s iconic Ben's Chili Bowl in-stadium. Meanwhile, Pirates fans can make a mess of Pittsburgh's famous Primanti Brothers sandwiches in their seats at PNC Park. And this year at Citi Field, Mets fans will be able to snack on cuisine from world-famous restaurateur David Chang — in addition to the New York-based Shake Shack and Blue Smoke.
On this level, Fenway Park has made progress in recent years.
Curran points out the addition of a Tasty Burger stand on the Third Base Deck section, albeit with a limited menu compared to the Boston-based chain's usual offerings, as well as several Dunkin' Donuts coffee stands scattered throughout the stadium. There's even a Basho sushi stand, she noted, with the actual restaurant just a couple blocks away.
And as Boston magazine recently documented, the Red Sox partnered this year with Cambridge butcher shop and market Savenor's to supply the park with burgers, sirloin steak, and turkey tips, as well as a rotating menu of sandwiches (Curran specifically plugged their steak tip sandwich).
Just don't expect a tempura-battered cheddar bacon burger any time soon.
For now, if the Fenway faithful really want to punish their stomachs, they'll have to play wasabi roulette across the street.