Red Sox
David Ortiz on Mookie Betts: 'He's got what the game needs right now'
"He's got that swag"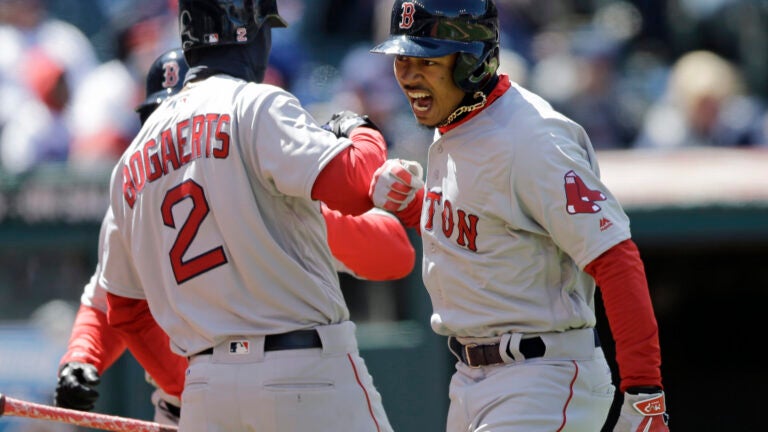 David Ortiz knows superstar swagger. And he likes what he sees from Mookie Betts.
The Red Sox' 23-year-old outfielder opened the 2016 season with a performance that showed why he is considered a contender to win the American League MVP Award. He finished the Sox' 6-2 win over the Indians on Tuesday with two hits, including a two-run homer, and a leaping grab in the outfield.
"Superstar, man. Superstar," Ortiz said of Betts after the win in Cleveland, via NESN. "He's got that swag. He's got what the game needs right now, you know what I'm saying?
A glimpse of @mookiebett's 2016 season? #OpeningDayhttps://t.co/5cat5e24qt

— Boston Red Sox (@RedSox) April 5, 2016
"You just have to let that kid play and enjoy," Ortiz said. "You don't see that every day. That's him. He doesn't surprise me at all anymore. He's always out there doing things. Super athletic. Happy to have him here as always and he's enjoyable to watch."
Betts finished the 2015 season with 18 homers, 173 hits, a .291/.341/.479 slash line, and a slew of acrobatic catches.
"Mookie takes over the game in a couple different ways," Red Sox manager John Farrell said on Tuesday, via MLB.com. "He makes one heck of a catch in the fifth inning. He gets us on the board with a two-run homer in a pretty stiff breeze with a cold wind today."
We woke up still thinking about this catch! #YaBettsBelieve pic.twitter.com/1FHl43lHXN

— Boston Red Sox (@RedSox) April 6, 2016
Prior to the season, Nationals outfielder Bryce Harper made headlines by saying baseball was "a tired sport, because you can't express yourself." After the Nationals' win on Opening Day, he was spotted wearing a hat with the slogan "Make Baseball Fun Again."
Betts' play and personality, however, should maintain the attention of Red Sox fans all season long.
Boston Red Sox in the MLB Hall of Fame
[bdc-gallery id="463814″]