Red Sox
Hanley Ramirez says he's 'back at home' in the infield
Outfield was not a fit for Ramirez. He's pleased to return to the infield.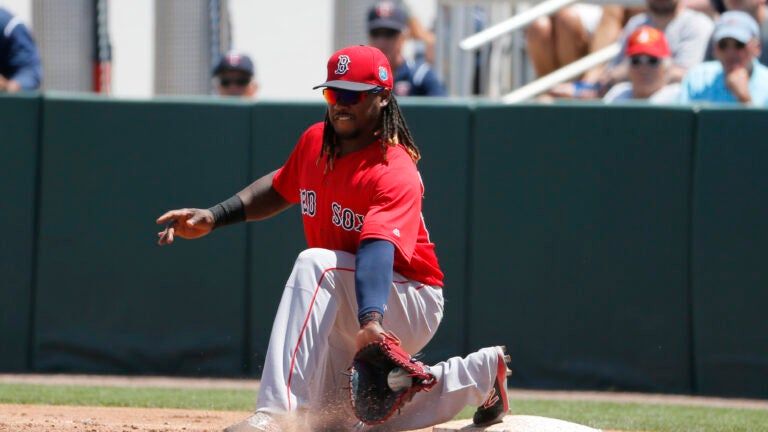 Hanley Ramirez showed he's not an outfielder during the 2015 season. His mishaps were well-documented.
So far, first base has been a much better fit for the 32-year-old slugger, who spent 10 major league seasons at shortstop and third base.
"The difference is like when you go to somebody else's house compared to your own house. How do you feel? Uncomfortable," he told WEEI.com's Rob Bradford. "Going to the infield to the outfield is like going to another house. I'm back home. I never lost that feeling, of the infield. Ever. Never did. I'm always going to be an infielder."
Ramirez's struggles in left field culminated in a collision with the outfield wall in May. Ramirez suffered a shoulder sprain during the play and missed multiple games. He returned to action later in the season, but the Red Sox eventually decided to shut him down for the 2015 season. He then began his transition to first base.
At first base during spring training, Ramirez flashed athleticism with leaping and diving catches. But he wasn't just flashy — he was also consistent, recording zero errors. He credits his transition to first base to his experience in the infield.
"That's in the past. I've been a shortstop all my life," he told WEEI.com. "I decided to play left field because I wanted to come to Boston, and I want to play left field because I want to win. I think you guys didn't see that. I know how it is. You guys have to make news any way you guys can. Sometimes we have to find the way to do it the right way, and it didn't happen. But I feel good now. I feel comfortable. This year is going to be a different level. We have a way better team, and I think we can do a lot of damage."
The Red Sox, who finished last in the AL East during 2015 season, will likely need Ramirez's bat and glove to make a playoff run.
The most lucrative contracts in Red Sox History
[bdc-gallery id="140855″]