Red Sox
Opening Day offers evidence of what will soon be indisputable: Mookie Betts is the Red Sox' best player
The Red Sox right fielder – who should be hitting third in the lineup – drove in the first runs of the season with a third-inning home run.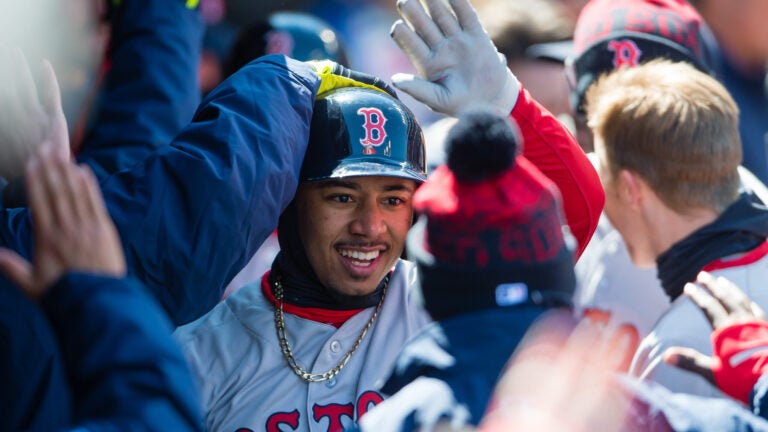 COMMENTARY
Before we get to the various highlights and good times from a particularly fulfilling Opening Day for the Red Sox, a 6-2 victory in Cleveland that more than made up for Monday's it's-too-damn-cold-to-play one-day delay, I've got a flashback of a question that in an inverse kind of way pertains to this new season:
Quick, tell me the Red Sox' Opening Day lineup five years ago. Not the whole thing. Just, oh, let's say the top five hitters in the order.
Got it? Remember it? No? Well, here you go:
Jacoby Ellsbury, CF
Dustin Pedroia, 2B
Carl Crawford, LF
Kevin Youkilis, 3B
Adrian Gonzalez DH
Since we both know you're wondering, the rest of the lineup was David Ortiz/Mike Cameron/Jarrod Saltalamacchia/Marco Scutaro. Jon Lester started, with Dan Wheeler, Dennys Reyes, Daniel Bard and Tim Wakefield pitching out of the pen for Terry Francona's club. Those Sox lost 9-5 to the Rangers, the first of their 72 losses that season. Nope, I didn't remember Dan Wheeler was once on the Red Sox, either.
The point of remembering this group is not the obvious one – dang, a lot changes in five years – but to draw attention to the neon-blinking misfit in that lineup: Carl Crawford, hitting third? If that wasn't evidence that the Red Sox had no idea what to do with the $144 million free-agent signing with a skill set redundant with Ellsbury's, nothing is.
Crawford hit third once more that season – the next day, when he submitted his second straight 0 for 4 – before he was moved to the No. 2 spot for the brunt of a season that ended in staggering disappointment for him and the ballclub. Crawford was a flop among flops, a quandary that never found a solution. He lasted less than two seasons with the Red Sox and is the Dodgers' salary-draining shell of a player now.
Rifling through the lost (or deliberately forgotten) Crawford Files is my roundabout way of saying I expect something nearly opposite to occur with the Red Sox' lineup this season, and evidence of its possibility was supplied Tuesday. This lineup revision, however, will be produced by a pleasant dilemma.
I'm convinced Mookie Betts ends up hitting third for this team. And sooner rather than later. He was the team's leadoff hitter against the Indians on Tuesday.
Betts, the Red Sox' dazzling 23-year-old right fielder – who says changing defensive positions is hard? – keeps raising his ceiling higher and higher. Betts broke through as a must-watch prospect in 2013 and hasn't stopped improving since. Fans outside of New England are catching on, too. He is a fashionable sleeper choice among prognosticators and semi-educated guessers to win the American League Most Valuable Player Award this season, in the off-chance someone discovers Mike Trout actually is allergic to kryptonite.
Given his consensus standing as the Red Sox' best offensive player, it seemed appropriate that he drove in the first runs of the 2016 season with a two-run home run off Cy Young-winner-once-removed Corey Kluber in the third inning, just as it was appropriate that David Ortiz, who has a few ninth-inning homers to his credit from what I've heard, punctuated the win with his own two-run, that's-that blast in the final frame.
A glimpse of @mookiebett's 2016 season? #OpeningDayhttps://t.co/5cat5e24qt

— Boston Red Sox (@RedSox) April 5, 2016
Betts's homer was the more impressive of the two. It was estimated at more than 400 feet, a remarkable feat on a frigid day against a pitcher, Kluber, with one of the filthiest repertoires in the league. And yet it surprised no one. This is a kid who had 18 homers among his 68 extra-base hits last year, slashed .291/.341/.479, and was at his best in the second half (.311/.359/.500 with 30 extra-base hits in 59 games). He is a star already, with the "super" prefix set to be attached any day now.
This suggested lineup shift is no knock on current No. 3 hitter Xander Bogaerts, a wonderful young talent in his own right who hit .320 last year. But Betts is more advanced and presently has more power in his bat. Until Bogaerts's power comes around – and it will happen, though incrementally and perhaps not in full this year – he is more of a No. 2 hitter than a traditional No. 3.
Betts? His physical dimensions aside, he is a quintessential No. 3 hitter now. What's remarkable is that his peak is still seasons away. How fun it will be to watch this duo – the Gold Dust Twins II? – do their thing over the next half-dozen years, if not more.
Betts sure did his thing Tuesday – his leaping catch in the fifth inning on a Rajai Davis drive was arguably as important as his home run – and it sent the Red Sox on their way to their first victory in a season that must begin successfully after two straight last-place finishes, at least if John Farrell is to remain the manager beyond May.
"Fortunately enough, I've done enough squats to jump up and get it." – @mookiebetts on his 5th inning grab.https://t.co/WoxeYVTDbv

— Boston Red Sox (@RedSox) April 5, 2016
So far, so good. It's the puniest of sample-sizes. sure, just 1/162 of the schedule, but Tuesday afternoon was all good vibes and optimism, demanding our full enjoyment. Wasn't that victory Dave Dombrowski's blueprint come to life? This must have been what he imagined when he began repairing this roster over the winter. Betts and Ortiz wallop home runs, Price outduels an opposing ace, the conga line of setup men to closer Craig Kimbrel avoids suspense, and Kimbrel finishes with a flourish, ending it with a strikeout.
All is well for one day, at least. The Red Sox are 1 for 1, and their greatest dilemma for now is no dilemma at all: Mookie Betts is their best hitter, and he should hit third. Eventually he will. For now, though, the only people who will complain about him hitting leadoff are the pitchers who have to deal with him right off the bat.