Red Sox
Excuse me, but Clay Buchholz has reasons for his struggles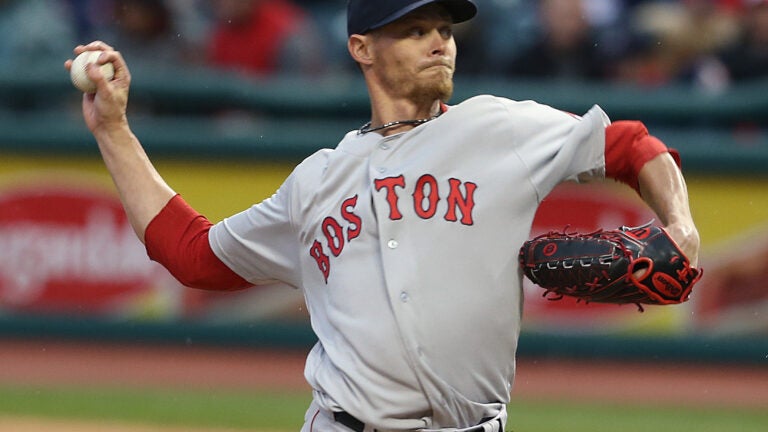 COMMENTARY
Just to soothe the hysteria over what was a horrific debut Wednesday night in Cleveland, let's just note that Red Sox starting pitcher Clay Buchholz has historically struggled in the first month of the season over his career.
The 31-year-old lanky righty is 14-13 during his debut stretch, with a 4.82 ERA, highest among any month included in his 10-year resume. He has 201 2/3 innings pitched to his credit in the first month of the season, the second-highest total to May (212 2/3), which suggests a breakdown point is always imminent.
As if you didn't know.
Alas, in the follow-up to David Price's encouraging, Opening Day victory over the Indians on Tuesday, Buchholz preserved every reason Red Sox fans should be wary about this team's wary prognosis. Buchholz as a No. 2 may be a joke worthy of repeating in locker rooms across New England, but he's only the beginning of Boston's issues in the starting rotation.
He's also the beginning and the end of their dubious excuses.
"It was a little awkward with the game time delayed," Buchholz said after the Red Sox' 7-6 loss was delayed by a grand total of 12 minutes due to rain. "Other than the first inning, I felt pretty good. I had a couple of guys on and got out of a couple of jams. That first inning is what stands out. Take that away and we have a lot better chance of winning."
Neat.
Buchholz pitched four innings, giving up five earned runs.
No biggie. Right?
If you expected any other response from Buchholz after an outing in which he struggled, well, take a seat. You'll be hearing plenty more of it.
This could, perhaps, be the most frustrating thing about Buchholz: his excuse machine is forever running, always with a matter for the reason why he's imploded, perennially arguing why he should be considered even a capable dependability.
Cleveland's Carlos Santana hit a three-run bomb off the righty in the first inning Wednesday night, a matter that most starting pitchers might have taken as the end-all for his starting failure. Oh, not Buchholz. For him, that was only a matter of his pitch count.
"If not for that three-run homer right there, then I would've worked probably into the sixth," Buchholz said.
Buchholz threw 94 pitches over four innings, which turns out to be nearly a 25-pitch-per-inning pace. Nice work.
But sure, it was that pitch to Santana.
There isn't a more frustrating athlete to root for in Boston than Buchholz, not necessarily only because of his bloated pitching lines, but because the culpability is never present. Buchholz's responsibility in his gag every five days always possesses some semblance of a reason, a pardon for the struggle, even though everybody on the outside understands it equates to little more than the house puppy chowing on the math assignment.
Yet, here he is, the Red Sox' anointed No. 2 starter, a guy who has never managed to consistently prove himself worthy of the role. In fact, Buchholz's career averageness is only thanks to his few pockets of promise, a maddening pitcher to watch with only the slightest of margins that something special will come of it.
"I threw some really good offspeed pitches for first pitches and they had some good takes," Buchholz said.
See? Not his fault.
"With a team that you think is going to go out there swinging early, you try to get them to mis-hit some balls with the changeups and curveballs early in the count. The pitches that I threw where I wanted to that were balls, you usually get a lot of swings and misses or weak contact off, they didn't offer at them. It left me behind in the count for the most part and having to throw strikes with the fastball when you're not commanding it all that well. That's how it goes."
Yup. This is, in fact, how it goes.
So, here we are, destined for another season of making excuses for a guy who has earned so few during his tenure in Boston.
The one day that Buchholz steps to the microphone and admits he was terrible will be the same day that fellow struggling starter Rick Porcello voluntarily surrenders to an annual discount. It's funny. Buchholz makes one mistake and that's the cause for the unfolding from there on. That's how it goes, you know.
Other pitchers of his caliber make mistakes too. Yet they adjust to the problem and work around it.
Buchholz? There's always some ballyhooed justification that his team has to endure.
His manager only emphasizes that.
"I think Clay Buchholz will get to 200 [innings]," Farrell said last December at baseball's winter meetings, a threshold he's only come within 10 2/3 of reaching.
In 2012.
"There's always going to be critics. We're fortunate enough to play in this market and this organization, but with that comes a lot of scrutiny and criticism," Buchholz told the Globe's Alex Speier. "Whenever I'm healthy and on the field, I feel like I can give this team a chance to win any time I'm out there. I feel like I've done that for the most part every season except for in 2008. I know what I've done. I know what I can do."
Nice. Maybe he'll show Sox fans at some point.
"When he's been out there, he's been an elite performer," said general manager Mike Hazen.
That might be a stretching of the word "elite."
Clay Buchholz. Scheduled to start the home opener against the Baltimore Orioles at Fenway on Monday.
Should be a hoot.
Red Sox spring training photos
[bdc-gallery id="615705″]