Red Sox
What are some realistic expectations for Travis Shaw?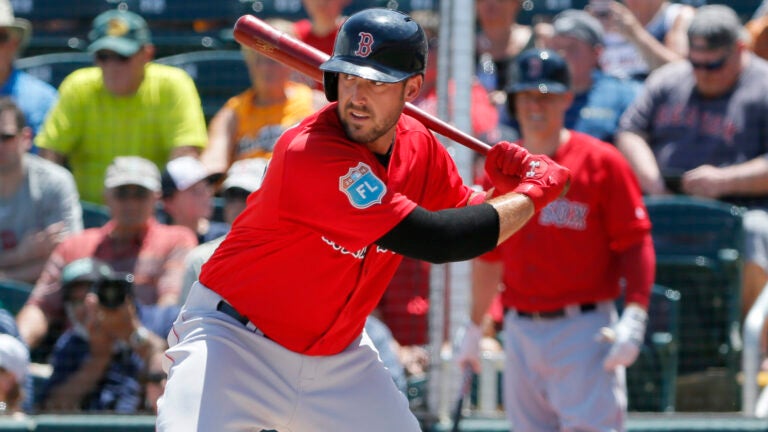 For the past month, the most pivotal Red Sox story has been whether Travis Shaw or Pablo Sandoval would be the team's starting third baseman. Last week, we learned that it would indeed be Shaw, so now that we have that detail squared away, the question becomes: what should we expect from Shaw this season?
The first thing that should be mentioned is that we don't have a great deal of data to work with, since coming into this season Shaw had just 248 plate appearances in the major leagues. So the observations about his statistical line won't be anything near iron clad.
One of the most prominent observations we can make is that Shaw is a player who makes up for a lack of on-base skills with a modicum of power. That was true during his time in Triple-A as a whole, and it was true during his brief stint in the majors. In the majors last season, Shaw slugged .487 against a .405 league average, and had a .327 on-base percentage against a league average of .317.
Shaw's batting eye is something that has devolved as he has progressed in pro ball. During his first three years in the minors, he walked in more than 14 percent of his plate appearances. That dropped down to just over 10 percent in 2014, as Shaw graduated from Double-A to Triple-A, and then last year, when he graduated from Triple-A to the majors, his walk rate dropped down to 7.72 percent.
On the other side of the plate discipline equation is strikeout rate, which was also worse than average in the majors last season. And while his walk rate declined over time, Shaw has always been vulnerable to strikeouts. At every minor league level, he struck out in at least 19 percent of his plate appearances, and in the majors that jumped up to 23 percent. It's not an untenable percentage, but it was high for the Red Sox. Of the 13 Red Sox hitters who tallied at least 200 plate appearances last season, only Jackie Bradley Jr., Mike Napoli and Blake Swihart struck out more frequently than did Shaw.
Shaw's power output, on the other hand, was better in the majors than it was in Triple-A. This doesn't happen too frequently, but it does happen — fellow 2015 rookies Carlos Correa and Francisco Lindor did the same thing last season. The biggest question will be whether Shaw can do it again. Anyone who outperforms his minor league numbers is a prime candidate for regression, and we can't be confident in Shaw's power output until he proves he can do it over a full season. That power output is the main question when it comes to evaluating Shaw. If he can maintain his power stroke from 2015, he should be an above-average major league hitter.
One thing that Shaw has going for him is that he handled most pitch types well last season. The PITCHf/x system is able to break out a hitter's performance against all pitch types. According to the PITCHf/x stats house at FanGraphs, Shaw faced a fairly average pitch mix. He did well against fastballs, changeups, curveballs and splitters, while he struggled against cutters, sinkers and sliders. If there's a trend there, it might be that Shaw has trouble against pitches with more horizontal movement, and that is worth watching as the season unfolds.
Nevertheless, projections systems are not especially optimistic about Shaw's power output in 2016. Both the projection systems housed at FanGraphs – Steamer and ZiPS – as well as Baseball Prospectus' PECOTA have Shaw pegged for a slugging percentage of .430 or worse. ZiPS is the most pessimistic, projecting him for a .393 SLG (for reference, Blake Swihart had a .392 SLG last season). If you're optimistic, you'd say the projection systems don't have much data to work with and as such are regressing Shaw's numbers far more than they would a player with a longer track record. If you're pessimistic, you might see Shaw's output last season as fluky. The truth is likely in the middle.
Of course, there is more than just hitting to discuss – there's also base running. Unfortunately, Shaw doesn't have a great deal of speed. He was 0-for-4 on stolen base attempts last season, and he stole just seven bases in 10 tries in 2014. We can also turn to Speed Score (Spd), a statistic originally developed by Red Sox senior adviser of baseball operations Bill James, which measures a player's overall baserunning and stolen base ability. A 4.5 Spd is considered league average, but Shaw was well below that in Boston, at 1.6, which is considered poor. It was actually the same Spd that Pablo Sandoval had last season, and together the two of them were only better than David Ortiz (0.9) among Red Sox hitters.
Finally, there is Shaw's defense. He earned the top job on the strength of his defensive work in spring training, but as we've discussed previously he doesn't have much experience at third base. In fact, Shaw only started at third base five times last season, and played there in just eight games overall. That totaled just 54 innings at third base, and that's not nearly enough to make any real judgment of his defensive stature, and that will be more of an unknown this season than his hitting.
Travis Shaw isn't going to fit the new traditional Red Sox mold of generating a ton of walks, and as such his value is going to depend mostly on his ability to hit for power and play good defense. He should be a solid role player, with an upside of being an average major leaguer if the defense is better than expected. That's not going to make anyone stop pining for the days of Bill Mueller, Mike Lowell, Kevin Youkilis or Adrian Beltre, but hopefully it will erase the memories of 2014 Will Middlebrooks and 2015 Pablo Sandoval.
Red Sox 40 man roster
[bdc-gallery id="538824″]