Red Sox
Hallowed ground: How Fenway Park gets ready for baseball season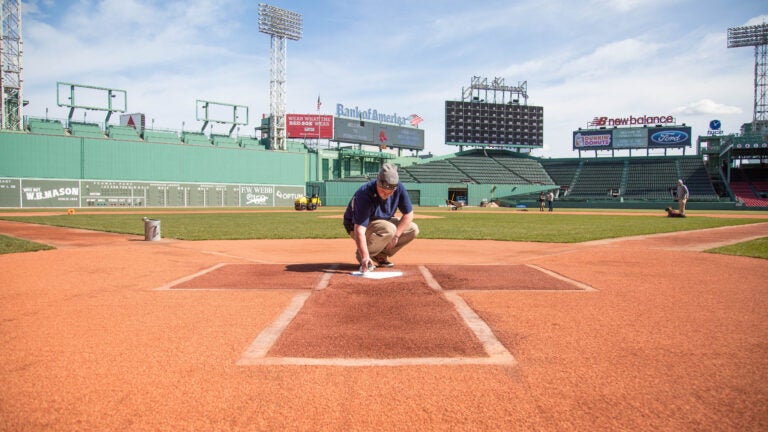 "We're out here all winter long," says Dave Mellor, the Boston Red Sox' longtime groundskeeper, standing on the grass behind second base on the last day of March.
Mellor is dressed like the New England spring: khaki shorts, Sox cap, a blue polo shirt tucked under a heavy windbreaker. In just over two weeks' time, Mookie Betts will be calling off Dustin Pedroia for short fly balls hit to this spot. At the moment, the grass is a confetti of green and yellow, several shades lighter than the iconic Fenway emerald fans have come to expect on TV.
Since 2001, Mellor's job has been to get the field ready for baseball, a job made more complex each year as football games and rock concerts are added to the schedule. After February's Big Air at Fenway event, Mellor and his crew tore up the old grass and replaced it with new sod – 100 percent bluegrass, sourced near Atlantic City. Several warm days helped the sod take root, but a cold, wet stretch wasn't helping now.
"Mother Nature dictates everything we do, from staffing to how well the grass is gonna green up to how we handle the clay, making sure it doesn't freeze at night," says Mellor.
The Red Sox groundskeeping crew consists of Mellor and three other full-time staffers, plus a seasonal crew of 45, who approach the field like a firefighter trying to coax a cat down from a tree. The crew can only be so pushy. Walking or driving too much on a wet field can damage it. On a recent day that saw 50-mile-an-hour wind gusts, bags of the engineered dirt used to build the infield sat unused as the crew waited for the winds to die down. A worker's careful sweeping of the area near home plate would need to be repeated. Two days later, it snowed.
"The weather keeps us on our toes," Mellor says diplomatically.
Last winter, 95 inches of snow fell on Fenway in a five-week period. Workers covered it with two tons of black sand, melting 42 inches in 12 days.
"Snow's a great insulator," says Mellor. "When we took our covers off the grass was in great shape."
Teamwork. pic.twitter.com/lf9aOY18cf

— Fenway Park (@fenwaypark) April 5, 2016
This year's been more difficult.
"We had 10 great days when we put the field in at the beginning of March, but it's been cold and chilly and damp since then."
The Groundskeeper
For someone who's had 43 surgeries, Dave Mellor has an unexpectedly firm handshake.
Mellor says he was born to play baseball, but an accident in high school – he was hit by a car outside a McDonald's – ended the career of the Ohio baseball prospect. Mellor took three years off from college to recover from his injuries, enrolling in Ohio State's agronomy program only when he knew a career playing the sport he loved was no longer an option.
His first job in baseball was an hourly one with the Milwaukee Brewers, and he worked his way up to eventually lead the team's grounds crew. He spent 16 seasons in Milwaukee before the Red Sox lured him away in 2001.
It's easy to get Mellor talking grass. He's written three books, including Picture Perfect: Mowing Techniques for Lawns, Landscapes, and Sports, and The Lawn Bible: How to Keep It Green, Groomed, and Growing Every Season of the Year. On the back cover, former MLB commissioner Bud Selig, who owned the Brewers, calls Mellor "one of the most resourceful and creative people in his field."
Mellor's status as the preeminent lawn-keeper in New England has earned him a legion of grass groupies, from weekend warriors to local celebrities, who e-mail for tips.
"Lenny [Clarke] will call me from his lawn and say, 'Hey I'm doing such and such, any advice?"
Mellor, who was hit by another car in 1995, in Milwaukee, and has suffered from PTSD in addition to the physical injuries, strolls Fenway aided by a companion German Shepard named Drago. He's constantly interrupted by questions from workers and a cell phone that rings every few minutes. His Instagram account, set up by his wife and daughter ("I'm IT challenged"), tracks the Fenway grounds crew's progress while mixing in inspirational quotes related to Mellor's personal challenges.
The Grounds
While Boston's weather can be fickle, Fenway's specifications are exacting. The grounds crew mows the field every day during the season, to an inch high, when the team is in town. The infield, which used to be dug out of the ground, is now painstakingly built up with five different types of sand. Mellor calls meteorologists several times a day to plan his next move.
Red Sox players approach Mellor with specific requests – there's too much moisture in the batter's box, footing is off in left field – and the crew takes note.
"They're welcome to walk up to me at any time," says Mellor. "Playability is our first priority. I welcome that input."
In addition to the players' eccentricities, Mellor has gotten used to the quirkiness of the field itself.
"The Green Monster absorbs a lot of heat, which is our friend in the spring," says Mellor, who adds that the grass in front of the wall in left field is the first to dry out in the heat of summer. "That side of the field always greens up before home plate does. Our coldest area of the field is around home plate."
All eyes will be on Mellor's work Monday as the Red Sox host the Baltimore Orioles in Boston's 2016 home opener. The longtime groundskeeper says the field will be ready, despite the weather.
"When people walk up to that first step there's an expectation,"says Mellor. "We want it to be memorable."
Photos: Fenway preps for 2016 season
[bdc-gallery id="643224″]