Red Sox
Live: The best moments from today's Red Sox home opener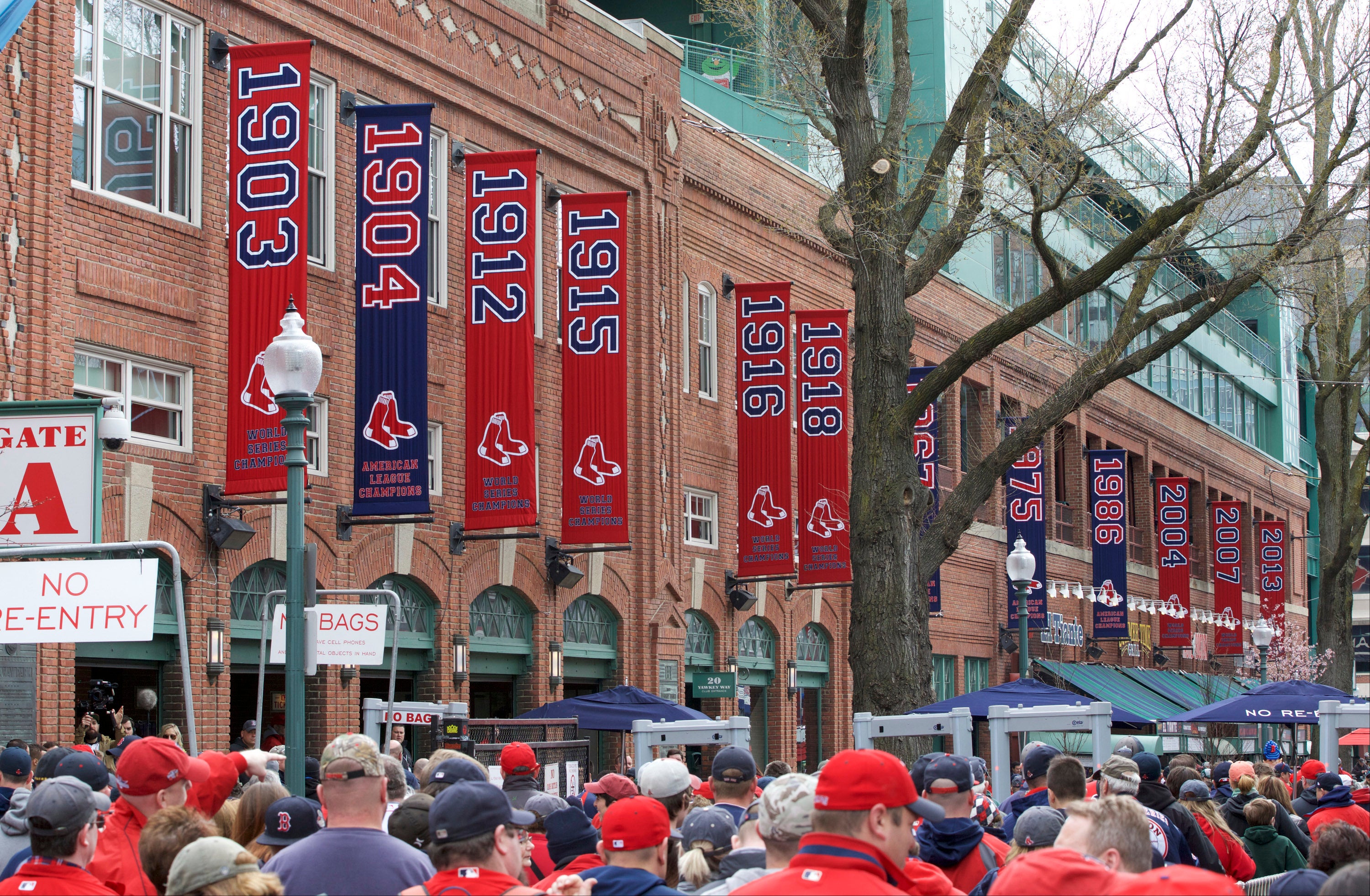 We'll be providing running updates from today's Red Sox home opener.
The first 2016 #MyFenway lineup! #FenwayOpener ⚾️ pic.twitter.com/9ftEO1iS9x

— Boston Red Sox (@RedSox) April 11, 2016
It's also David Price's first start for the home team at Fenway.
Today's lineup vs Boston with Yovani Gallardo set to start our first road game at 2:05 p.m. #Birdland pic.twitter.com/DlJj21MhHT

— Baltimore Orioles (@Orioles) April 11, 2016
They had a perfectly average season last year, finishing with an 81-81 record. This year? The Orioles are just plain perfect. Read more.
Need to get out of class for tomorrow's #FenwayOpener? Allow us to help you: pic.twitter.com/iaIOtiXZGE

— Boston Red Sox (@RedSox) April 10, 2016
They have you covered. Read more.
[bdc-gallery id="643224″]
"We're out here all winter long," says Dave Mellor, the Boston Red Sox' longtime groundskeeper, standing on the grass behind second base on the last day of March. Read more.
Opening day at Fenway park! Can't wait to feel the energy by you fans today! @DAVIDprice24 on the mound… Now we go! #HomeOpener #RedSox

— Travis Shaw (@travis_shaw21) April 11, 2016
There's no crying in baseball unless your daughter just sang the national anthem pic.twitter.com/fQZeE6eZeJ

— Feitelberg (@FeitsBarstool) April 11, 2016
Big Papi was a proud papi today, and some of his reactions to seeing his daughter, Alex, sing the national anthem were priceless. [Read more]
Pablo Sandoval was booed during the pregame introductions.
Sandoval was not well received today pic.twitter.com/aUzp5ewt0i

— Tom Joyce (@TomJoyceSports) April 11, 2016
Things are not getting any easier for Pablo Sandoval. Two weeks after getting beat out for the starting third baseman job by Travis Shaw and two days after his belt exploded swinging at a knuckleball from Blue Jays pitcher R.A. Dickey, Panda was booed by some of the Fenway faithful during pregame introductions prior to the team's home opener on Monday. Read more.
Red Sox grab early 3-0 lead.
Boston opened the game with four straight hits. After singles by Mookie Betts and Dustin Pedroia, Xander Bogaerts drove in the first run of the game with a single of his own. Up next, David Ortiz kept the line moving with another RBI single. Hanley Ramirez stretched the Red Sox' lead to 3-0 with a sacrifice fly to center.
Welcome back to Fenway, @davidortiz! ?#FenwayOpener pic.twitter.com/NJs3sjLBnj

— Boston Red Sox (@RedSox) April 11, 2016
Orioles surge ahead 5-3.
The visiting Orioles got to David Price for five runs in the top of the third inning. The big blow was a three-run homer delivered by Mark Trumbo.
A 421 foot "Trum?" off the bat of @Mtrumbo44, his first as an Oriole. Watch: https://t.co/14XrWJdMI2 #Birdland pic.twitter.com/a6XW7fsXfH

— Baltimore Orioles (@Orioles) April 11, 2016
All tied up.
The Red Sox pulled even, 5-5, with the Orioles in the bottom of the fourth. Brock Holt walked to lead off the inning, followed by a single from Blake Swihart. A ground rule double to left field off the bat of Jackie Bradley Jr. scored Holt. Mookie Betts then grounded into a fielder's choice to shortstop that allowed Swihart to come home.
Now we're talking! New game and we're on to the 5th! 5️⃣-5️⃣

— Boston Red Sox (@RedSox) April 11, 2016
Price is done for the day.
David Price's start ended after five innings. He gave up five earned runs and struck out eight. Right-handed reliever Matt Barnes took over in the top of the sixth inning.
Orioles are back in front.
With Matt Barnes on the mound for the Red Sox in the sixth, the Orioles used back-to-back doubles by JJ Hardy and Jonathan Schoop to regain the lead, 6-5. The Red Sox escaped without further damage thanks to a sliding grab from Brock Holt.
And the Red Sox tie it up again.
The score is level, 6-6, after six innings. After walking and advancing to third base on a Blake Swihart single, Brock Holt scored the tying run when Jackie Bradley Jr. hustled to stay out of a double play on a fielder's choice to second.
Tie game! @JackieBradleyJr with that hustle and @BrockStar4Lyf crosses the plate! 6️⃣-6️⃣

— Boston Red Sox (@RedSox) April 11, 2016
Orioles take 9-6 lead on big blast from Chris Davis.
With Craig Kimbrel on the mound for the Red Sox in the ninth inning, Orioles slugger Chris Davis hit a three-run home run to center field. Kimbrel had walked two Orioles batters earlier in the inning.
GOODBYE, home run! @CrushD19 delivers a 9th inning, 3-run, 2-out homer. #Orioles now lead 9-6. #Birdland

— Baltimore Orioles (@Orioles) April 11, 2016
It's not over yet.
Mookie Betts pulls back a run for the Red Sox with a solo home run in the bottom of the ninth. It's 9-7.
#YaBettsBelieve! @mookiebetts with a solo blast!

9-7 Orioles pic.twitter.com/J4FFQpvKfQ

— Boston Red Sox (@RedSox) April 11, 2016
It's over. Orioles win 9-7.
It looked like the Red Sox were heading toward a dramatic ending when David Ortiz stepped to the plate representing the go-ahead run with no outs in the ninth inning. Unfortunately for the Sox, Orioles closer Zach Britton induced a 4-6-3 double play. The Red Sox challenged the call, but it was confirmed upon review. With two outs and a runner still on base, Hanley Ramirez struck out to end the game.
FINAL: Orioles 9, #RedSox 7

— Boston Red Sox (@RedSox) April 11, 2016
Home run statistics for both sides.
Mookie Betts has homered in all 4 "opening" games of his career (Opening Day & home openers).

Those 4 games: .500 (9-for-18), 4 HR, 9 RBI.

— Jon Shestakofsky (@Shesta_Sox) April 11, 2016
https://twitter.com/ESPNStatsInfo/status/719634832695947265