Red Sox
Unbeaten Orioles bring perfect start to Fenway Park
A look around the majors after one week.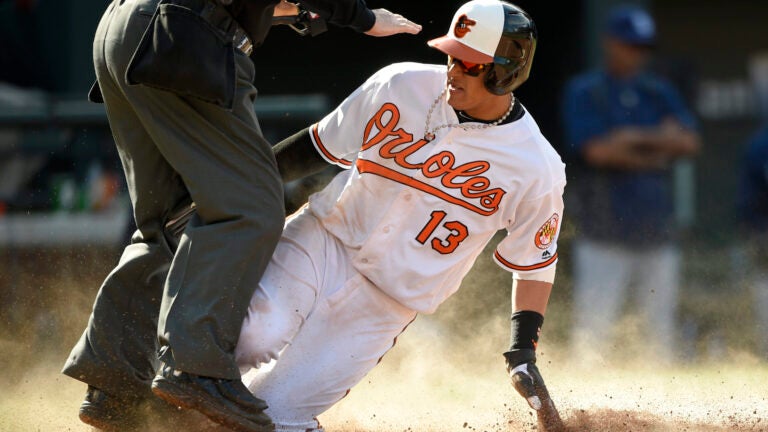 A look at what's happening all around the majors today:
___
5-AND-O's
The Orioles are the only unbeaten team in the majors at 5-0. They've already matched the best start in club history, having also taken their first five in 1970 on the way to winning the World Series. Baltimore tries to extend the streak when Yovani Gallardo starts vs. David Price at Fenway Park in Boston's home opener.
STILL LOOKING
At 0-6, Minnesota is off to its worst start since the Washington Senators moved to the Twin Cities in 1961. The Twins try for that elusive first win when Kyle Gibson starts the home opener at Target Field against the White Sox.
HURTING
The Braves are the lone winless team in the NL at 0-5 heading into a matchup with Max Scherzer at Washington. Atlanta absorbed another loss when right-hander Dan Winkler broke his elbow throwing a pitch Sunday. He missed most of last season while recovering from Tommy John surgery and he "heard a crack" this time. He's waiting to find out how long he's out.
WRIGLEY WELCOME
The Chicago Cubs come roaring back to Wrigley Field for their home opener at 5-1. Jon Lester starts at night against the Reds. "It's good for our club, too," Cincinnati manager Bryan Price said. "Those are fun environments to play in and manage in. A team that's expected to compete for a World Series against a team that's not. Our team will love that type of a challenge."
REST UP
Rookie sensation Trevor Story and the Rockies get a day off after his amazing first week in the majors — seven home runs. Story has connected in five of six games since making his big league debut. Colorado returns to action Tuesday night at home against Jeff Samardzija and the Giants.