Red Sox
Red Sox player power rankings: Opening week
Who gets the No. 1 spot this week?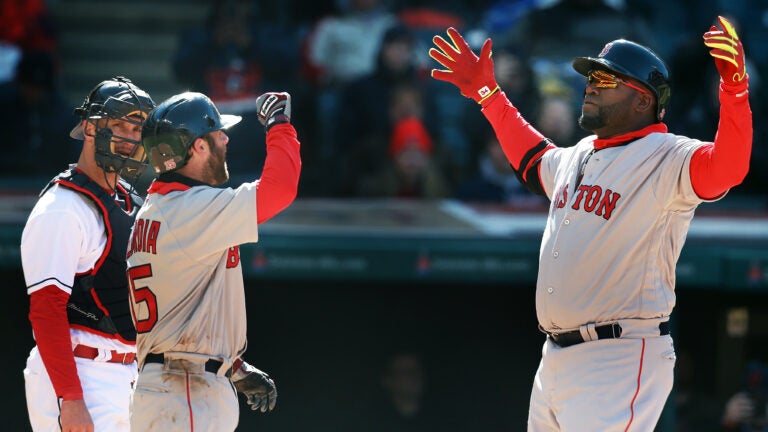 COMMENTARY
The Red Sox season is merely a week old, but it's never too early to take stock of who has been the most impactful.
Below is a ranking that includes each player on the active roster plus the disabled list. Ideally, we'd only be ranking 25 players, but it's rare for a major league team to have no one on the disabled list. Returning to Fenway Park for the home opener, the Sox had four players there.
29. Brandon Workman: I bet you forgot he was on the team, didn't you? Recovering from Tommy John surgery, Workman currently finds himself on the 15-day DL, but the second the team needs the roster spot, he'll likely be transferred to the 60-day DL. It's unlikely he will be ready for major league action before August, and even that recovery timeline would be somewhat aggressive.
28. Pablo Sandoval: He didn't get a start until the fourth game of the season. In it, he not only played terribly, striking out three times, but became the butt of even more jokes when his belt exploded on a swing and miss. He also looked outmatched in a pinch-hit appearance against Blue Jays closer Roberto Osuna on Sunday, who blew him away with three high-90s fastballs.
27. Joe Kelly: If you have a reason for why Joe Kelly is in the starting rotation, I'd love to hear it.
26. Ryan Hanigan: If he is going to serve as a personal catcher for Joe Kelly, he is going to sink to the bottom with Kelly. Once Christian Vazquez is ready, there will be no reason for Hanigan to have a spot on this team.
25. Tommy Layne: The only active player to not see action in the team's first five games, Layne will be the lefty specialist, but not every team has a lefty that needs specializing against.
24. Clay Buchholz: Buchholz was very hittable in his season debut, in part because his velocity was down, which is slightly terrifying news. While no one expects Buchholz to pitch a full season – his career high is 173.2 innings pitched – he is expected to be good when he does pitch.
23. Chris Young: He hasn't had much of an impact yet, but the Sox haven't faced a lefty starter yet.
22. Junichi Tazawa: The good news is that Tazawa's velocity is mostly all the way back to where it was last year. Now he just needs the results to go with it.
21. Rusney Castillo: Going 2 for 4 with a double and playing a solid center field in your season debut is certainly a way to signal that you deserve more playing time.
20. Christian Vazquez: He reached base three times in each of his first three games in Pawtucket, and he served as the catcher in two of those three games. It's only a matter of time before he's ready.
19. Matt Barnes: He hasn't yet pitched when the team has had the lead, but he has kept the team in the game both times he has been called.
18. Jackie Bradley Jr.: He hasn't made much noise yet, but he has reached base in three of his four games, including twice on Opening Day.
17. Blake Swihart: He only has two hits, but with his four walks, Swihart has a .400 on-base percentage. He's been solid behind the dish as well, aside from his passed ball in the first on Sunday that helped set up Toronto's first two runs.
16. Carson Smith: If the season's first week is any indication, the Sox are going to need a lot of relief innings. Smith can't get back soon enough.
15. Koji Uehara: So far, so good, in Koji's new role.
14. Mookie Betts: His homer on Opening Day set the tone for the team's offensive barrage. Since, he's slumped, which has done nothing to shake this author's notion that Betts burns extremely hot and cold. Hopefully coming home to Friendly Fenway will help him start a hot streak.
13. Eduardo Rodriguez: The longer he's out, the more Joe Kelly starts we have to endure.
12. Robbie Ross Jr.: Ross generated a strikeout or a ground ball against six of the first nine batters he faced, and didn't walk any of the other three. That'll do nicely.
11. Noe Ramirez: The roster's proverbial 25th man has been anything but thus far. This was especially true on Friday, when he came in after Joe Kelly and put out the flames, striking out four in two scoreless innings, and giving the Boston offense a chance to regroup. With so many of the team's relievers having narrowly defined roles, it is imperative that one of the others be able to soak up innings as the long man. Ramirez has fit that bill well. He did allow a homer late on Sunday, but with the Sox offense suddenly going cold, it hardly mattered.
10. Xander Bogaerts: After not reaching base on Opening Day, he has reached base in every game since, and has doubled in each of the last three games. He leads the team in runs scored.
9. Rick Porcello: Yes, he gave up two homers to Jose Bautista, but the "Pitchers Who Have Trouble With Jose Bautista" club is one with plenty of members. Take Bautista's two homers and a walk off of Porcello's line, and it looks like this: 6 IP, 5 H, 0 R, 0 BB, 7 K. That's pretty good. And keep in mind that even without Bautista, the Blue Jays' lineup is better than most the Sox will face.
8. Steven Wright: He is the only Red Sox starting pitcher to work into the seventh inning. He allowed two runs on Sunday, but a passed ball and an error had as much to do with those runs as did Wright's pitching.
7. Travis Shaw: While the seven strikeouts in his first 16 at-bats is troubling, Shaw has reached base safely in every game. He has also played heads up defense at both third and first base. Hard to ask for more than that.
6. Dustin Pedroia: I don't know about you, but I was definitely nervous about what kind of player Dustin Pedroia was going to be this year. So far, we're getting vintage Dustin Pedroia, as he demonstrated with his excellent diving play on defense Saturday.
5. Craig Kimbrel: It still hasn't sunk in that we get to watch this guy all season. Excuse me, for all of this season and the next two seasons. Giddy up!
4. Hanley Ramirez: This is the Hanley Ramirez everyone expected. It's the Hanley Ramirez he had been before running into the left field foul line wall last April. In fact, if he keeps stealing bases (like he did Wednesday in Cleveland) and getting hustle doubles (like he did Sunday in Toronto) then he might be even better than expected when he arrived in Boston. Perhaps most importantly, he has looked just fine defensively at first base.
3. Brock Holt: Holt has already matched his 2015 home run output, and his four extra-base hits are tied for the team lead. At this point, it's hard to justify leaving him out of the starting lineup.
2. David Price: As Sox PR man Jon Shestakofsky noted on Twitter, Price's 10 K's were the most ever by a Boston left-handed pitcher in his Red Sox debut, and was also the most by a Red Sox lefty in a season debut. He is more than deserving of the top spot here.
1. David Ortiz: Unfortunately for Price, Ortiz takes the crown this week. If you were worried about another classic Ortiz slow start, those fears have proven unfounded. Ortiz roped four extra-base hits in his first three games, something that took him 14 games to do last season. All in all, he looks like the same ol' Big Papi, and not like a 40-year-old man who should be slowing down significantly.